&nbsp
No-Bake Mini Pumpkin Pie Cheesecakes
These gluten free, vegan no-bake mini pumpkin pie cheesecakes are the perfect dessert to serve up this Thanksgiving holiday.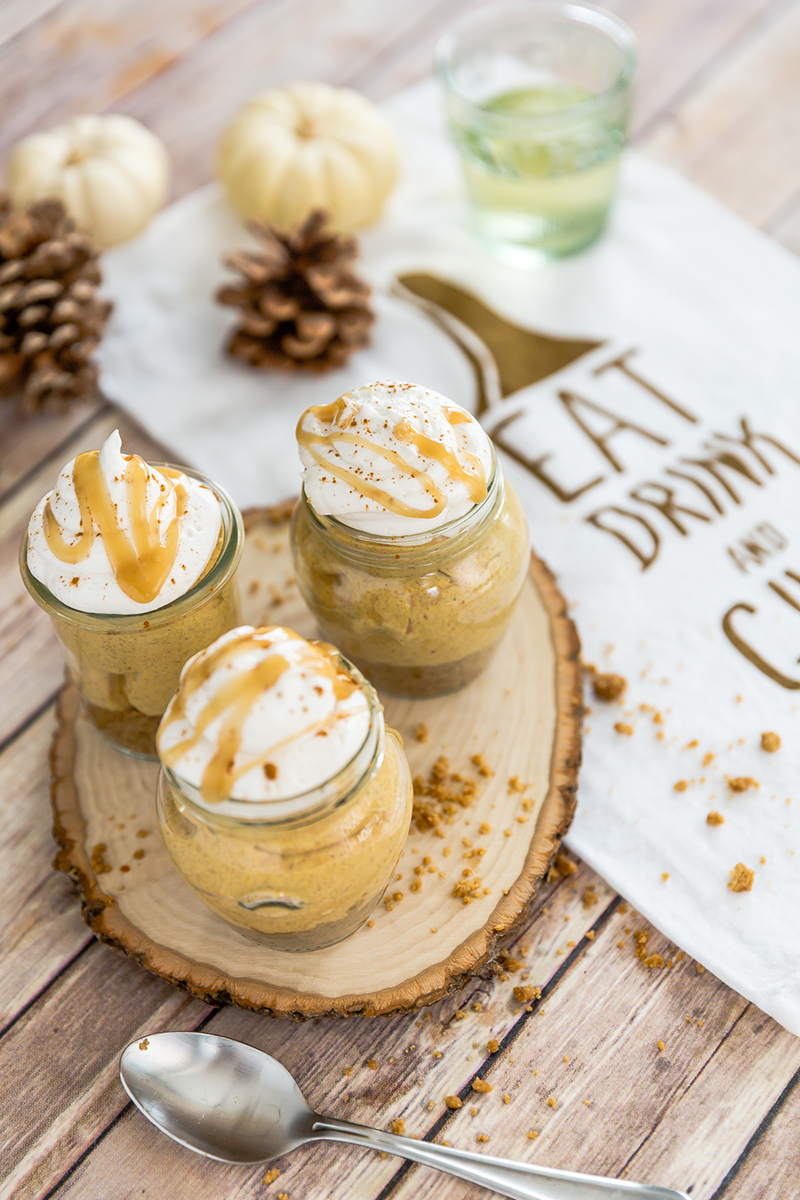 There is seemingly a lot of pressure when it comes to serving up a delicious Thanksgiving feast for all your family and friends. From the turkey to the stuffing, the cranberry sauce and roasted potatoes, to the decision of whether to make a pecan or pumpkin pie, it's a lot to consider. That's why we love to serve these mini no-bake pumpkin cheesecakes because they are quick and easy to make and are gluten free + vegan so that no matter what dietary lifestyle your guests have, they'll all be able to enjoy this dessert. I mean, you wouldn't want anyone to miss out on the best part of Thanksgiving, the pumpkin "pie", would you?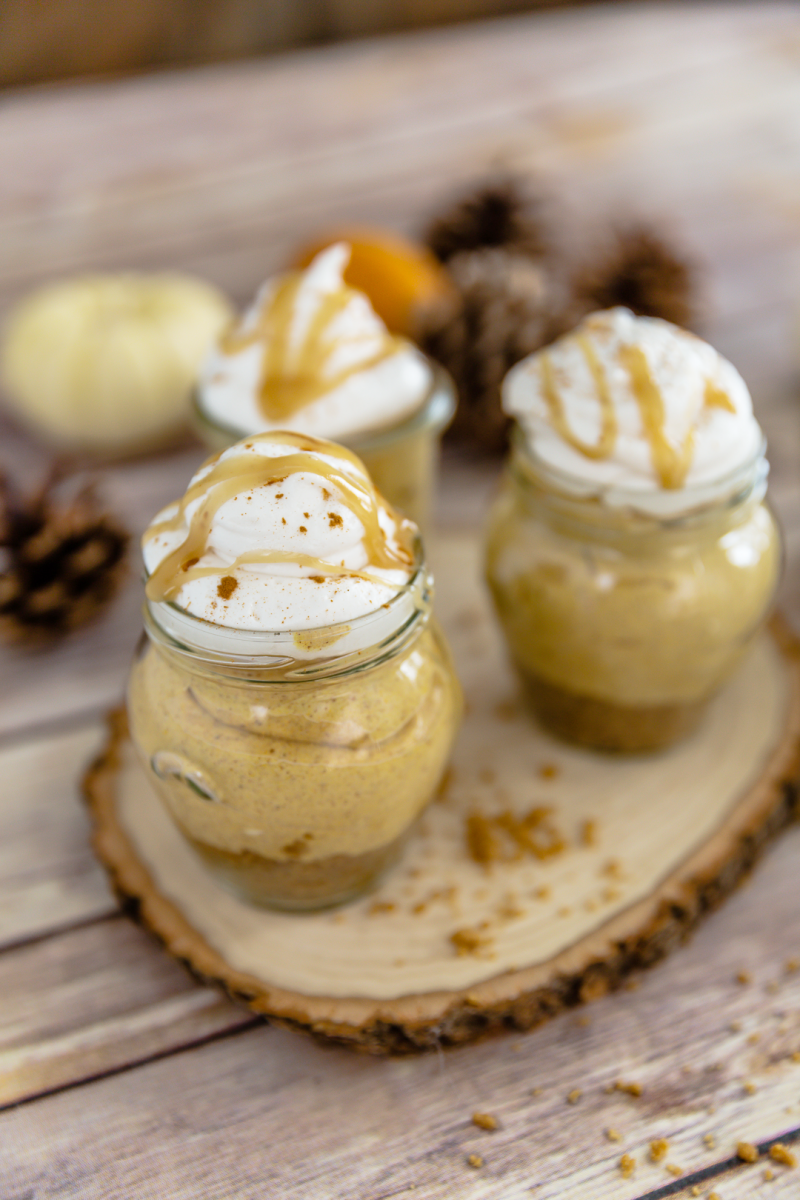 Here's the best part, you'll free up your oven for all the turkey and side dishes by skipping the traditional pie route. We make our no-bake pumpkin cheesecakes a few days in advance to spread out the workload and then just add the maple coconut whipped topping the day of. What I love so much about this recipe is that unless you were told that it's gluten free & vegan, you wouldn't know it. It's light, fluffy and incredibly delicious. I'd error on the side of caution by making quite a few extra for all those guests that are going to want seconds.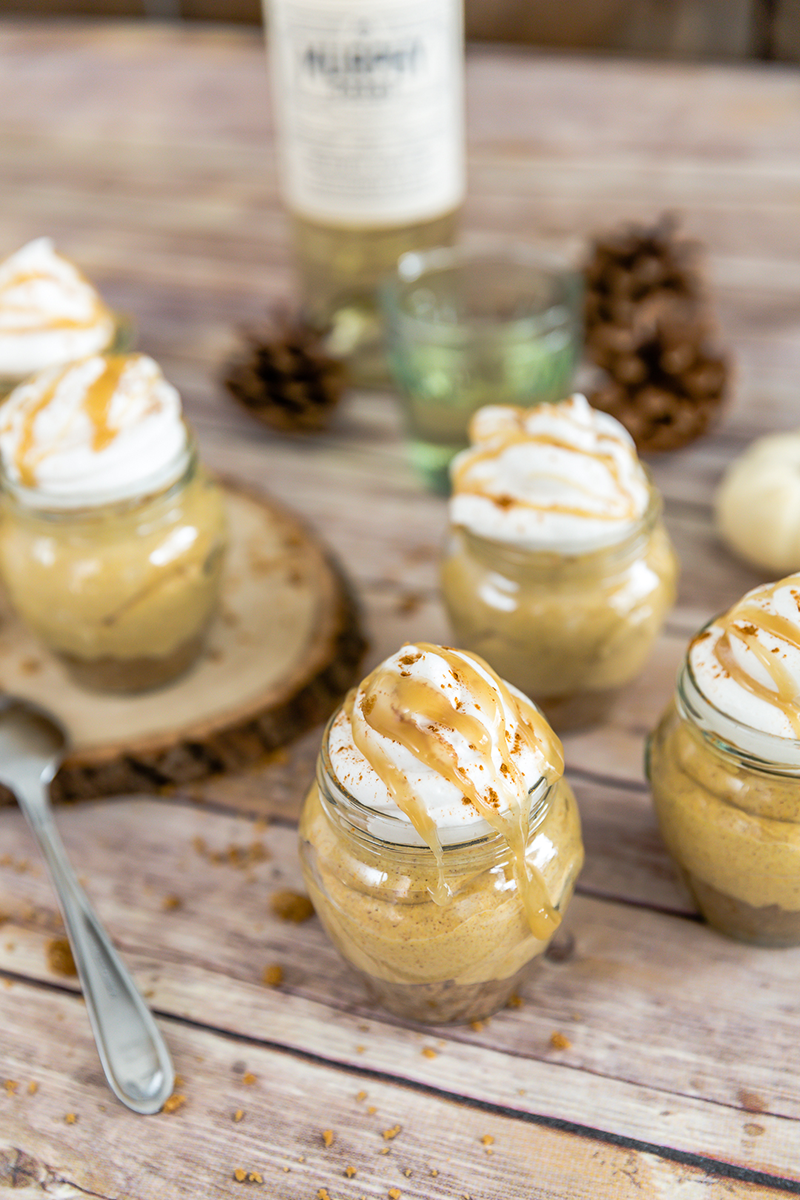 No Bake Mini Pumpkin Pie Cheesecakes with Maple Coconut Whipped Topping
Gluten Free, Dairy Free & Vegan
Ingredients for Crust: 
1 package graham crackers (gluten free), finely crushed
1/4 cup butter (vegan), melted
Ingredients for Filling:
2 - 8oz packages cream cheese (dairy free)
1/2 cup granulated sugar
1/4 cup sour cream (dairy free)
1 - 15oz can pumpkin puree
3 tbsp pumpkin pie spice
1 tbsp pure vanilla extract
Ingredients for Maple Coconut Whipped Topping:
1 can full-fat coconut milk
1/4 cup pure maple syrup (not imitation) 
pinch of sea salt
Directions for Crust: 
In a small mixing bowl, combined finely crushed graham crackers with melted butter.
Mix until well incorporated.
Press into the bottom of serving jars. Set aside. 
Directions for Filling: 
Using a hand mixer, beat the cream cheese on high until smooth. Slowly add the sugar and continue to mix for additional 2 minutes.
Continue by adding the sour cream, vanilla extract and pumpkin spice. Mix for an additional 1 minute. 
Scoop pumpkin puree into the mixing bowl and gently fold until well combined with cream cheese mixture. 
Spoon mixture into a piping bag or large ziplock bag with a corner snipped off. Pipe pumpkin cream cheese mixture into jars with graham cracker crust. 
Directions for Maple Coconut Whipped Topping:
Chill a can of full-fat coconut milk in the fridge for a minimum of 24 hours. 
Also, place a mixing bowl in the fridge a few hours before making the whipped topping. 
Upon opening the can, scoop out the solid coconut cream and set aside the coconut water for personal use, if desired. 
Using a hand or stand mixer with the whisk attachment, beat the coconut cream until fluffy and smooth. Add the maple syrup and pinch of sea salt and beat again for another 30 seconds. 
Spoon or pipe whipped topping onto the pumpkin cream cheese mixture. Sprinkle with cinnamon and drizzle with homemade vegan caramel sauce.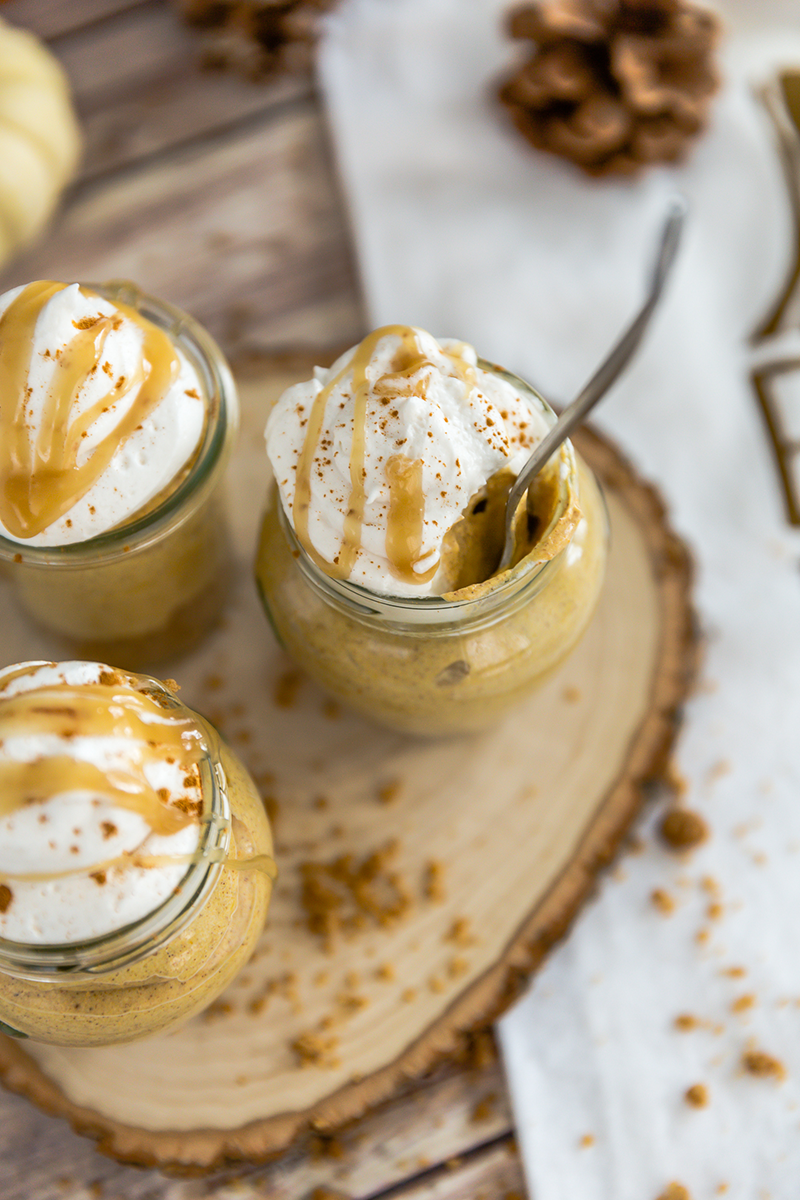 Alright, so you just got eating an insanely delicious turkey dinner, sharing what you're grateful for and have been sipping on a good red wine that compliments all the main dishes. Now switch things up, pour a Sauvignon Blanc that rises to every occasion and bring out the dessert tray of mini no-bake pumpkin cheesecakes with a handful of spoons. It's a great twist to the expected pumpkin pie & everyone gets to enjoy a jar to themselves. There's no playing favorites with thicker slices of pie here!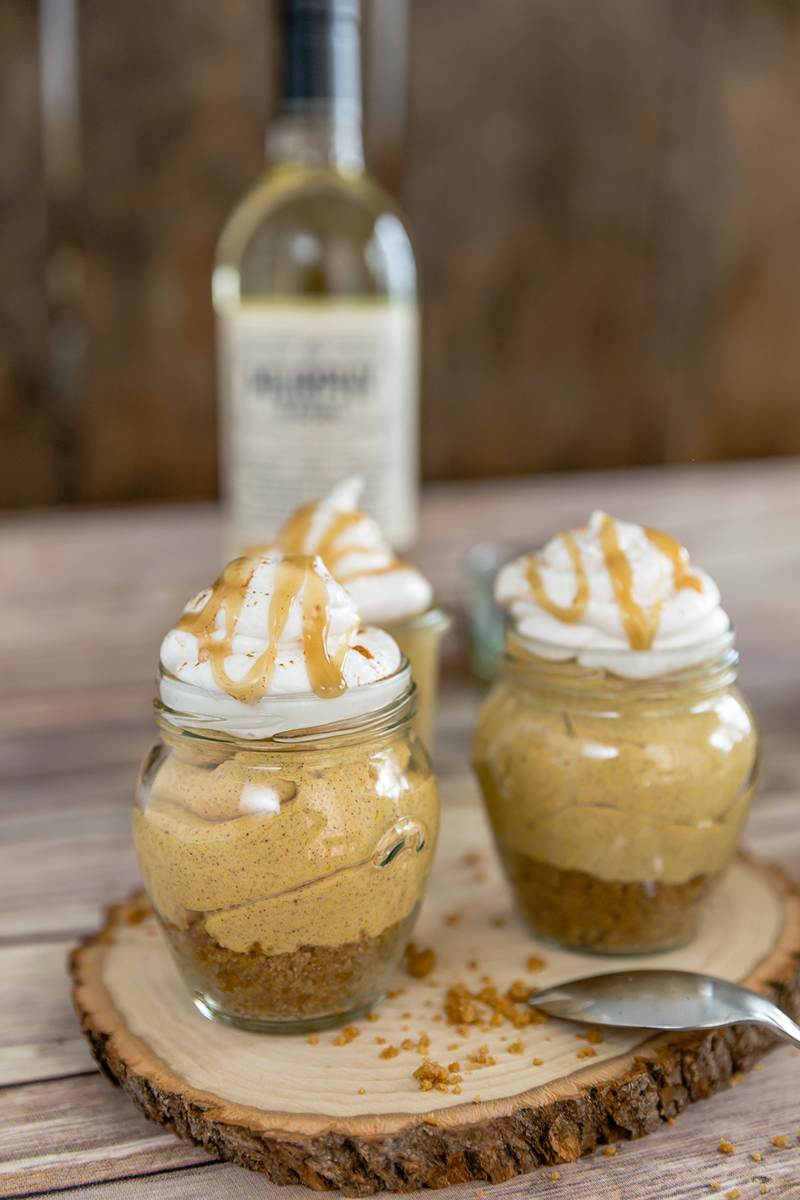 Love this recipe? Share it with your friends or PIN to save for later!