A homemade, DIY wood block knife holder that is a cut above the rest with it's slim design, rustic appeal and superb functionality. 
I love when a DIY project comes together so perfectly and its functionality gets used on a daily basis as a sharp kitchen storage solution. Set aside the big, angular knife block that comes with your set of knifes and opt for creating your building your own in just a few simple steps. I personally love the slim, rustic design with a touch of modern aesthetic due to the plexiglass sheeting. Plus, gone are the days where your knife has to fit into one spot and one spot only. Now you can display your knifes in whichever order you see fit, providing you with tons of functionality right on your fingertips (well, keep your fingertips closely guarded). 
Let's be honest, we know how important our knife set is this time of year when turkey carving is just around the corner. Sharpen those blades, get your dishes prepared and slide over your new DIY knife holder so you're armed and ready.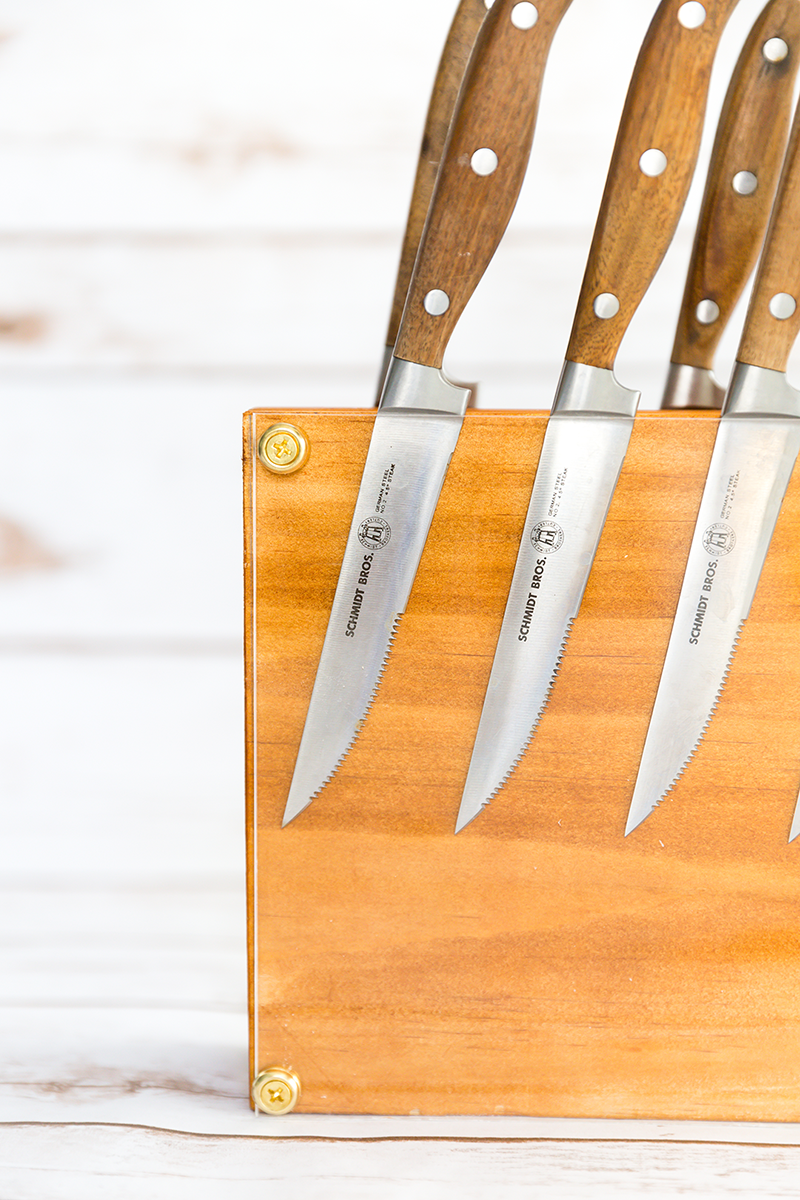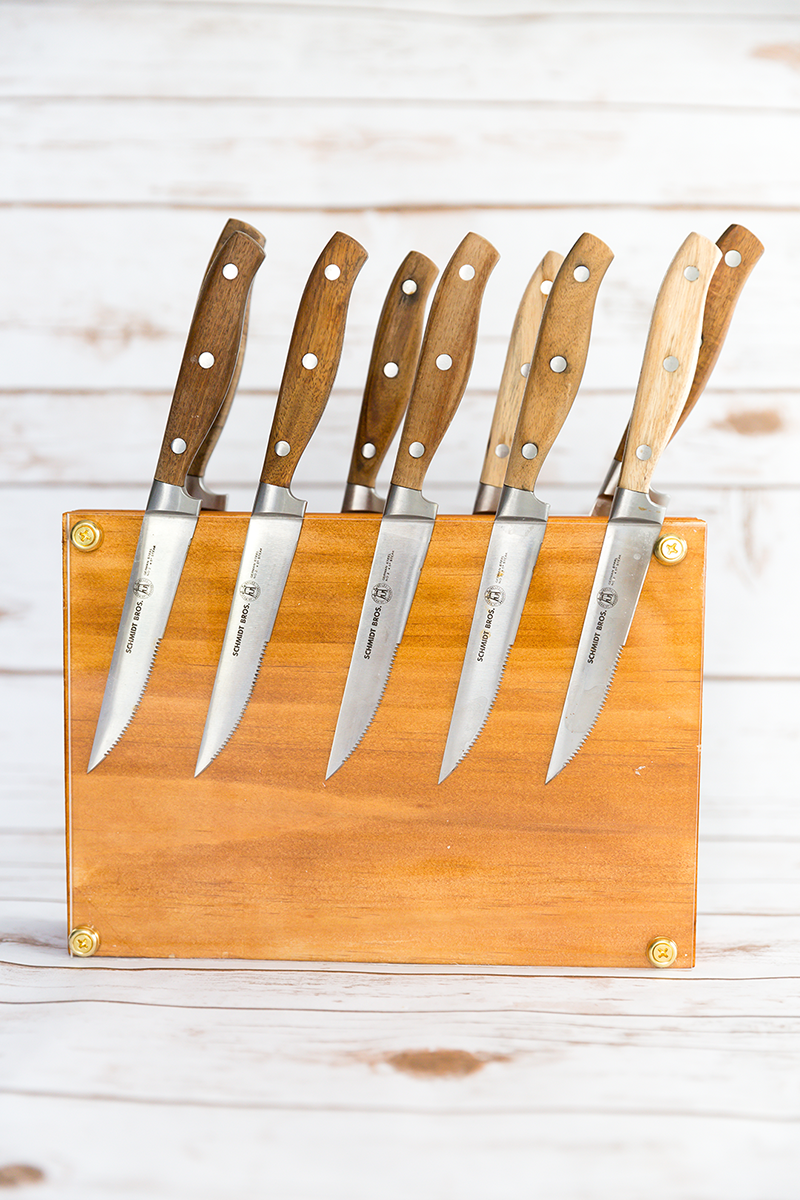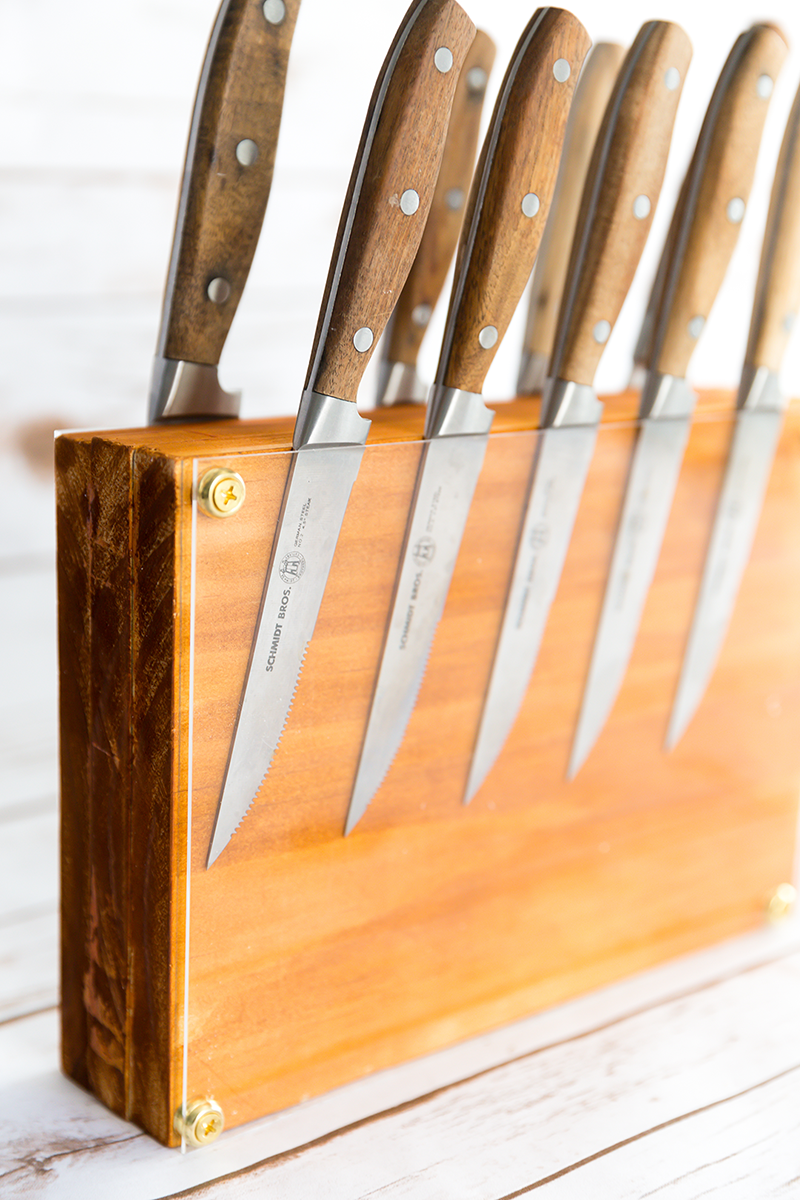 Wood Block Knife Holder
Materials: 
(8) #8 x 3/4" flat phillips brass screws
(16) #8 brass finish washers
(1) 1 x 8 x 4 pine board (cut down to qty. 3 8x10" pieces)*
(2) .08" x 8 x 10 plexiglass sheeting (aka polycarbonate)
optional, food coloring for wood stain*
wood glue
clamps
sandpaper
coconut oil
drill
marker
retractable blade
clean, lint free rags
(*) Just note, a 1 x 8 x 4 pine board is actual 3/4" in thickness x 7 ¼" in width. 
(*) If wanting to tint the wood, use a combination of food coloring applied with a clean rag. To obtain a cherry stain, use 10 drops of red, 20 drops of yellow, 2 drop of blue and 4 drops of water. 
Instructions: 
After cutting down the 4' pine board into 3 8x10' pieces, apply a thin layer of wood glue between each layer of wood and stack together to form a block. Clamp together and let dry thoroughly (minimum of 45 minutes).
Once dry, use a fine grit sandpaper to slough off any dried glue and smooth all edges. 
Once dry, apply a thin coat of coconut oil with a clean rag to seal the tint. 
Since the width of the board is actually only 7 ¼" you'll have to trim the plexiglass. Measure to size with a straight edge, use clamps to hold in place and score with a retractable blade. Continue to score until approximately halfway through the plexiglass and gently push down & up until a clean break happens. Sand lightly if needed.
Drill pilot holes in each corner of the wood on both sides of the block. Line up the plexiglass over the wood block and mark where the screws will need to be. Remove plexiglass and drill holes the full width of the screws in each of the four corners of the plexiglass. Go very slow and do not apply much pressure to reduce chance of cracking.  
Place a finishing washer between the plexiglass and the wood to allow for the knife blades. Place another finishing washer on the front side of the plexiglass for a decorative touch. Hand-screw everything until snug. Repeat for all 8 corners.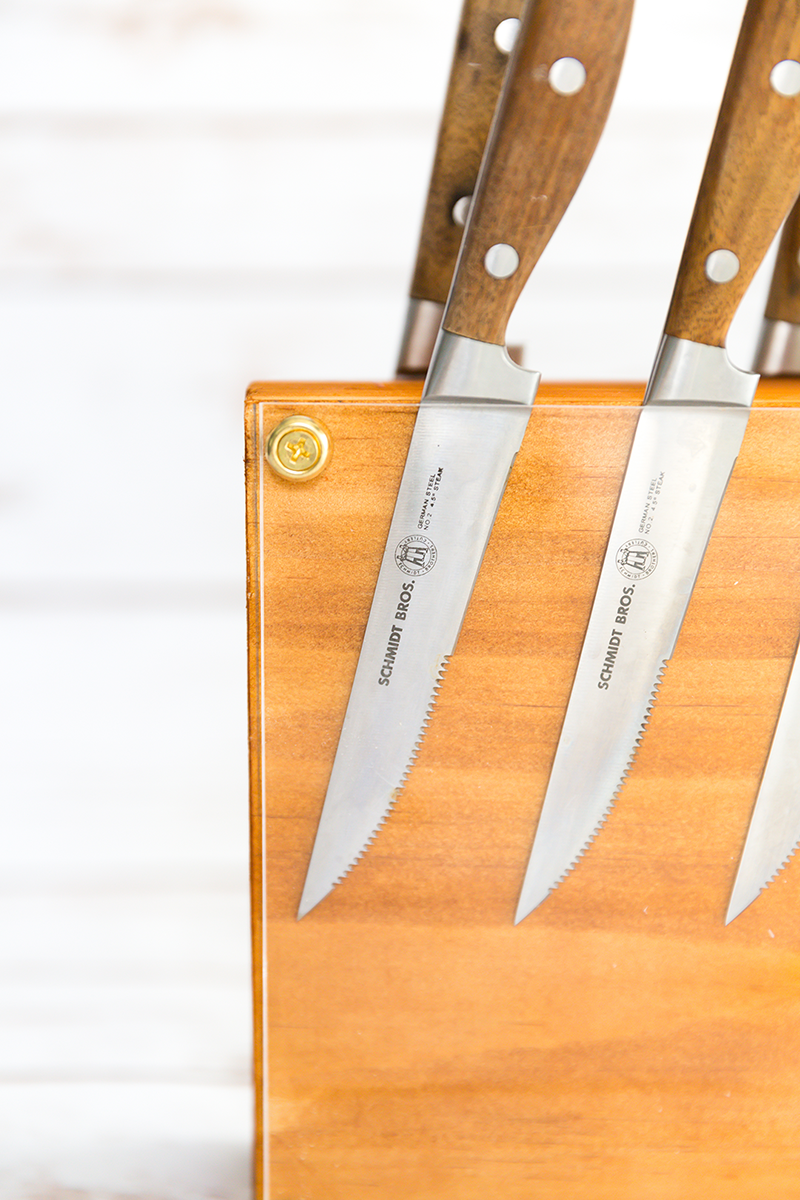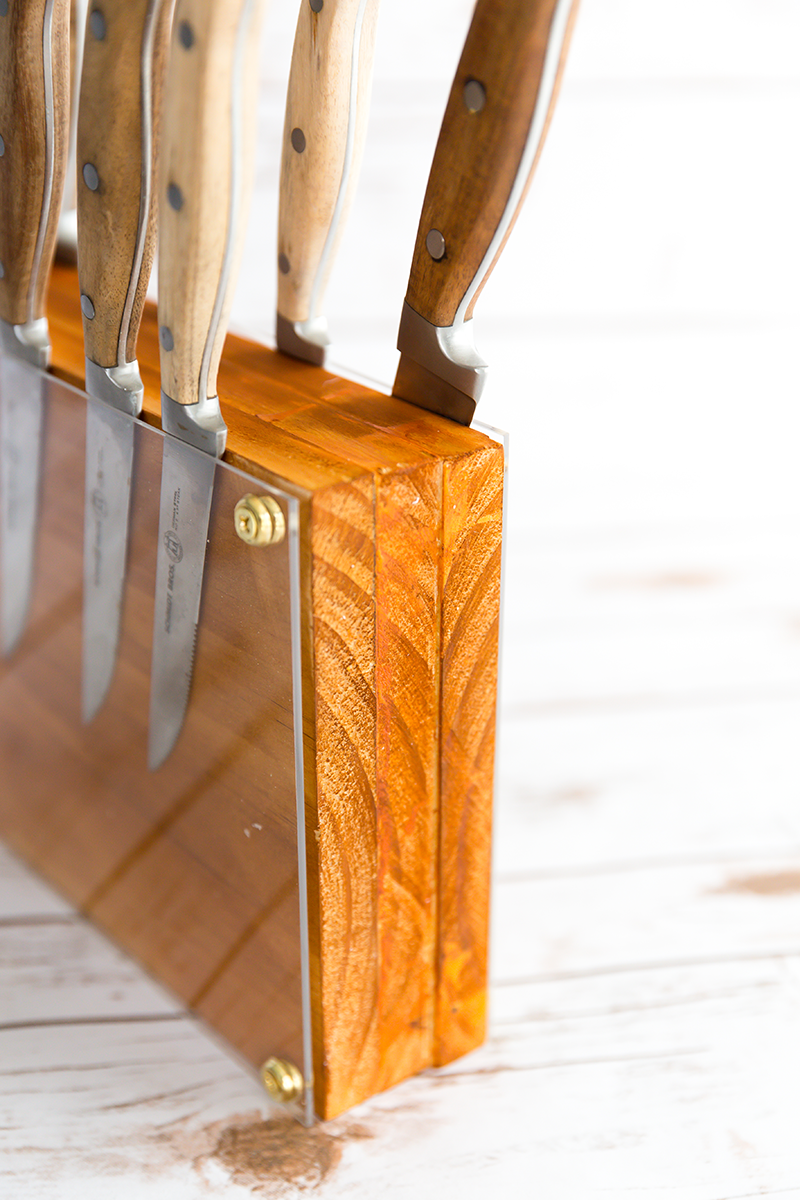 Just think about it... One trip to the hardware store for $25 worth of supplies, a drill, a few hours, and you've got yourself a handmade knife holder that would also make for a great gift this holiday season. This is what I can tell you, when your guests come over for Thanksgiving they're going to wonder where you bought your knife holder. Then you'll proceed to tell them that you are master craftsman that built it yourself and the requests will come pouring in for you to make one for them. At that point you can either (a) sit back with a glass of wine and watch them marvel at your work, (b) make mental notes for holiday gifts or (c) tell them you found a great tutorial and that it was pretty darn easy to make. Options people, you've got options.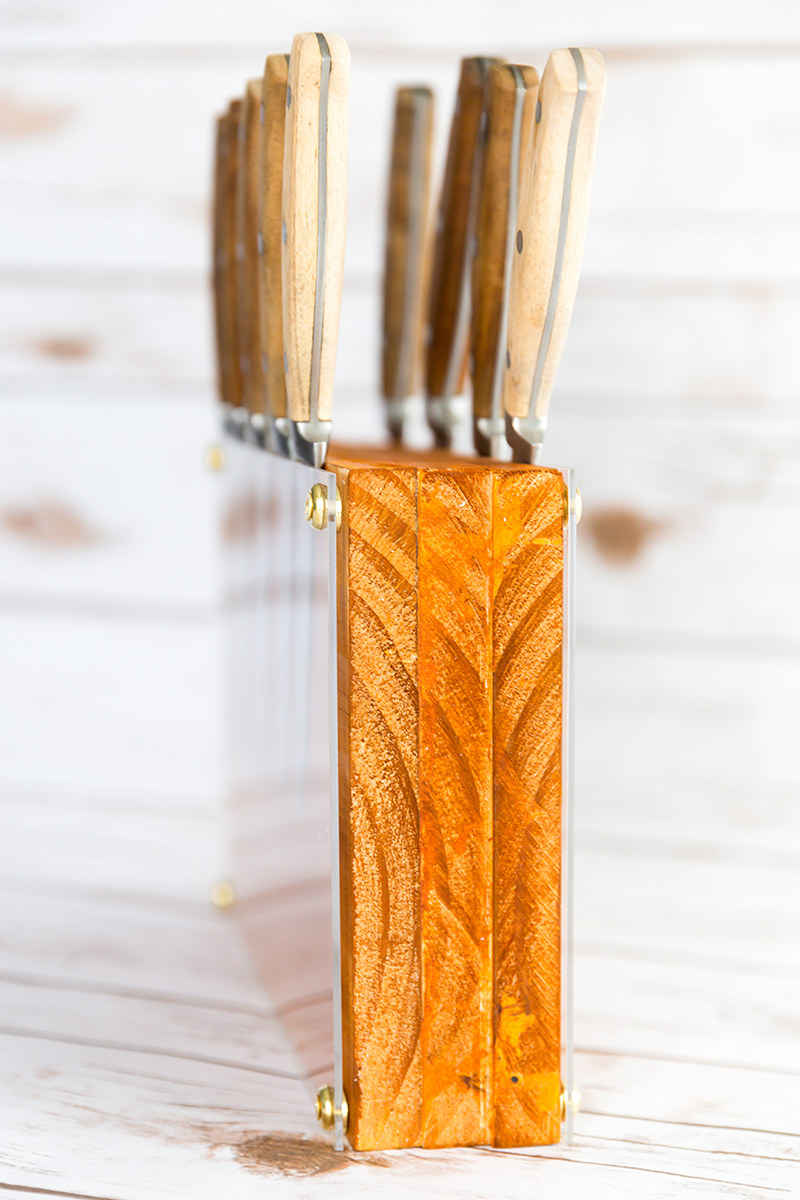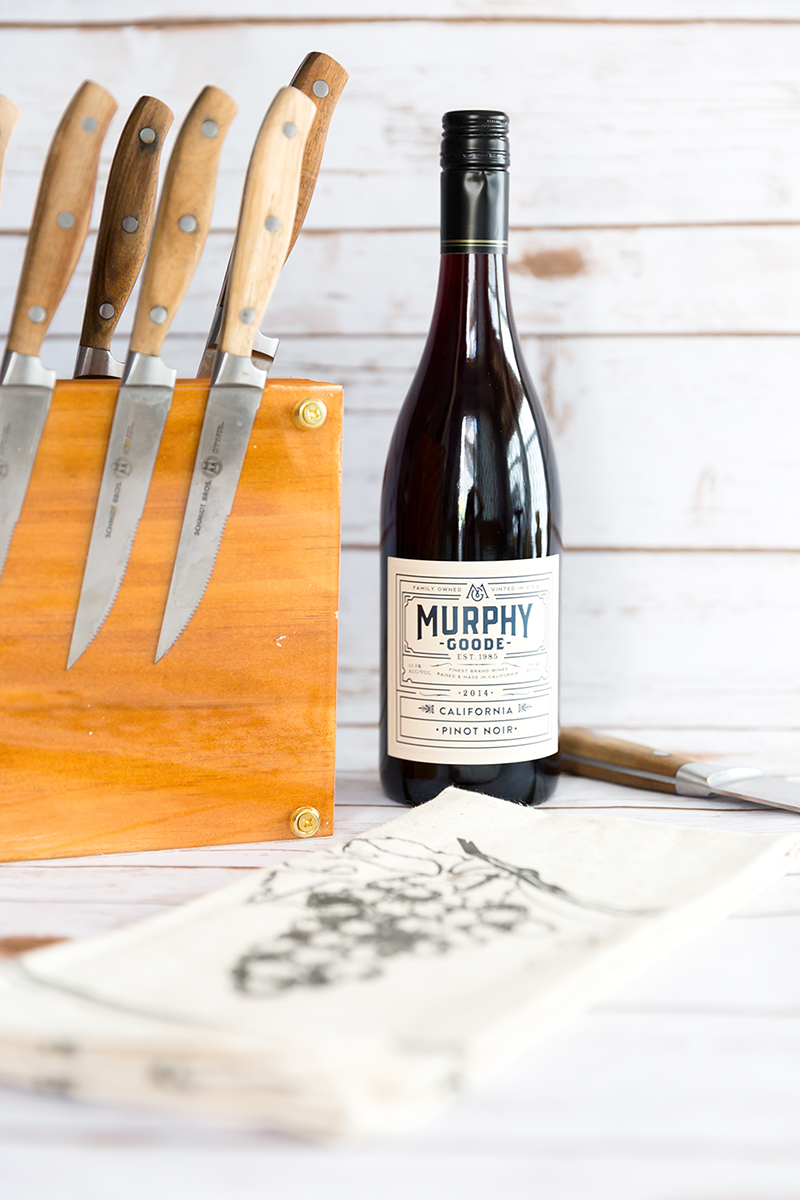 Love this DIY project? Share it with your friends or pin it to save for later!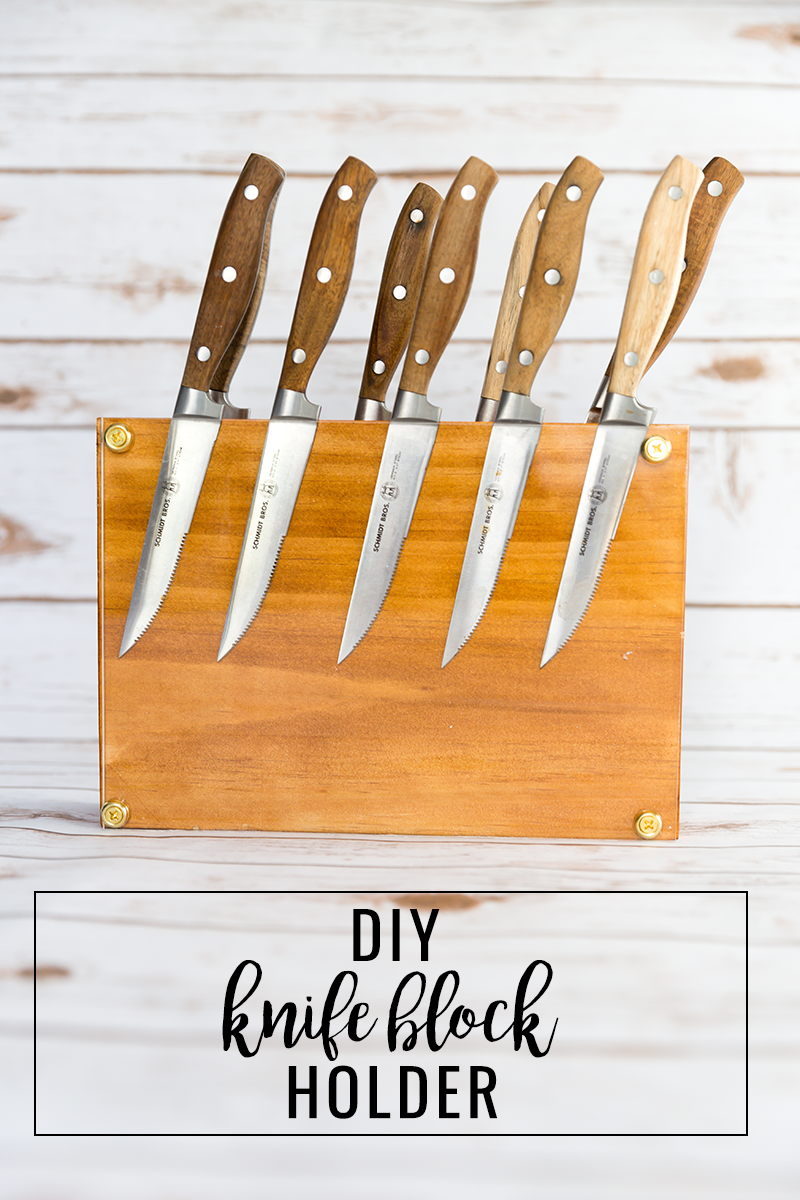 Written by Kristin Mansky of Modish and Main