&nbsp
Survival Guide: Working From Home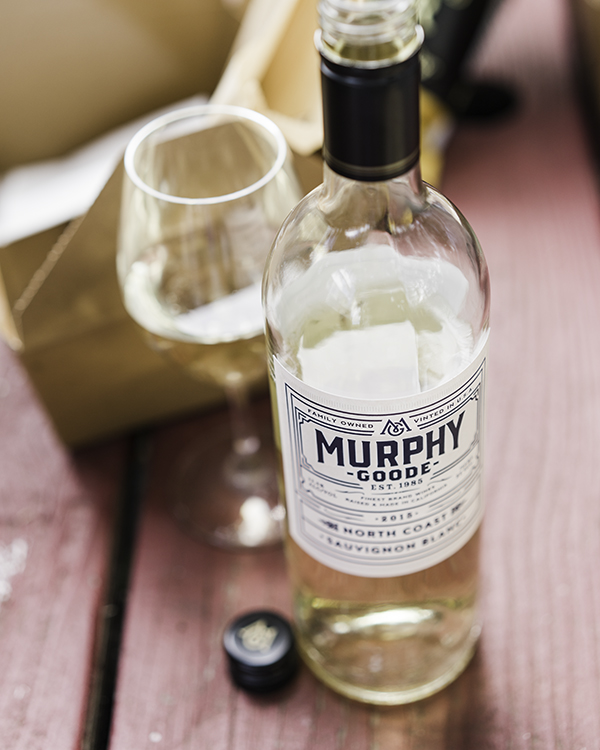 Are you starting to work from home and not sure how it's going to go? Don't worry. Our survival guide on how to WFH successfully is full of experience-tested tips and tricks that will make you a master of your workspace in no time. Be sure to order a bottle of Murphy-Goode North Coast Sauvignon Blanc and have it chilled and ready to virtually cheers to a productive workday with your coworkers.

CREATE THE PERFECT WORKSPACE ENVIRONMENT
First things first, figure out where the most optimal place to work is in your home. Whether you live in a large or small space, you will want to create a dedicated work area. This can range from an entire bedroom to a corner in your living room. Creating this space will help separate your work life versus your home life. 
When considering a spot to work at, remember, lighting is key! A brighter room will help keep you alert throughout the day. Bonus points if you can create a workspace by a window for natural light, which will make you feel connected to the outside world.
Goode Advice: Repurpose your Murphy-Goode California Cabernet Sauvignon wine bottle to create a self-watering glass planter to put on your desk because plants make everything better.
Next you'll want to set up your workstation with ergonomics in mind. You do not want to spend all day hunched over just to see your screen correctly, and trust us, your joints and back will thank you. So, dust off those old textbooks and stack them up to make a monitor stand. Check out The Mayo Clinic's in-depth how-to guide on creating a comfortable and ergonomic workspace. 
Sometimes working from home can be too quiet. If you're a person who needs some background noise, we suggest finding a few go-to calm and motivating playlists to have on hand to create your perfect workspace environment. A few of our favorite Spotify playlists for this very occasion are: 
To maintain your perfect workspace, make sure to not only keep your desk clean but keep your entire home tidy as well. Don't leave the dirty dishes for later. Instead, tidy up your home when you take a break from work. A clean and organized home makes for a clean and organized mind. 

MAINTAIN A SCHEDULE AND RETHINK YOUR COMMUTE
We know it's very tempting to work from your cozy bed all day, but we recommend setting up (and sticking) to a morning routine. You could get up, stretch, make coffee (or tea), and get dressed in something other than your PJs. Having this routine will help you mentally transition in and out of work mode. 
The same goes for the end of the workday. Just because you can't physically leave the office, doesn't mean you shouldn't mentally "log off" at quitting time. Allow yourself to break at a stopping point and rest your mind.
Goode Advice: Dedicate the 30 mins before you log in, and after you log out, to do an activity you enjoy. Use it as part of your routine to transition from your work life back to your normal life.

ALWAYS BE CAMERA READY
Do a quick check of yourself and your surroundings before you take a call that involves video. If you have to show your face and your space, close the door (if you can) to keep roommates, pets, or kids from distracting you.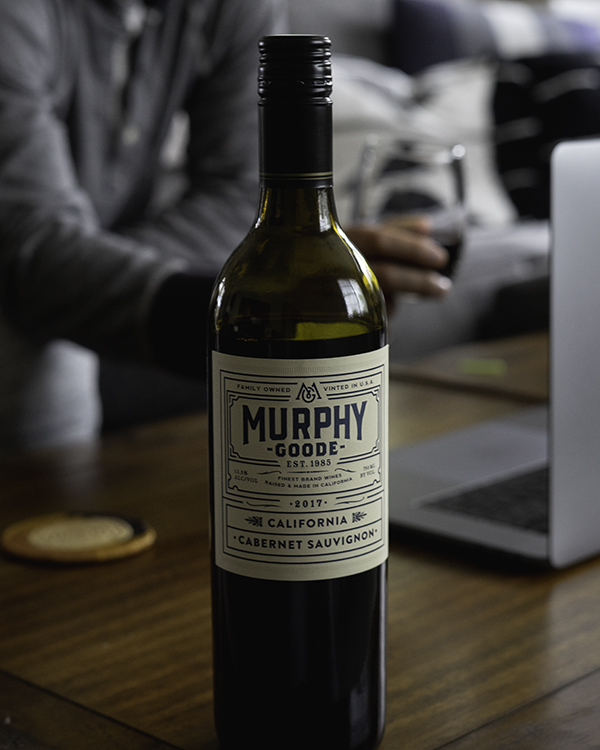 BE VIRTUALLY SOCIAL
Just because you are not physically seeing your coworkers, doesn't mean you only have to chat about work-related topics with them. Build relationships with your team by reaching out to your coworkers to see how they are doing and touch base on their day-to-day lives. Communication platforms like Slack and Teams have a plethora of GIFs to keep conversations fun! 
Goode Advice: Consider a virtual video happy hour or wine tasting with your coworkers. Our California Cabernet Sauvignon is the perfect wine to "toast" your coworkers to a long and productive week! 
WORKING FROM HOME, TOGETHER
If you and your roommates or significant other are all working from home in a communal workspace, be mindful and respectful of this area. Dedicate a "meeting room" space, such as a bedroom that individuals should use to take calls or meetings; this will lower the risk of irritating everyone around you. 
Goode Advice: Invest in a good pair of headphones. That way, you won't bother anyone with your choice of music, and it helps create a conducive workspace. 
Enjoy lunch together! Establish a time to take a break from work, eat lunch, and catch up. 
MIND YOUR DIET
Having access to your entire fridge is fantastic but be mindful of how much you are eating throughout the day. Snacking adds up fast, and don't forget to eat some protein (it's brain food) and stay hydrated!

MOVE, MOVE, MOVE
Working at home means you never have to get up to walk to a meeting. However, it also means you can find yourself sitting at your desk all day, leaving you tired and achy. Try to get up and move around every hour or so. This can be as simple as a quick walk around your house or even standing up and stretching. Investing in a step tracker, like a FitBit or Smart Watch, can be helpful. You can set it to remind you to stay active throughout the day.
Goode Advice: Find your coworkers and friends on the app to challenge them to some healthy competition throughout the week. 

CLOCK OFF FOR DATE NIGHT
Work-life balance is essential when you work from home. Setting up a fun date night at home with your significant other or roommates is a great way to switch your brain from work to relaxation. 
Recreate the classic dinner and movie date at home. Order delivery and enjoy some quality time catching up with those around you. Afterward, turn down the lights, queue up an old movie, pop some buttery popcorn, and pour a glass of our California Chardonnay. You can never go wrong with a perfect popcorn and Chardonnay pairing. 
Break out your favorite board games and partake in some friendly competition. No matter who wins or loses, everyone will enjoy a glass of our California Pinot Noir. Pair this wine with our crowd-favorite slow-cooker pulled pork sandwich or pulled pork nachos.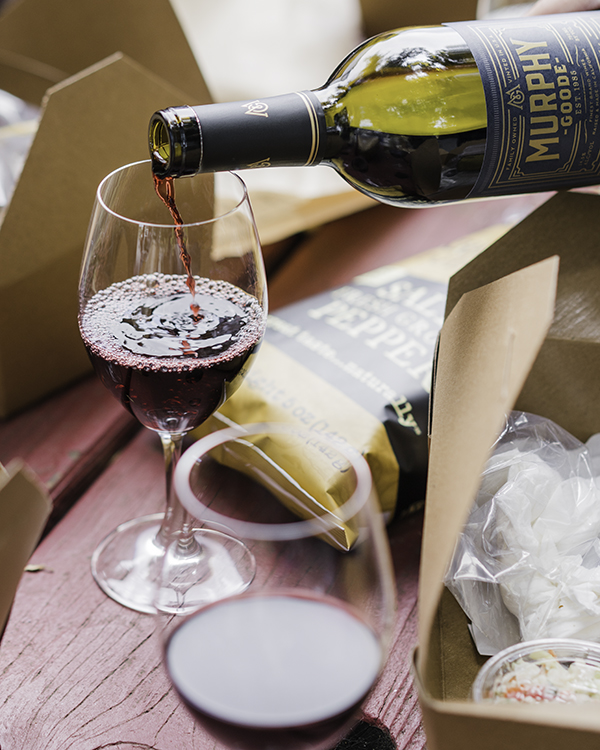 Working from home can be a successful and productive work experience for anyone. Be flexible and find out what works best for you. Remember to cheers to a triumphant workday with a glass of your favorite Murphy-Goode wine.