Survival Guide: Ugly Sweater Party
No better way to ring in the joy and beauty of the holiday season than throwing on the ugliest sweater Goodwill has to offer.  One man's trash is another man's overly sequined holiday knitwear.
Even better invite your nearest and dearest to dig through their closets and turn their findings into a pullover party.  To avoid any (unapproved) fashion faux pas during your gathering, we've assembled an Ugly Sweater Party Guide that will impress even the Scroogiest of guests.
So gather 'round the Zoom screen, uncork a bottle of Murphy-Goode and show off that snowman sweater.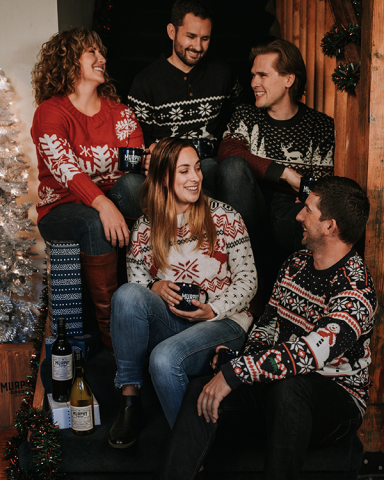 The more, the Merrier
With a plethora of video chat services to choose from, the hardest thing about getting everyone together is helping Uncle Joe unmute.  Choose a fun background and email it out in advance (probably with detailed instructions).  It's not matchy pajamas. but a coordinated screenshot that will make your mom happy.  Pro tip:  don't forget to factor in time zones so your college pal in Tokyo can join in.
Think outside the big box
For years, thrift stores had the monopoly on ugly Christmas sweaters.  Once sweater parties became a "thing," major retailers got in the game.  No shade for grabbing a last-minute top while you're in the store picking up some Murphy-Goode Chardonnay, but within 10 minutes of online searching you can find the grandma sweater of your dreams.  
Start with Depop - the secondhand sales app makes it super simple to specify exactly what you are looking for.  Want a teddy bear sweatshirt that says "Merry Christmas"?  It's waiting there for you.  Ebay is also a gold mine of ugly goodness.  Just make sure you add "vintage" to your search, unless you want to buy a sweatshirt featuring a ripped Santa Claus.  (Maybe you do?)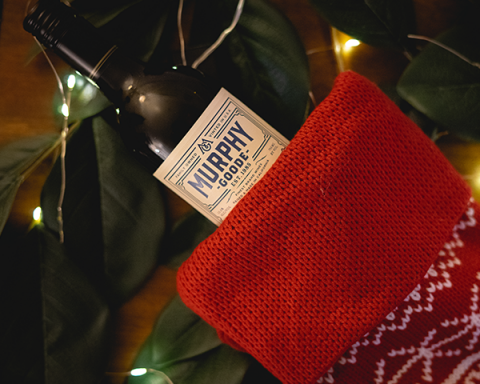 Reindeer Games
Sure, we all recite that old saying about how showing up is the gift, but you have to admit presents are pretty great too.
Don't just hand out party favors though - make your guests work for them.  Set ugly sweater categories - best dressed, worst dressed, most likely to scare elves - and give (or mail) the prize to the winners.  Think homemade cookies, a bottle of Murphy Goode Cabernet Sauvignon or a lumberjack Santa hat.  
You could also go all out and turn the sweater-buying portion of the party into its own event. Set everyone loose in the thrift store for 30 minutes with 15 bucks. The mission: create the weirdest Christmas outfit a small amount of money can buy. Nominate a few judges or take a group vote. (The losers get coal in their stocking.)
Put a twist on the classic white elephant with a clothing version. Wrap up an extra sweater, pair of socks, or even onesie — the weirder the better — and trade them around. If you'd rather sit back, turn on National Lampoon's Christmas Vacation and take a drink every time a Santa hat or ugly sweater appears onscreen. (Other holiday outfit appearances on film include While You Were Sleeping, Step Brothers and Bridget Jones's Diary.)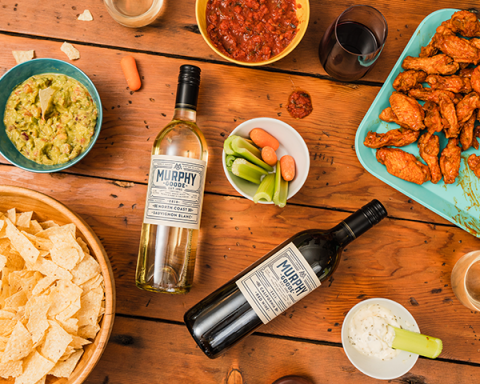 First, We feast 
Virtual or no, a Christmas party requires mountains of holiday food. Make it a themed potluck to keep things easy — try all red or green foods, or dishes mentioned in Christmas carols. What the heck is a figgy pudding, anyway? 
Don't forget to grab a couple of rolls of sugar cookie dough to decorate cookies together. Take it full circle with ugly sweater cookie cutters. 
If cooking isn't your thing, outsource to a local restaurant or bakery. More and more are doing takeout, and many depend on strong holiday sales to get them through the slow winter months.  
Regardless of where you source your banquet, make sure you have plenty of drinks on hand. For a rich Christmas wine, go with the blackberry and vanilla richness of Murphy-Goode Cabernet Sauvignon. If you're looking for something to sip during the festivities, or a lighter after-dinner option, the crisp Chardonnay is your best bet. 
Holiday cheer doesn't always have to look pretty. Sometimes, it looks more like a pretty ugly sweater. Regardless of your sense of style, here's hoping your season is warm and cozy and your knitwear is too.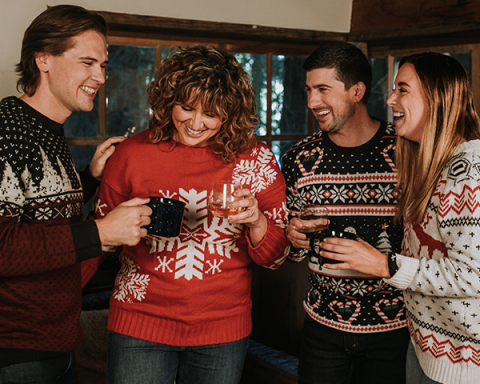 GOODE ADVICE
Do: Wash that thrift store sweater.
Don't: Be the person who brings a veggie platter.
Do: Turn your pumpkin into a snowman.
Always: Warn grandma of oncoming reindeer.
Do: Wear holiday-themed socks.
Don't: Give your nephew socks for Christmas.
Do: Spike the eggnog.
Don't: Wait until after holiday karaoke to do so.
Do: Practice your "Ho ho ho."
Always: Leave out cookies for Santa.