Survival Guide: Meet the parents
So you're ready to take the next big step in your relationship. 
No, not the one that involves rings and pageantry.
The one that involves meeting the parents. 
Despite the cultural hype around the occasion (see: Ben Stiller in "Meet the Parents") there's no need to stress. With the right mood, a simple dinner plan and a bottle of Murphy-Goode, you're guaranteed to get the parental seal of approval.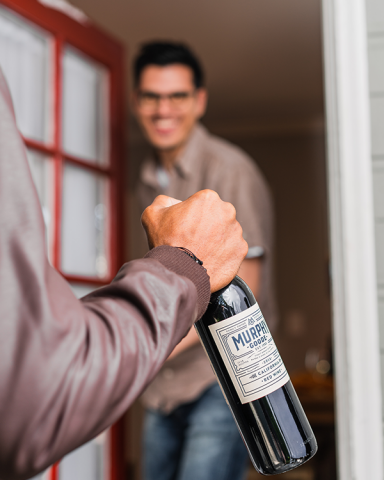 Prep like a champ
Start your in-law relationship with a clean slate. Or at least a clean bathroom. You don't have to go full Martha Stewart on the home preparations, but take some time to pretend you don't live there and see what you notice. Grimy floors? Sweep them. College-era Craigslist couch? Buy a blanket to throw over the back. Weird stain on the rug? Eh, nobody will notice. 
Once the apartment is spotless, or at least reasonably tidy, your next move is to set the right mood. Light a few candles and place them on the table or counter. Pick a simple scent like pine or vanilla — you don't want to knock anyone out with a cloying wood/musk/cinnamon concoction. 
Turn on some music right before they arrive. If you're going for "I'm a cultured individual" the move is dinnertime jazz. Trying to impress your partner's dad? '70s hits all the way. For a low-key evening, try some chill soul. An added benefit: if conversation lags, you can say "Wow, I love this song" to keep things moving.  
Simplify your dinner plans
Start with the obvious: potential allergies. Scrambling for an EpiPen would certainly make a memorable evening, but you're in better luck if you get a list of acceptable foods in advance. Even if allergies aren't an issue, ask your significant other about their parents' favorite foods. No better way to endear yourself to Denise than to set out a bowl of her favorite fancy olives. 
Keep the focus on spending time together, not on sweating in the kitchen. Simple is your friend.  For an easy starter that looks like you ordered from a Michelin-starred restaurant, try these prosciutto-wrapped dates. You can even make them in advance and pop them in the oven right before your guests arrive.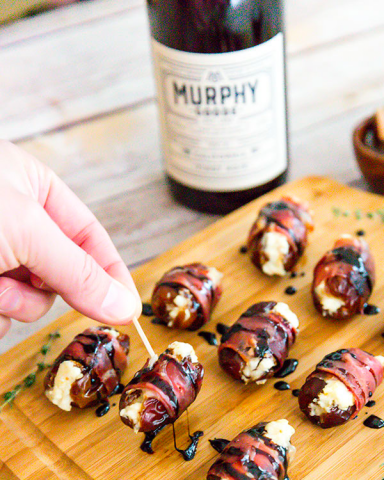 On a nice day, uncork a bottle of Murphy-Goode Sauvignon Blanc and chill by the grill while cooking Korean beef skewers or honey chicken with vegetables. If you're inside, try these slow cooker pulled-pork sandwiches with a bottle of Murphy-Goode Cabernet Sauvignon. 
Finish dinner with a pan of warm brownies and some vanilla ice cream and homemade hot fudge to sweeten the deal. 
Make a great first impression
You only get one shot at impressing the parents. Not to be dramatic, but treat this like you're entering the NFL draft. (Okay, that's a little dramatic.) Ask your partner for some shared interests you can turn into conversation topics. "What do you do for work" is a sure bet, but try to get a little deeper i.e. "What's the best job you've ever had" or "How do you get such an illustrious beard." When all else fails, ask Denise to tell cute childhood stories about your significant other. Moms love that stuff.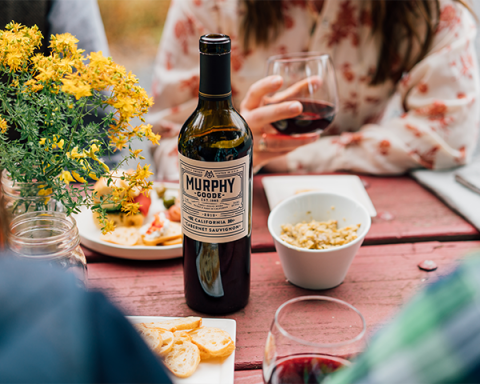 Keep the party going
The table is clear, the dishes are in the sink and the wine is running low. Now's the time to refill your glasses and either 1. head to the living room and talk like civilized adults or 2. play some tipsy games. One Gotta Go will get some *spicy* debate going and Wine Wars will test your wine connoisseur status. 
Of course, if the weather is in your favor, you can always take a walk around the neighborhood. Bring the dog (or steal your friend's) to show them how responsible you are. If the weather is on the chilly side and you have a yard, buy a $50 fire pit and a pack of marshmallows (chocolate and graham crackers too, if you're feeling extra). Let your partner's dad relive his youth and show you how to roast the perfect golden marshmallow. 
Host(ess) gifts
When the dinner goes so well that you get an immediate invite to the parents' house, it's time to dazzle them with a small token of your appreciation. A few options for gifts to give your partner's parents: 
Bottle of Murphy-Goode

Block of nice cheese and some fancy crackers

Homemade cookies

Locally made candle

Photo of you and your partner (too soon?)
Board game to play together

Volunteering to do the dishes
At the end of the night, there's really only one thing that matters when meeting your girlfriend/boyfriend's parents. Just flash a big smile and tell them how great your partner is. They'll love you forever, and so will your significant other.