&nbsp
Prosciutto Wrapped Dates Stuffed with Goat Cheese and Fig Marmalade
Whether you are hosting a New Year's Eve party or planning on attending one, don't forget these crowd-pleasing prosciutto wrapped dates stuffed with goat cheese and fig marmalade. 
I can't believe we are just days away from celebrating the countdown to New Years! There are plenty of us that are making our lists and checking it twice, but cross off deciding what to serve or bring as an appetizer because you can't go wrong with these insanely delicious prosciutto wrapped dates stuffed with goat cheese and fig marmalade. It's the ultimate combination of sweet and salty and I dare anyone to eat just one. The icing on the cake is they're drizzled with a rich balsamic glaze that pairs so perfectly with all the flavors going on. 
This recipe really was the ultimate combination of some of my favorite foods. Dates are used routinely in my house as a natural sweetener and I always, always have a jar of fig marmalade ever since returning from Italy this summer. It was a trial & error process, but once I combined the goat cheese and fig marmalade together, I could have just eaten it right out the bowl! I performed a little happy dance as if I just discovered the next great thing in culinary delights.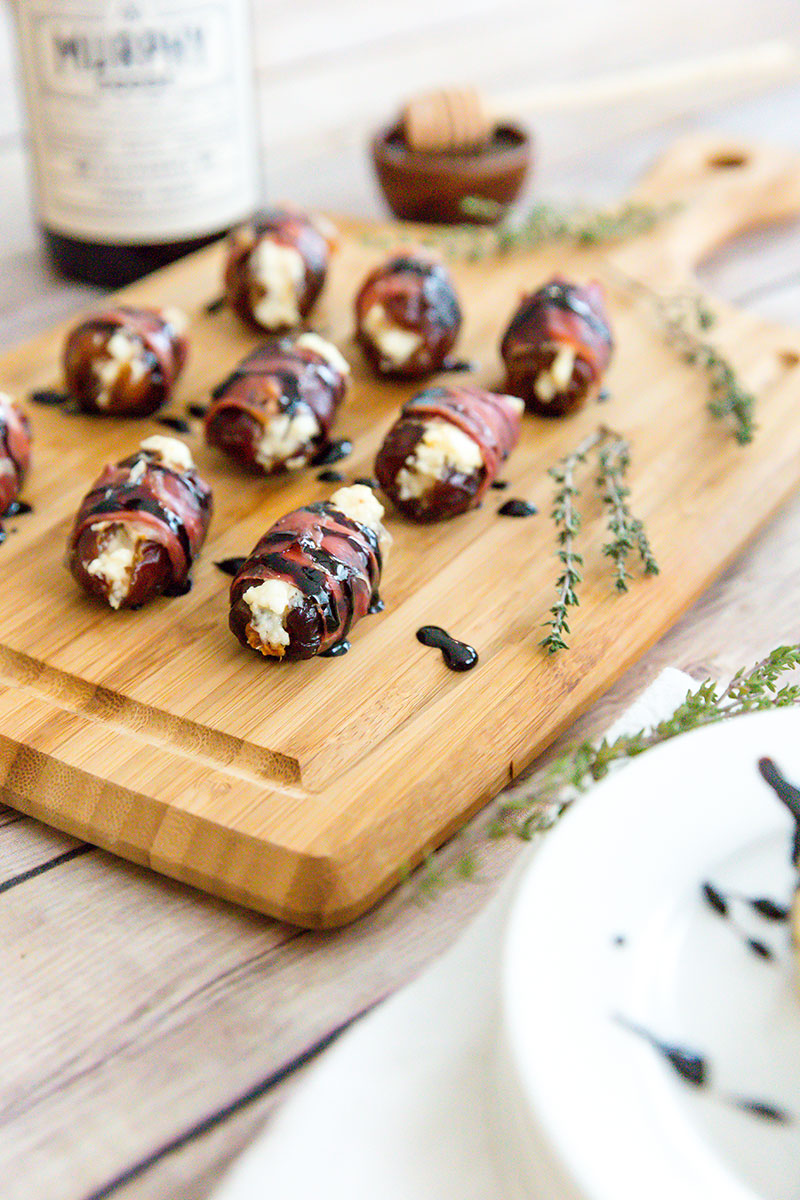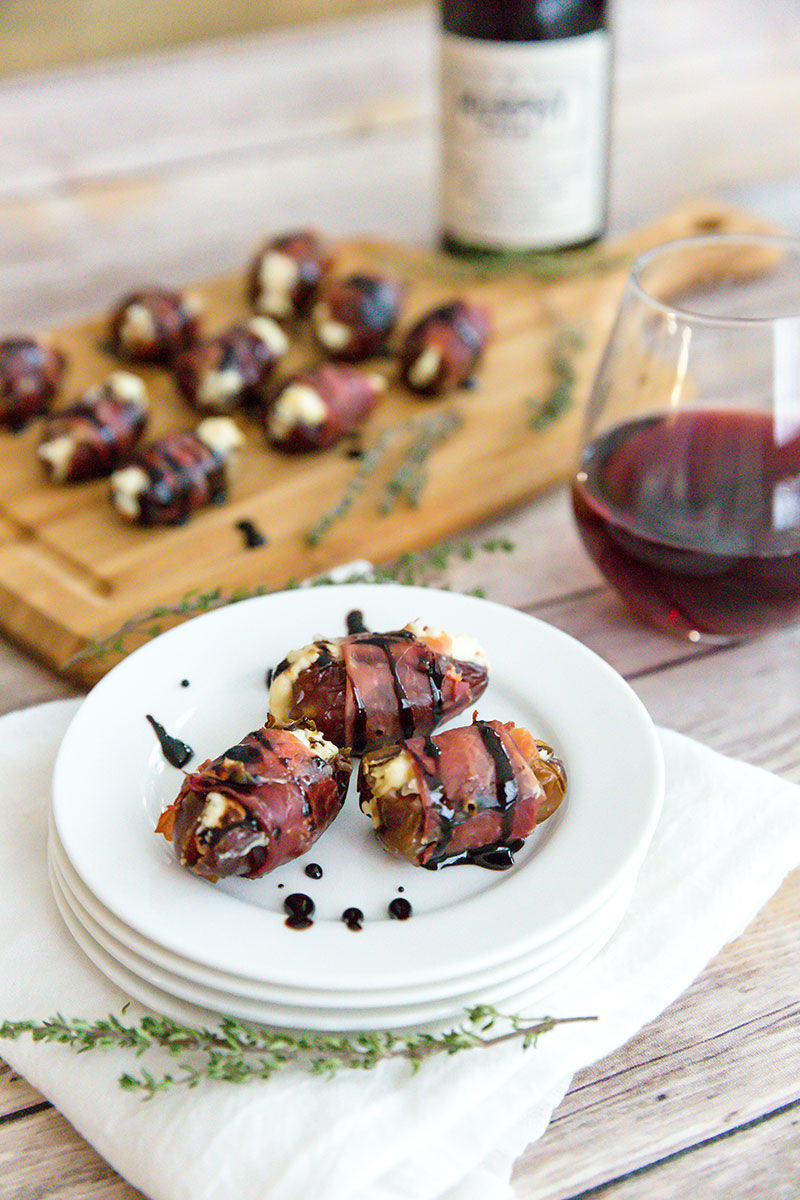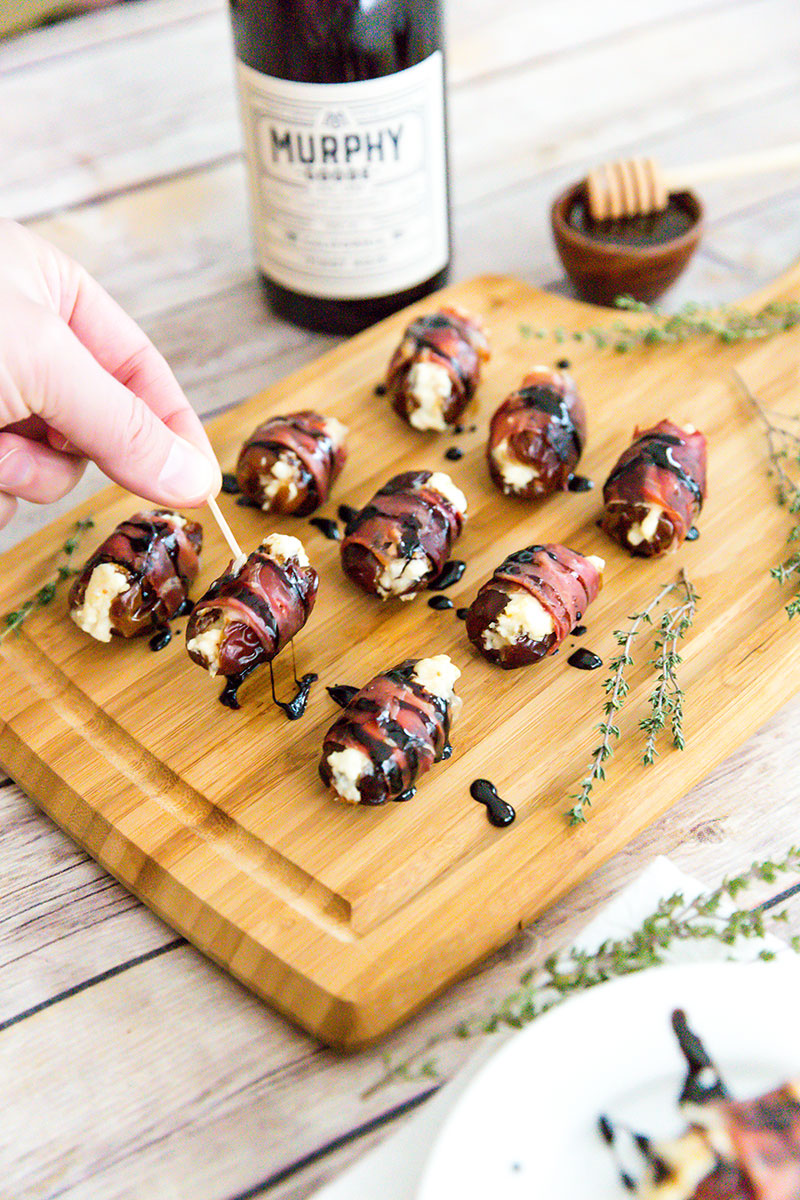 Prosciutto Wrapped Dates Stuffed with Goat Cheese and Fig Marmalade
Ingredients: 
15 medjool dates, pitted and sliced lengthwise (not all the way through)
0.25lb good quality goat cheese
2 tbsp fig marmalade
8 slices of thinly sliced prosciutto (sliced lengthwise)
1 tbsp raw honey
1 cup balsamic vinegar
pinch of sea salt
toothpicks
thyme springs, for garnish
Instructions: 
Preheat oven to 350°. Line a baking sheet with parchment paper. 
Assemble the pre-sliced dates on the baking sheet. 
In a small bowl, combine the goat cheese and 2 tbsp of fig marmalade. Mix until well incorporated. 
Spoon a small amount of the mixture into the opening of the date. 
On a cutting board, slice the prosciutto lengthwise. Depending on the size of the pieces, you may have to fold the piece in half lengthwise so it does not cover the entire date. Wrap the the prosciutto around the stuffed date and secure with a toothpick. Drizzle with honey and place in the oven. 
Bake for 15-20 minutes. 
While the dates are in the oven, prepare the balsamic glaze. In a small saucepan, pour 1 cup of balsamic vinegar and a pinch of sea salt. Bring to a boil, then reduce to a simmer and let reduce for 15 minutes. Stir on occasion until it begins to thicken up and then stir constantly. Remove from heat and glaze will continue to thicken as it reaches room temperature. 
Once dates are removed from the oven, promptly remove toothpicks and drizzle with balsamic glaze. Serve promptly.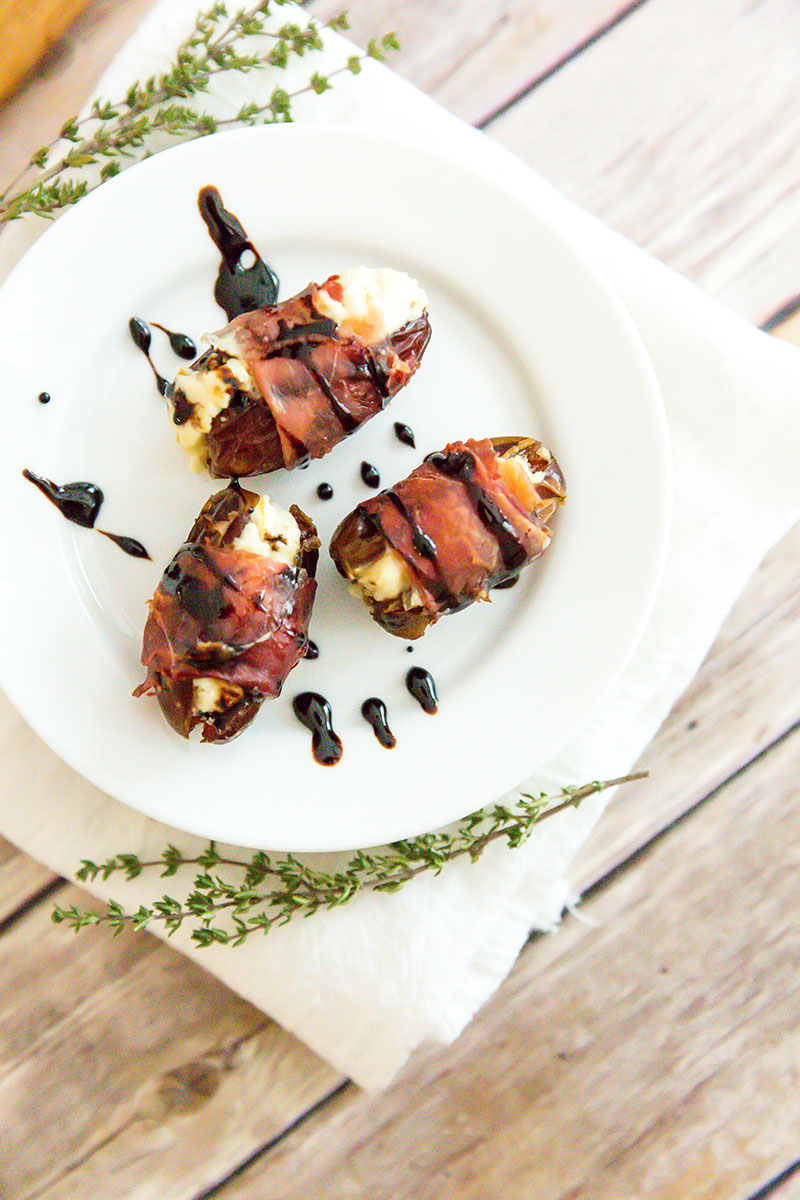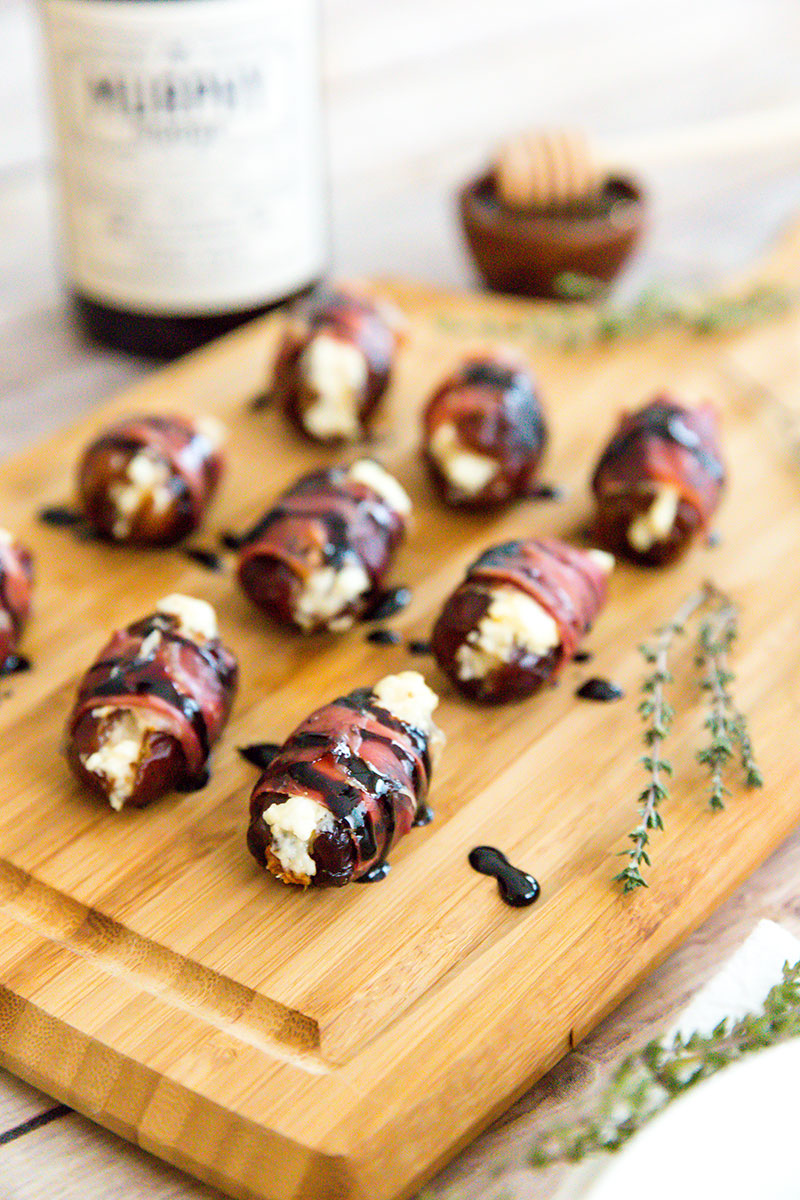 In all honesty, I ate about 4 of them before I even got them to the table to be photographed. I pulled them right out of the oven, drizzled the stuffed dates with balsamic glaze and served them on a pretty cutting board with a stack of small plates nearby. I garnished the plate with sprigs of thyme for a festive ambiance. The vibrant dark fruit character and bright acidity of the Murphy-Goode Pinot Noir paired nicely with the abundance of flavors in the prosciutto wrapped stuffed dates. 
We've got a few NYE parties to attend to this weekend and I plan on showing up on their front porch with a serving plate of these delicious bites and a bottle of wine. What says Happy New Year more than goode food, great friends and an abundance of joyful spirit?
Wishing you and your family a happy and healthy Happy New Year!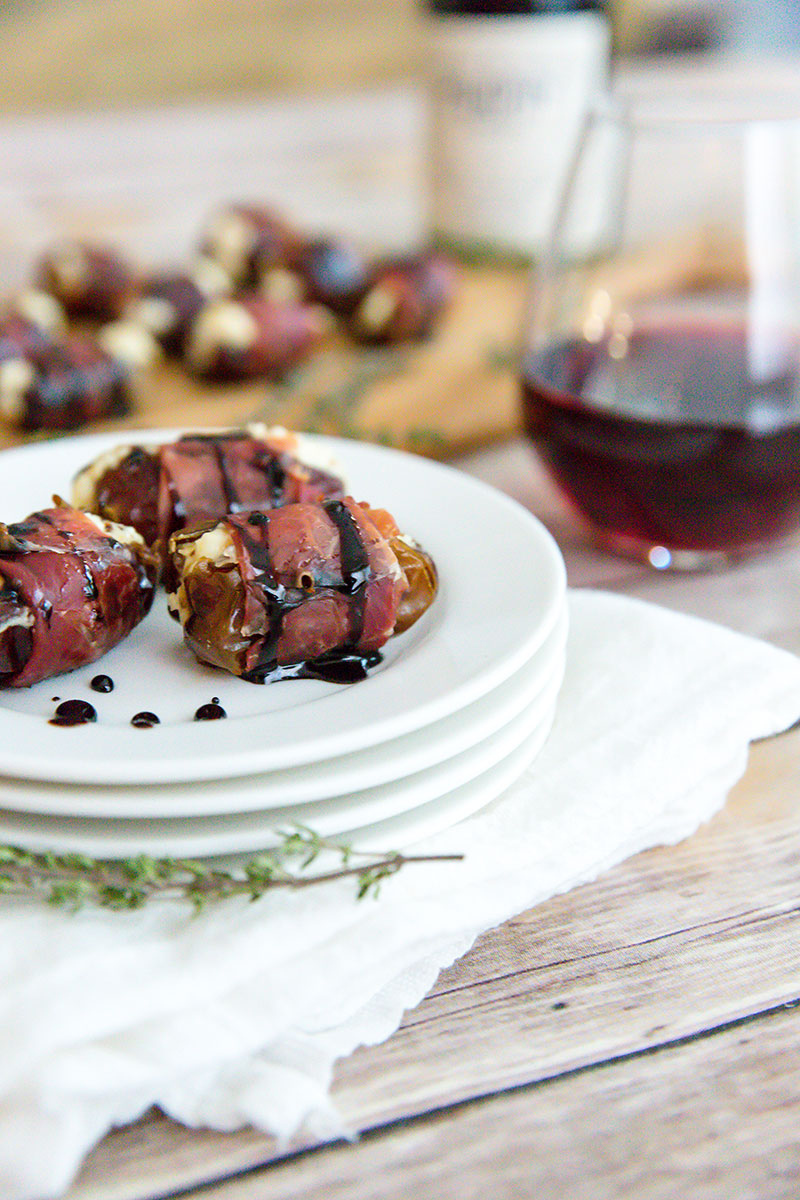 Love this recipe? Share it with your friends on Pinterest or tag us on Instagram with a photo of your creation!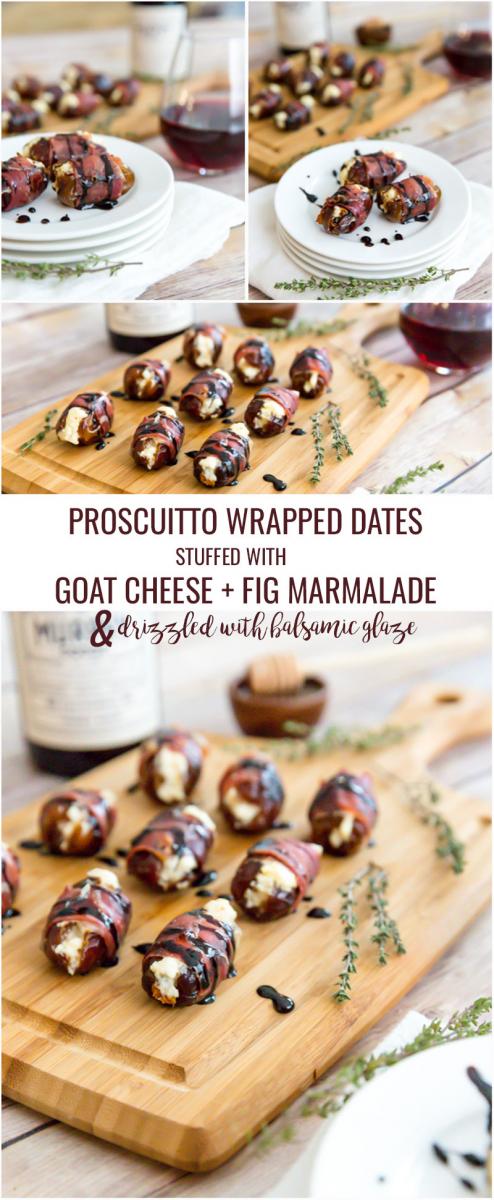 Written by Kristin Mansky of Modish and Main