&nbsp
Mexican Cauliflower Rice Bowl with Chicken
The classic burrito gets a healthy spin with this delicious Mexican cauliflower rice bowl with chicken.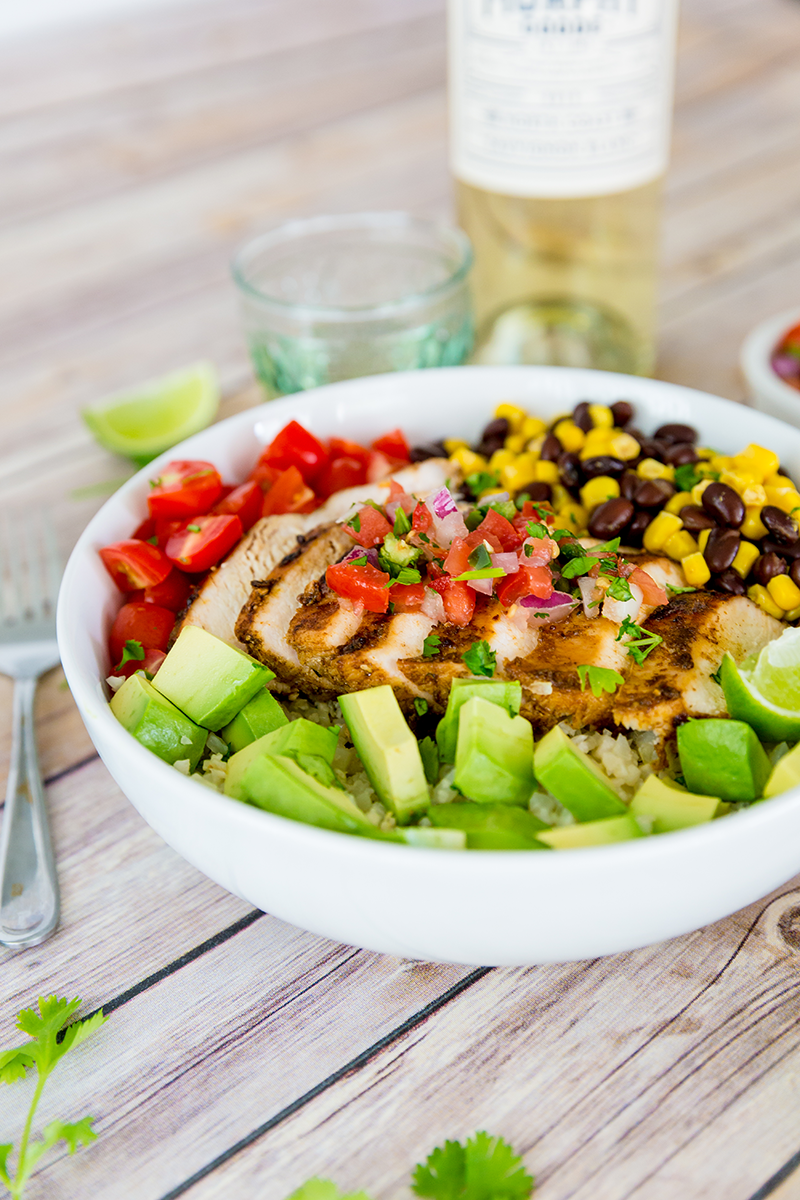 Getting my hands on Mexican food is a requirement at least twice a week. Some days I'm craving a sizzling pan of fajitas or a heaping plate of chili verde, but lately all I've been wanting is this cauliflower Mexican chicken rice bowl. Don't get me wrong, I love a good bowl of rice just as much as the next person, but once you start substituting it for this cilantro lime cauliflower rice you won't miss it. The taste and texture are similar, but gone are the unnecessary carbs. It's a win-win for everyone because now you can go back for the bowl of seconds without any guilt (and trust me, you'll go back for the seconds).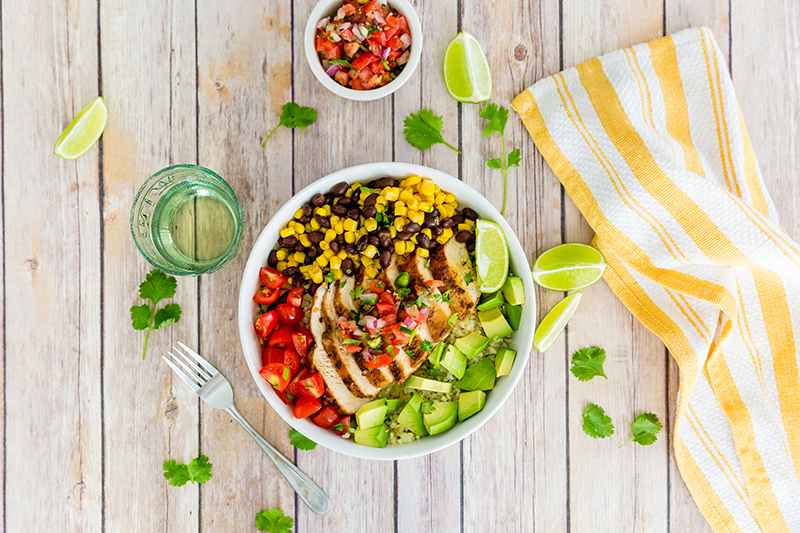 This is one of those recipes that ends up sitting on the counter, just off to the side, and has some food smudges on it because you keep pulling it out for weekday meals. It's easy, customizable with a ton of topping options and makes the perfect leftovers for lunch the next day. Some people cringe at the thought of a burrito bowl. I get it, the thought of giving up your beloved tortilla is hard, but once you start making cauliflower rice bowls it's like you start tasting the abundance of flavors in a whole new way. The chopped fresh tomatoes, spicy black beans, sweet corn niblets, garden fresh cilantro, creamy avocado and scoops of savory salsa are no longer masked by the massive tortillas any longer. It's like they got their freedom back and are ready to show off their delicious tastes. 
Cilantro Lime Cauliflower Rice:
1 head of cauliflower, roughly chopped -or- 1 bag of cauliflower rice
1 tsp minced garlic
1 tsp extra virgin olive oil
1 tbsp fresh lime juice
1/2 cup chopped cilantro
Rice Bowl Ingredients: 
2 chicken breasts, seasoned with southwestern spice rub
1 cup cherry tomatoes, chopped
1/2 cup spicy black beans, warmed
1/2 cup corn niblets, warmed
1 avocado, cubed
1/2 cup salsa
1/4 cup shredded romaine lettuce (optional)
Directions for the Cilantro Lime Cauliflower Rice: 
Remove the leaves of the cauliflower and slice the head in half. Continue by removing the small florets from the main core.
Before chopping, place a skillet on medium heat with 1 tsp of minced garlic and olive oil. 
Using a food processor, chop approximately 1/2 of the cauliflower until only small pieces remain. Remove, place in the skillet and continue chopping the remaining cauliflower florets. 
Once all the small pieces are in the skillet, continue cooking for about 5 minutes, constantly stirring. 
Remove from heat and toss with chopped cilantro and fresh lime juice. Set aside. 
(If using a prepackaged bag of cauliflower rice, just cook over medium heat with 1 tsp of olive oil for 5 minutes and then toss with lime juice and cilantro)
Directions for Preparing Southwestern Chicken: 
Season both sides of the chicken breast with your favorite southwestern spice rub. Preheat oven to 325°. 
Warm up a cast iron skillet with a drizzle of olive oil over medium-high heat. 
Place chicken on the skillet and sear both sides for 1-2 minutes. Remove from stovetop and stick it in the oven for 20 minutes.
Verify chicken is cooked to a minimum of 165° and remove from heat. Place chicken breasts on cutting board and slice into thin strips.
Directions for Assembling Mexican Cauliflower Rice Bowl: 
Place the desired amount of cauliflower rice in a bowl.
Add a few sprinkles of shredded lettuce followed by slices of southwestern chicken.
Continue by adding the chopped tomatoes, cubed avocado, black beans, corn niblets and a few spoonfuls of salsa. 
Finish the bowl with a fresh sprinkle of chopped cilantro and dig in! 
Yields 2 bowls.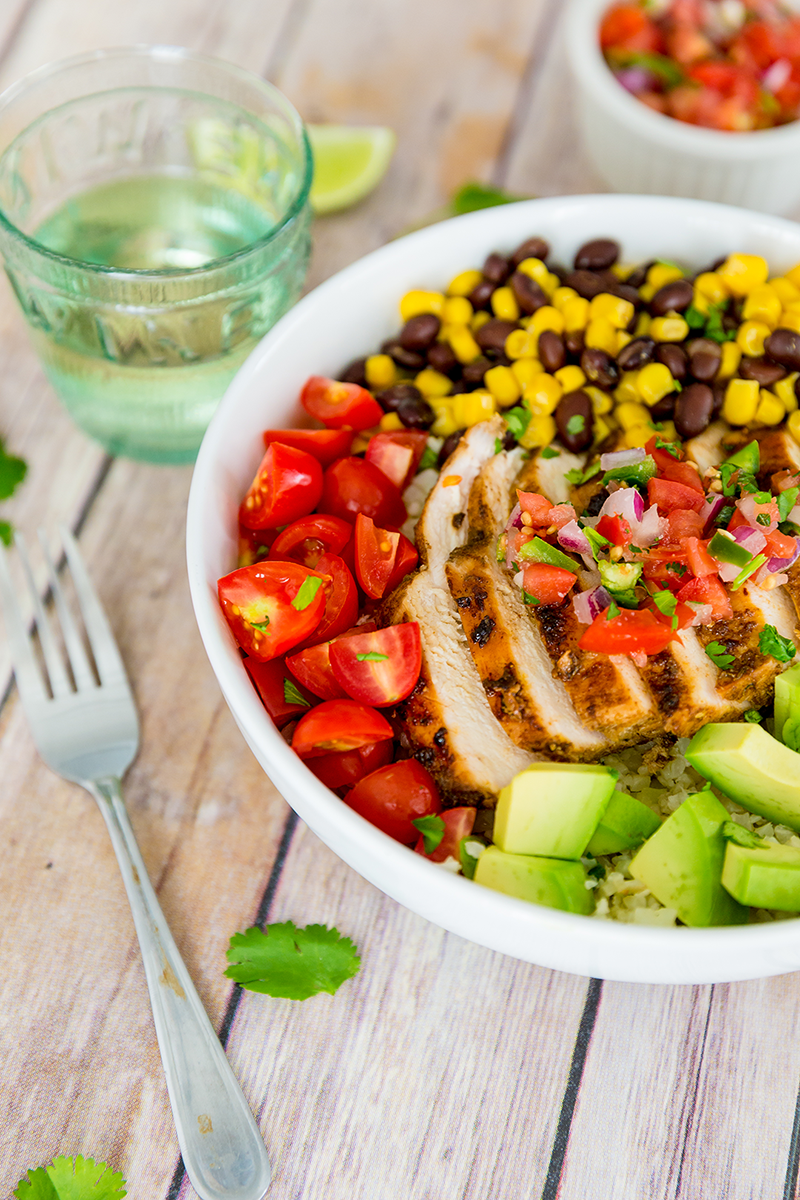 So maybe I take my Mexican food a bit too seriously, I mean I did just describe the toppings getting their freedom back. It's just that these cauliflower rice bowls with southwestern seasoned chicken are so darn good I can't stop eating them. We love to serve up this dinner alongside a nice glass of chilled Sauvignon Blanc and a little acoustic guitar medley playing in the background.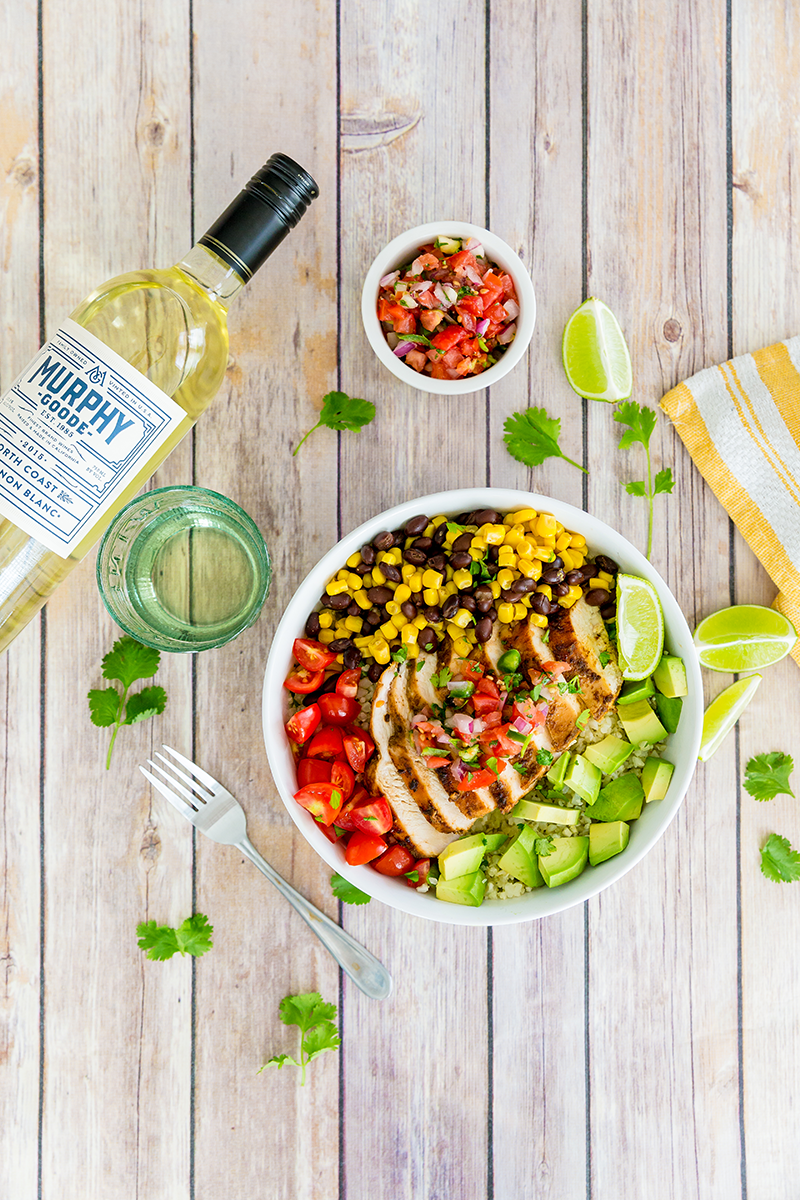 Psst …. if you plan on serving this for a group of friends, turn this into a taco bar! Start with a stack of bowls followed by a heaping serving of cilantro lime cauliflower rice and then all the toppings laid out for your guests to create their own array of deliciousness. All you have to do is make sure the wine is poured over on the dinner table! 
Written by Kristin Mansky of Modish and Main
Share this recipe with your friends or Pin it to save for later!