Marinated Spinach and Kale Steak Bowl
Enjoy a healthy take on fall flavors with this marinated spinach and kale steak bowl. 
If there's one type of food most people don't usually crave, it's probably spinach and kale. When eaten raw, they can be rather tough and bitter, but try them marinated and you might find yourself with a whole new perspective. As much as I would rather indulge in pumpkin infused recipes (like these no-bake pumpkin cheesecakes), my waistline is quick to disagree with me. I've quickly learned, with the right amount of marinating and a flavorful, perfectly cooked sliced steak, I can enjoy the flavors of fall without worrying about excessive calories.
Can you guess where we are incorporating fall flavors? I bet you didn't think in the salad marinade! We used pure maple syrup (bonus that it's harvested on my Uncle's land in northern Wisconsin) as it adds a hint of sweetness, a whole lot of fall and with just a touch of cayenne pepper — a bit of spice that plays nice with the steak.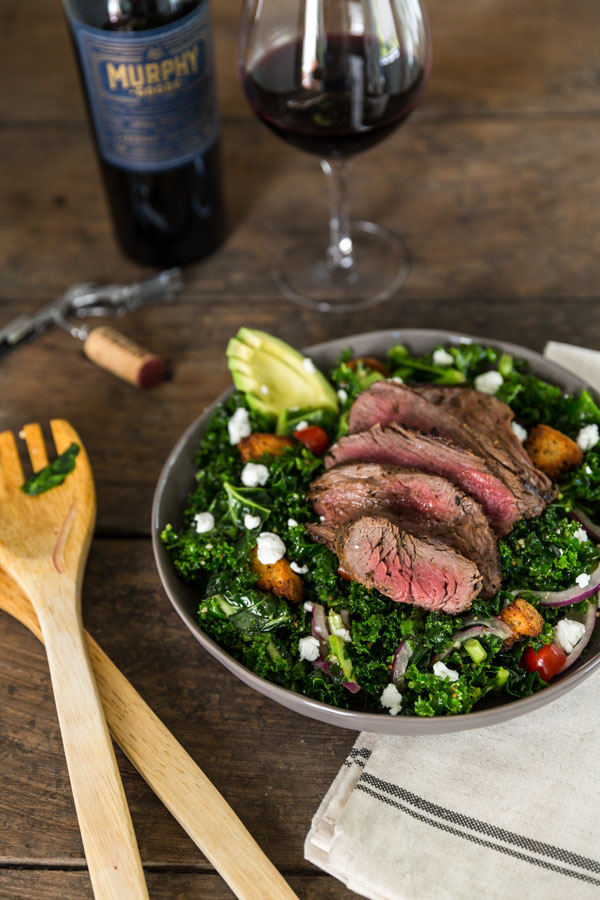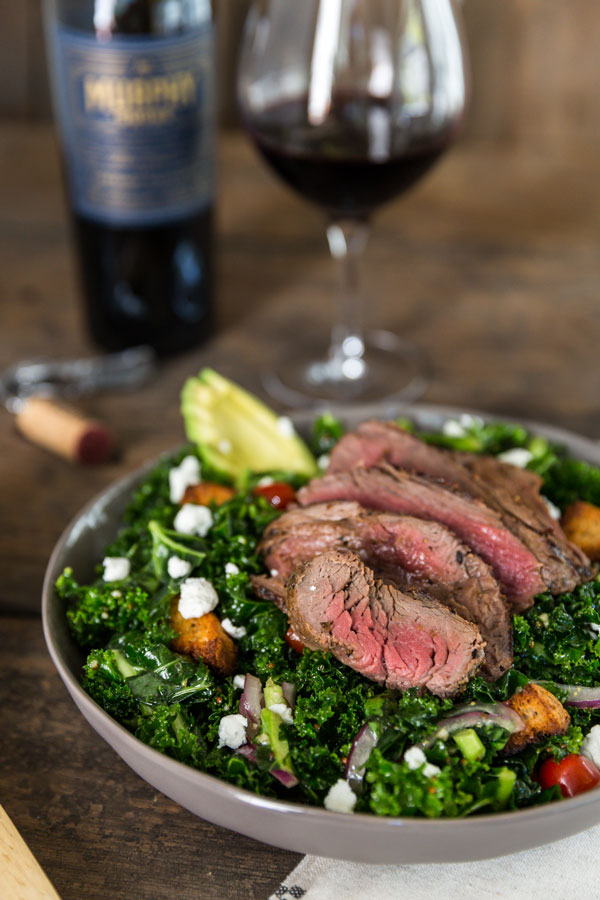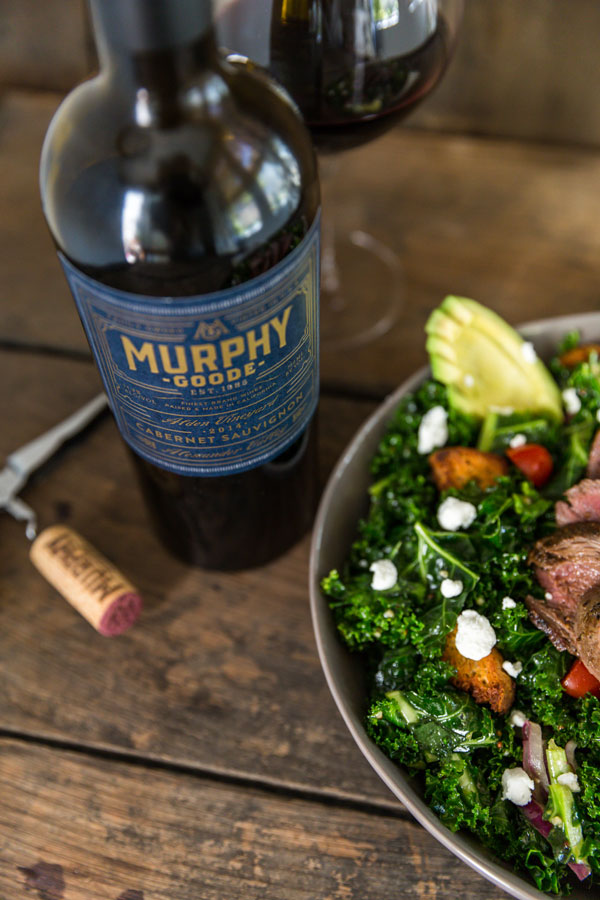 Marinated Spinach and Kale Steak Bowl
Ingredients:
1 bunch kale, stems removed
1 bunch spinach, stems removed
8-10 ounces filet mignon steak
1/4 cup + 2 tbsp extra virgin olive oil
1/4 cup pure maple syrup
2 tsp dijon mustard
2 garlic cloves, minced
2 tsp fresh squeezed lemon juice
1/4 tsp salt
1/4 tsp ground black pepper
1/8 tsp cayenne pepper
1 cup cherry tomatoes, halved
1/2 red onion, thinly sliced
1 avocado, sliced
6oz goat cheese, crumbled
3 sliced whole grain bread, torn into pieces
2 tbsp garlic powder
Directions:
There are a few key steps to take prior to preparing the marinated spinach/kale steak bowl. 
Remove the steak from the fridge at least one hour prior to cooking. Also, prepare the marinade of 1/4 cup olive oil, 1/4 cup maple syrup, Dijon mustard, garlic, lemon juice, cayenne, salt and pepper in a large bowl. Whisk until well combined. Add the spinach and kale and massage for 3-4 minutes. Let marinade for 20-60 minutes while you prepare the homemade croutons. 
Heat a large skillet over medium heat and add 2 tbsp olive oil. Toss in the torn pieces of bread and season with garlic powder. Cook, stirring often, until the bread is toasted and crisp, about 5 to 6 minutes. Remove from heat and set aside. 
Once the steak has come to room temperature, heat a cast iron skillet to medium-high. Rub the steak thoroughly with olive oil, sea salt and fresh ground pepper. Add to the heated pan and cook for 6-10 minutes, flipping every minute or until desired temperature is reached. Remove from heat, including any residual juices, and let sit for at least 2 minutes before slicing. 
In a large serving bowl, add the marinated spinach/kale and top with sliced steak, halved cherry tomatoes, sliced onions, avocado, homemade croutons and crumbled goat cheese. Drizzle with any residual marinade. 
Serve with a glass of Murphy-Goode Cabernet Sauvignon and enjoy!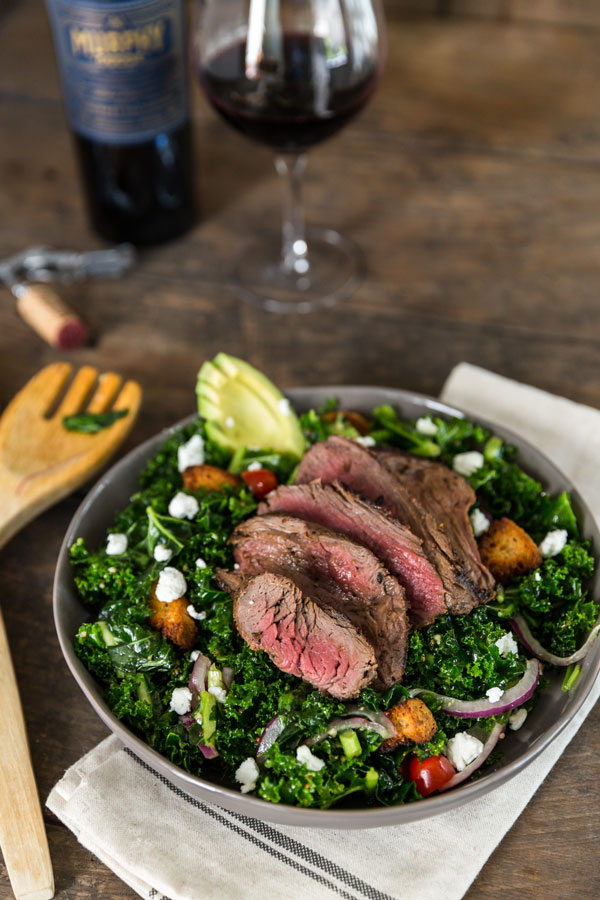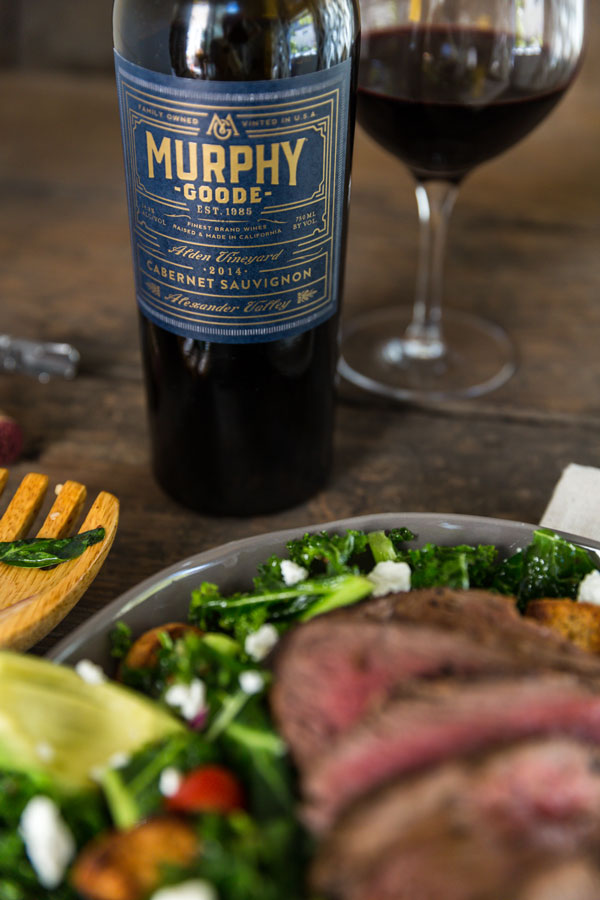 While I typically don't get excited over a salad, this recipe of marinated spinach and kale steak bowl far surpasses any expectations. The combination of flavors work so well together and the hint of maple syrup bring the savory tastes of fall right into your bowl. To thoroughly enjoy this, try pairing it with a red wine that stands on its own, yet pairs well with a simply prepared steak. For this salad, we love to pair it with Murphy-Goode Cabernet Sauvignon from Alexander Valley. 
Since life is all about balance, why not find a salad recipe that you can actually enjoy?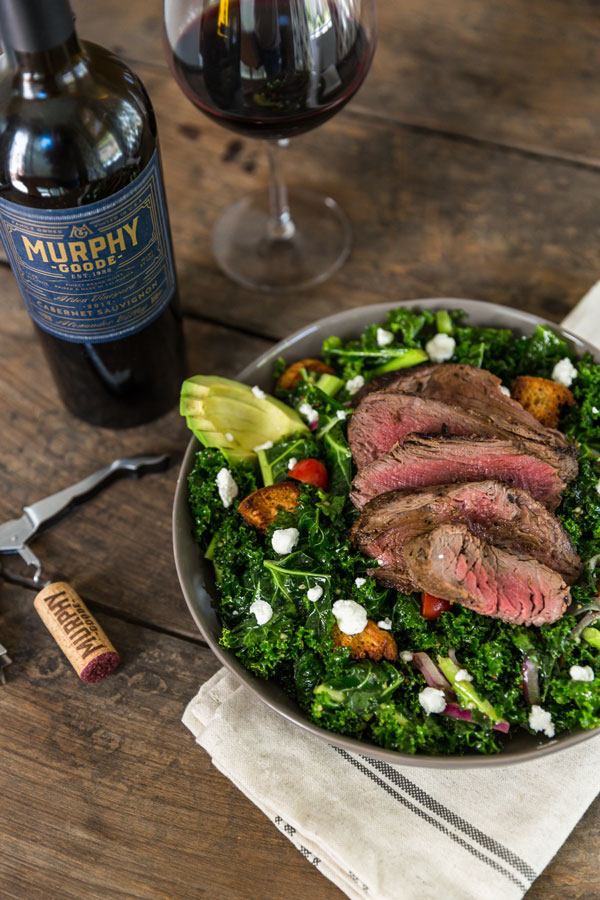 Love this recipe? Share it with your friends or PIN to save for later. 
Written By: Kristin Mansky of Modish and Main