Ma Fiddle's Sauerkraut and Brats
What's the age old saying? Good artists copy and great artists share amazing family recipes? Something like that, right? We asked Murphy-Goode Winemaker Dave Ready Jr. to share one of his favorite summer recipes and he immediately thought of Ma Fiddle's Sauerkraut and Brats. Dave distinctly remembers his best friend's mom making her famous sauerkraut and brats recipe, as it was the highlight to any party and always the start to a good evening with friends. You really can't go wrong with a sauerkraut recipe that calls for wine and bacon. So fire up the grill, pour some Murphy-Goode wine and call over some friends — this delicious recipe is now available for everyone to enjoy (Thanks Ma Fiddle!).
This recipe pairs beatifully with either Murphy-Goode Chardonnay or Murphy-Goode Red Blend. Visit our store locator to find these wines near you.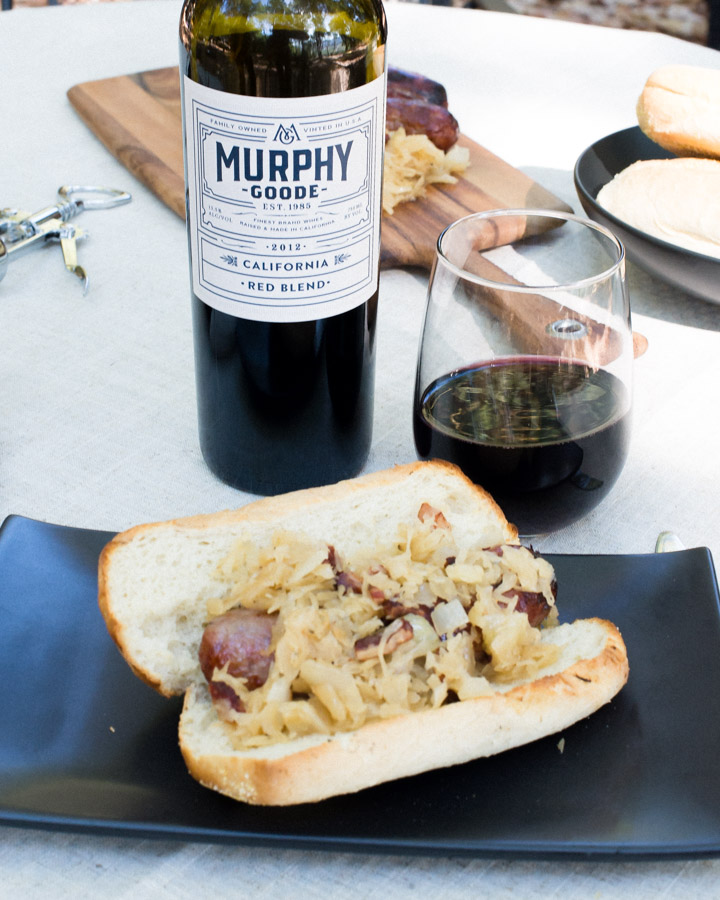 Ma Fiddle's Sauerkraut and Brats
Ingredients:
1 large can of sauerkraut, squeezed dry over bowl to save the juice

8-10 brats

8-10 toasted buns

1/2 pound bacon, diced

1/2 cup white wine — we recommend Riesling or Chardonnay

1 small onion, diced

1 beef bullion cube

Salt and pepper

1/2 cup sauerkraut juice
Instructions:
Brown bacon until crisp in fry pan that's large enough for making the kraut.

Add the sauerkraut to the bacon and the drippings in the pan and sauté the kraut for about 5 minutes until it's golden brown, then add onion and sauté about 3 minutes. 

Add the wine, sauerkraut juice and beef bullion cube to pan. Simmer on low heat until half of the liquid has been reduced.

Salt and pepper to taste.
As for the brats, well, we'll just let the folks over at Johnsonville walk you through how to cook the perfect brat:
Serve with your favorite condiments, some toasted buns and enjoy!