&nbsp
Korean Beef Skewers
The sweet, savory and smoky flavors of these Korean beef skewers are perfect to throw on the grill for an end-of-season barbecue. 
When Labor Day weekend rolls around it usually marks the end of summer, but here in California it just marks another great excuse to have some family & friends over for a barbecue. Our summers feel like they don't end for another month or two and we love any reason to keep throwing our favorite recipes onto the grill. 
I'm sure that we can all agree that food on a stick somehow just tastes better! Maybe it's the simplicity of the meal or the fact that we can hold our dinner in one hand and a glass of wine in the other that makes us love it so much. These savory Korean beef skewers are every bit as delicious as they look as they are marinated in a traditional bulgogi sauce and paired on a stick with red onion, bell pepper, mushrooms, zucchini and squash. Basically, l still wanted to utilize all the fresh vegetables in season, but with the added Korean flare.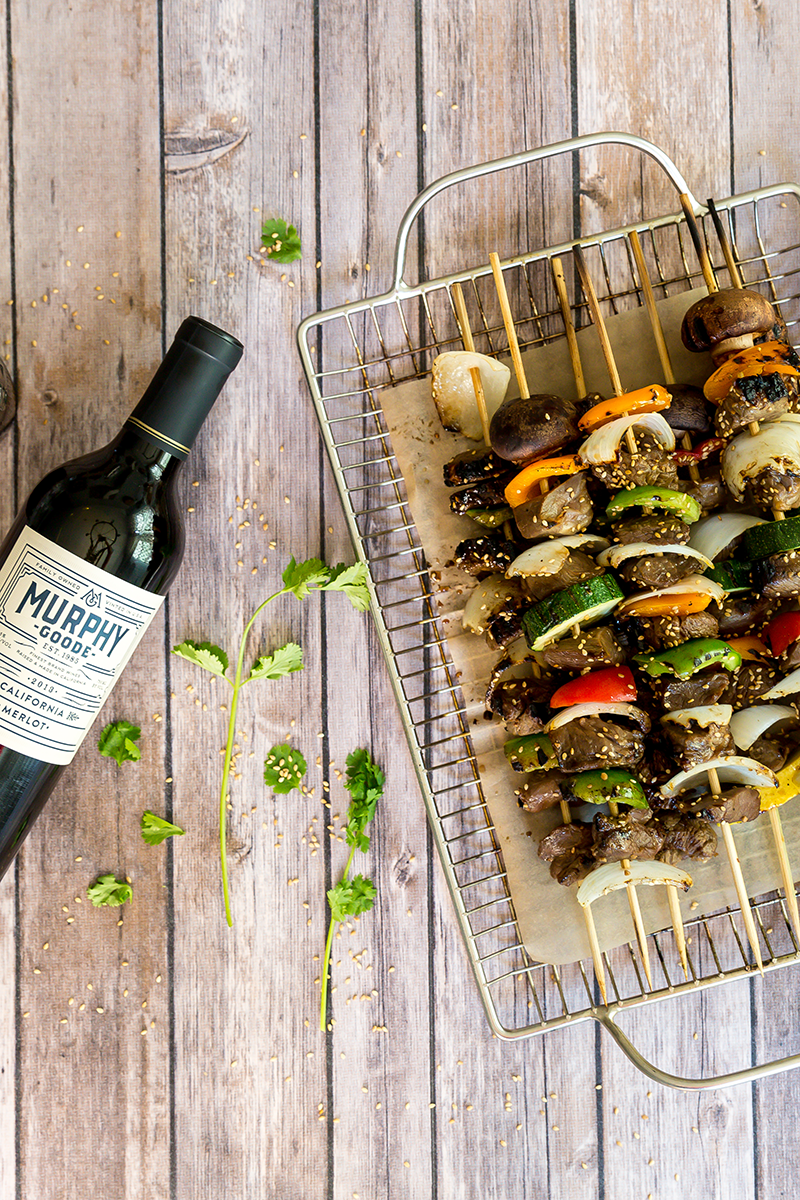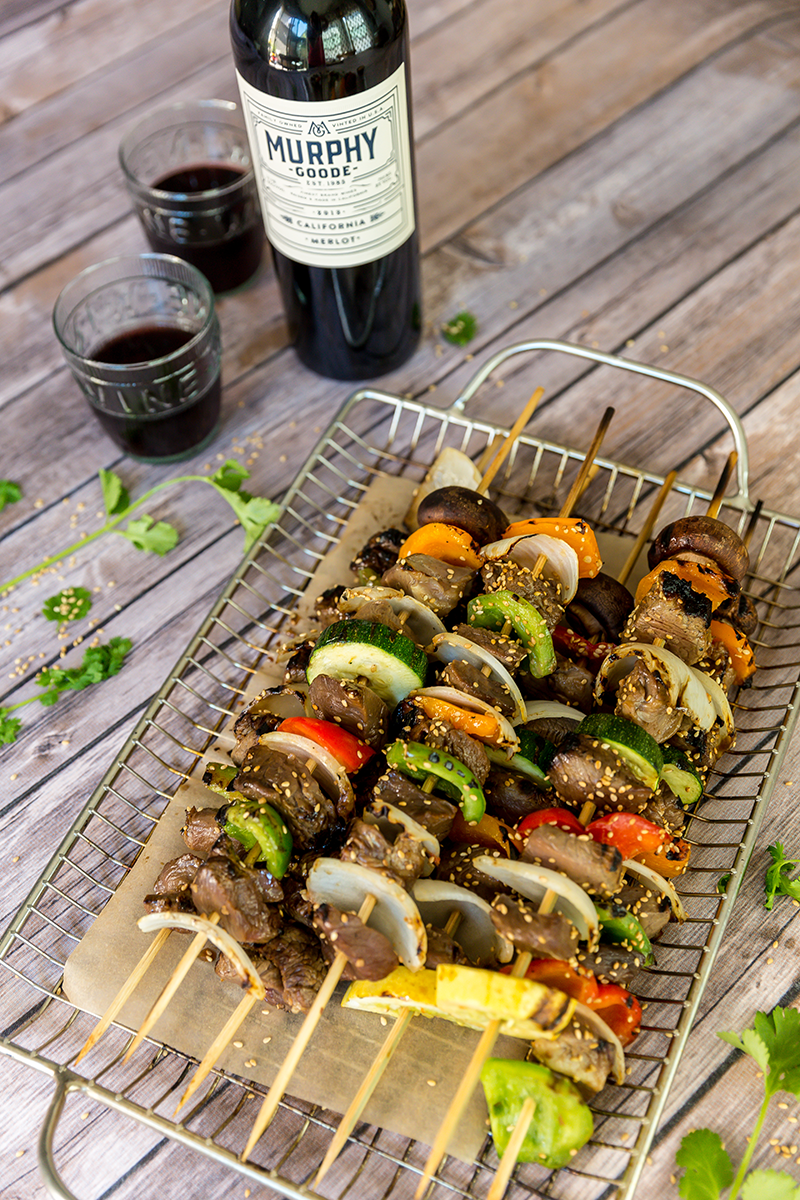 Ingredients for Skewers
1 1/2 lbs of top sirloin steak, cut into 1/2" cubes
1 red onion, cut in 1/2" pieces
1 bell pepper, cut in 1/2" pieces
2 cups crimini mushrooms
1 zucchini, sliced into 1/4" rounds
1 yellow squash, sliced into 1/4" rounds
2 tbsp sesame seeds
chopped cilantro, for garnish
wood or metal skewer stakes
Ingredients for Bulgogi Marinade
2 tbsp sesame oil
1/4 cup brown sugar
1/2 cup soy sauce (use gluten free, if necessary)
1 1/2 tbsp mirin
2 cloves garlic, minced
2 tsp fresh ginger, minced
2 tbsp grated red onion
1/4 cup grated red apple or pear
black pepper, to taste
Directions
In a bowl, mix together all the marinade ingredients. Set aside 3-4 tbsp. in the fridge to use for later. Pour the marinade into a plastic bag and add the cubed beef. Toss gently to cover all the pieces of beef and place in the fridge to marinate for a minimum of 2 hours, preferably overnight. 
Once finished marinating, skewer the beef and vegetables leaving a small amount of space in between each item to allow for proper cooking. 
Turn the grill to high heat and brush with canola or vegetable oil to prevent sticking. Place the skewers onto the grill and turn every few minutes until fully cooked. Usually takes 6-8 minutes.
Upon removing them from the grill, brush them again with the leftover marinade before serving. Sprinkle with sesame seeds and cilantro for garnish.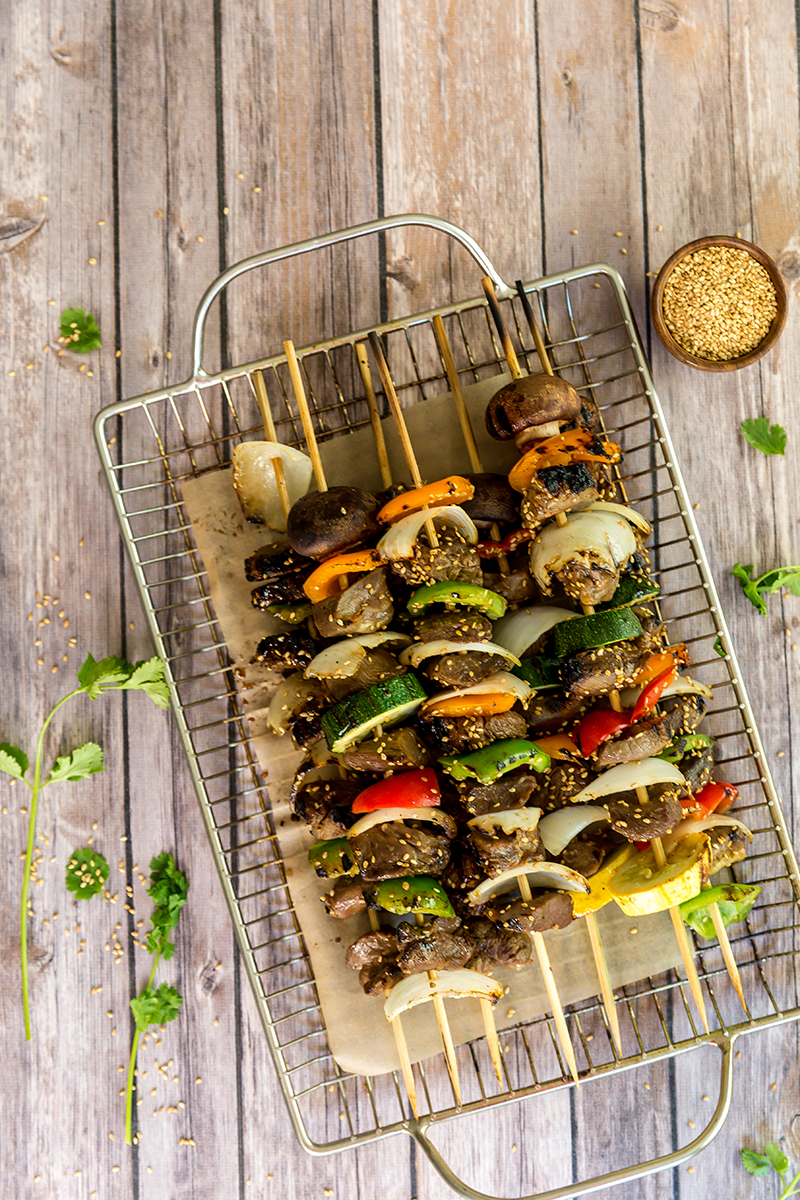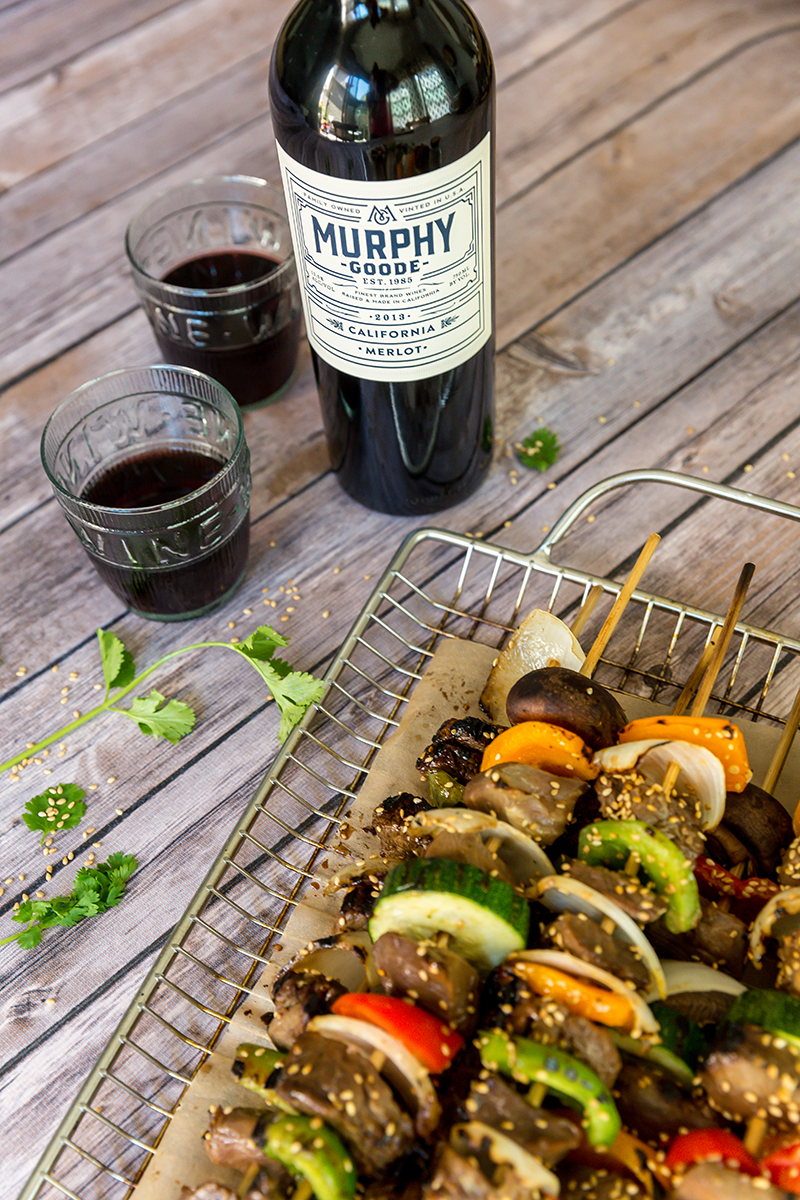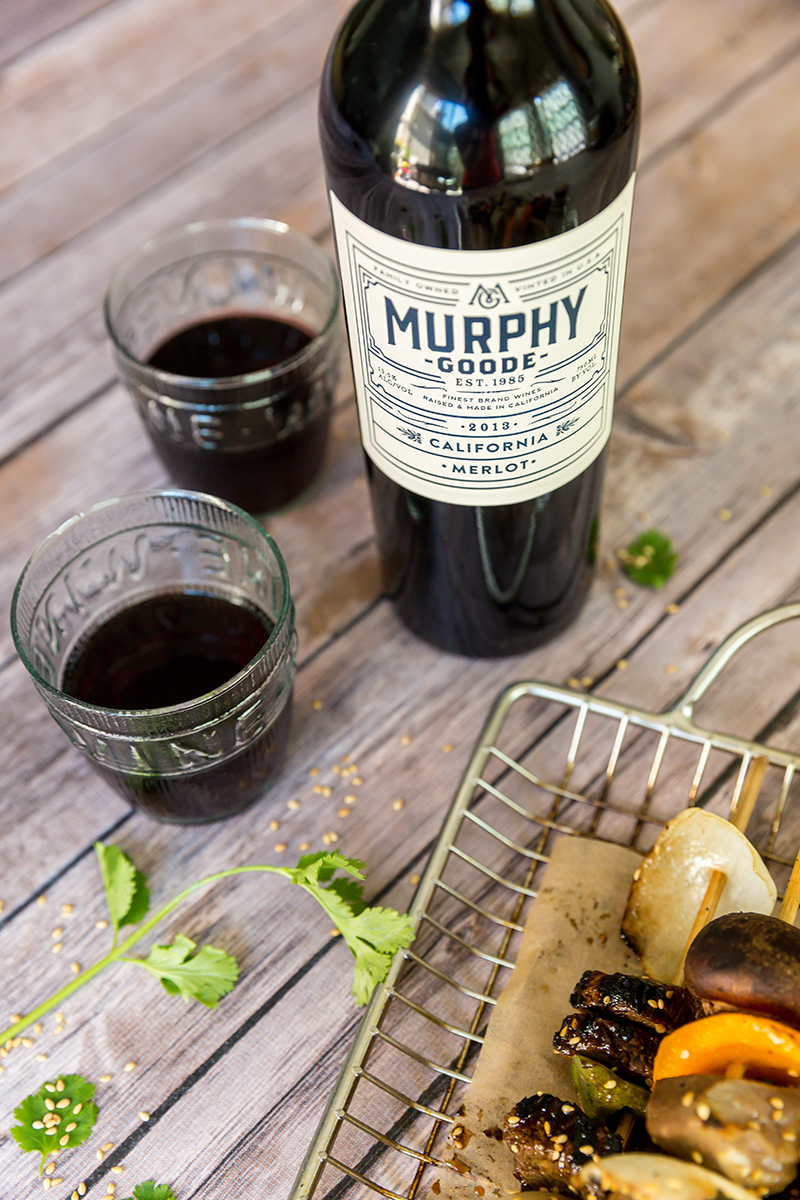 Since we throw our skewers onto the smoker, we get the added benefit of a slight smoky taste. It's not too much because the skewers aren't on the grill very long, but it's just enough. If you're planning on hosting friends or family for the holiday weekend, you can make the marinade and skewers the night before so all you have to do is throw them on the grill the day of. It'll free up lots of time for you to make "goode" with your friends by tossing around the bean bag in the yard and laughing over summer stories. Keep their glass full with this rich Merlot that pairs nicely with the beef right off the grill.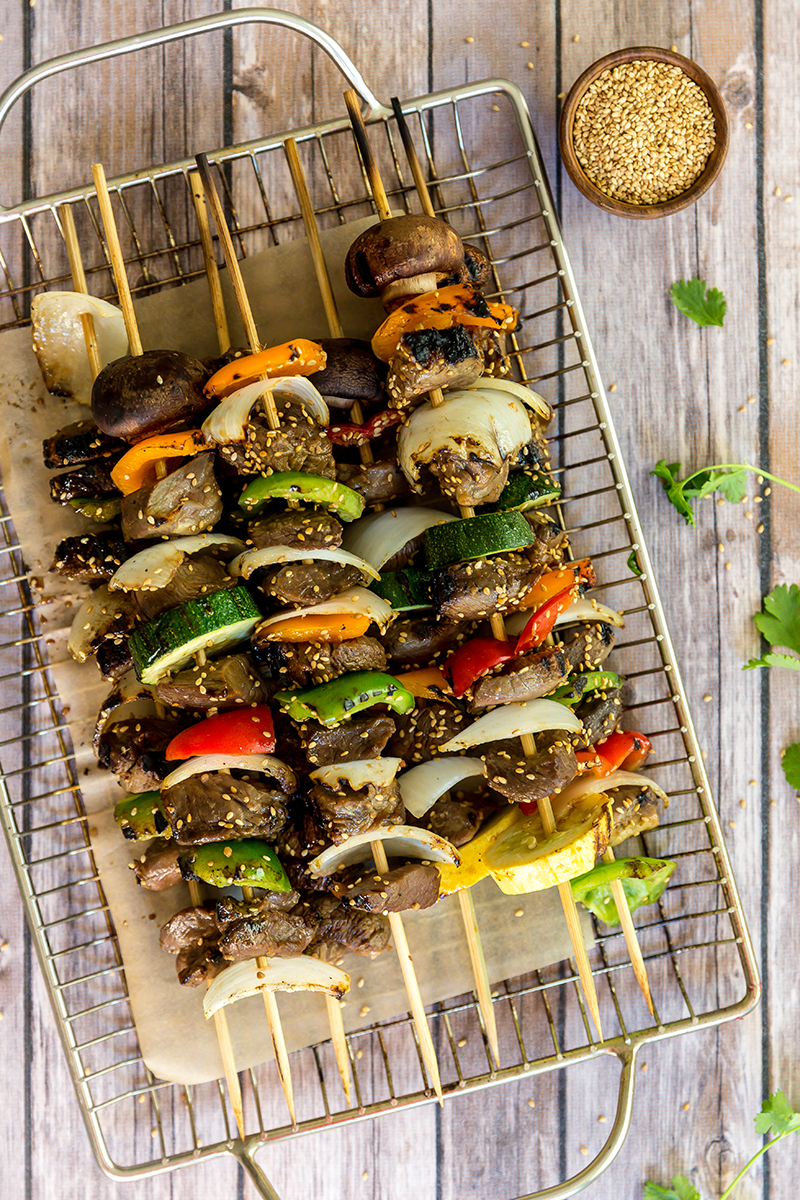 Love this recipe? Share it with your friends or pin it and save it for later!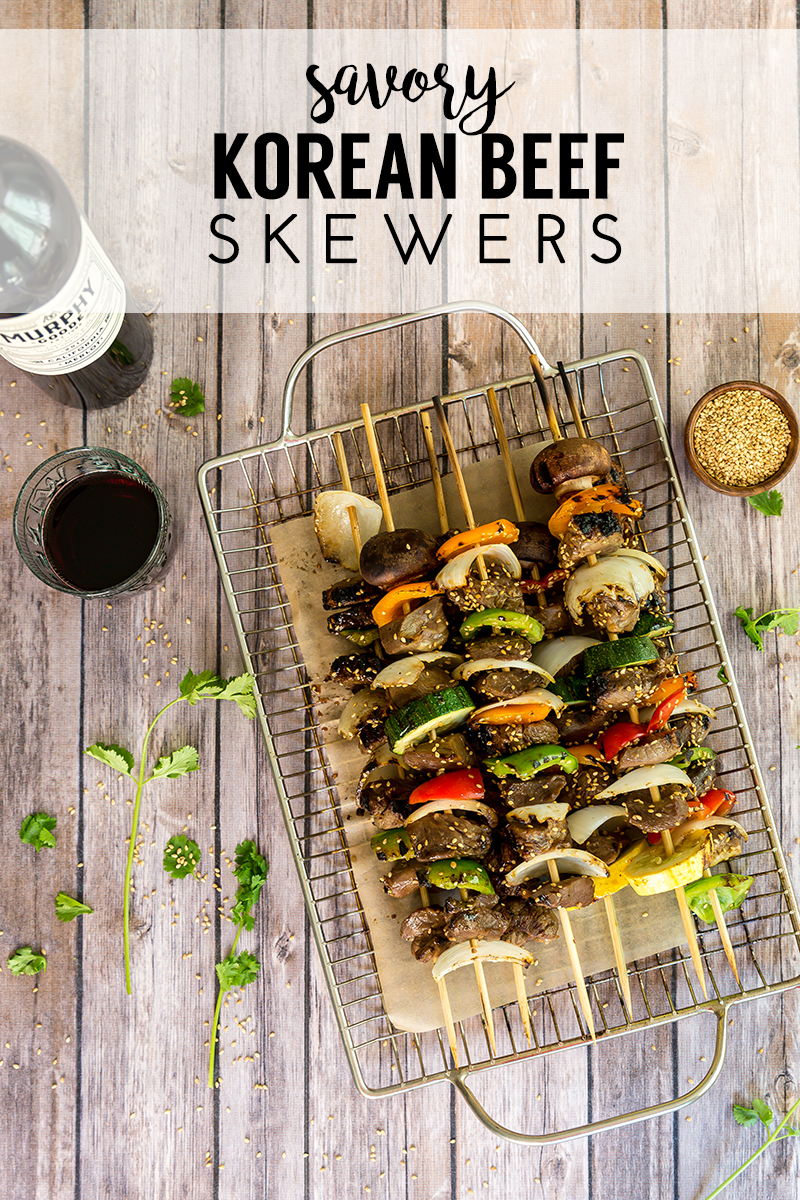 Written by Kristin Mansky of Modish & Main