&nbsp
Gameday Pulled Pork Nachos
Written by Kristin Mansky of Modish & Main
Football post-season is underway and these gameday pulled pork nachos are the winning appetizer to serve up while cheering on your team to a victory!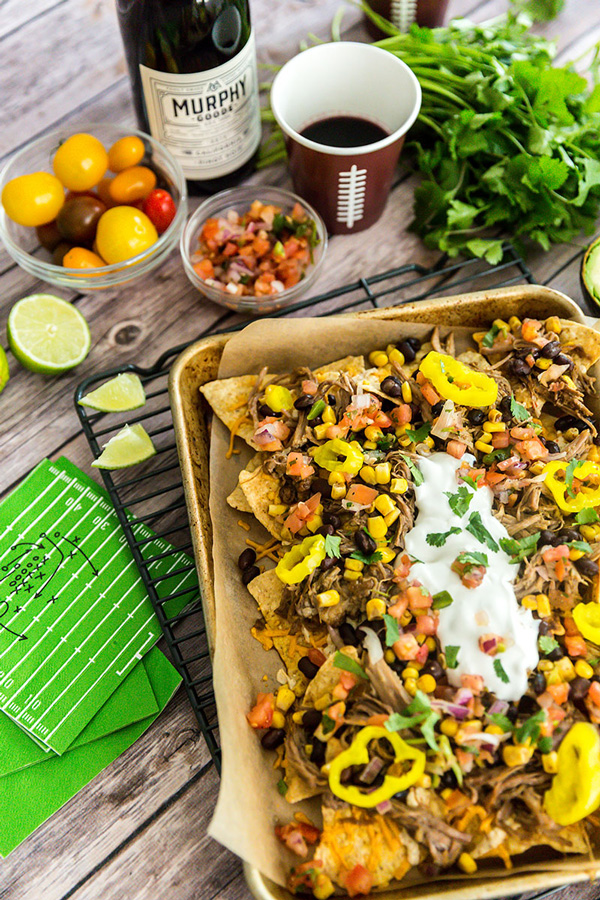 The thing about football season, and especially now that we've entered the playoffs and are just weeks away from the big game, is that no matter if your team is still in it, you can't help but watch. I'm lucky enough to say that as I write this my team is still in it, therefore I served these insanely delicious pulled pork nachos last weekend on gameday. Guys (and girls), this will be your new go-to appetizer come football Sunday's! It's so easy to make, you can add as little or as many toppings as you'd like and you'll have leftover pulled pork to celebrate your victory for days to come.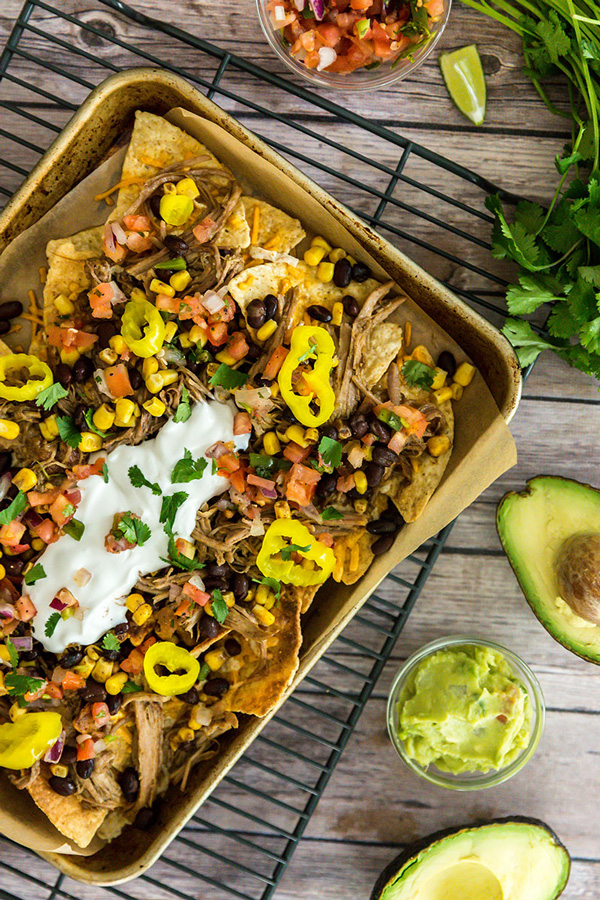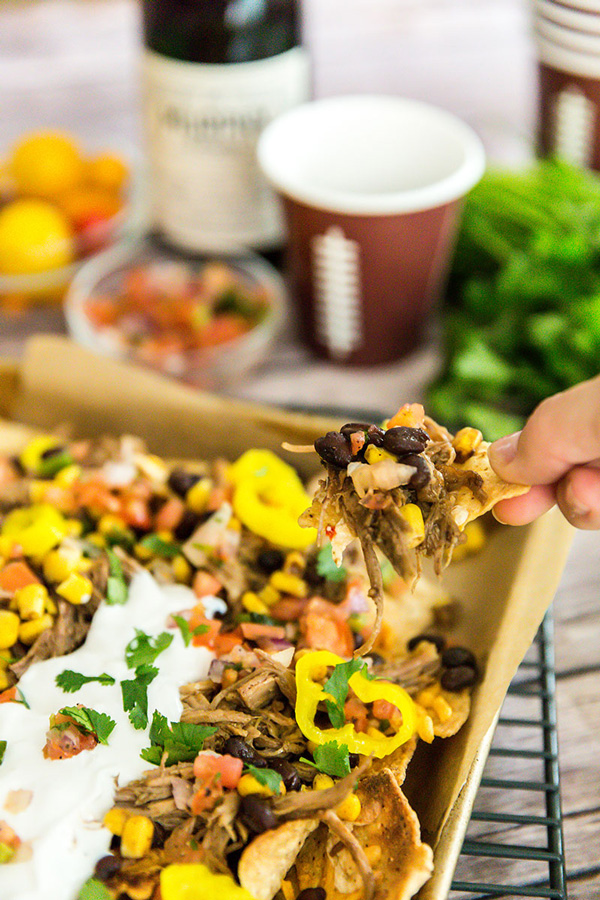 We all love a good crockpot recipe, but when the games are starting at 10:00am or 1:00pm here on the West Coast, no one has time for 8 hours of slow cooking. This pulled pork recipe is done is just 3 hours right in your oven when using an enameled cast iron baking dish. I couldn't believe when the buzzer went off & I opened that lid for the first time how ridiculously good it smelled and the meat shredded at just the touch of a fork. I'll be honest, you're going to create some hungry fans throughout those 3 hours with the flavors coming from that stove! Get those nacho toppings ready, because everyone is going to be ready to eat.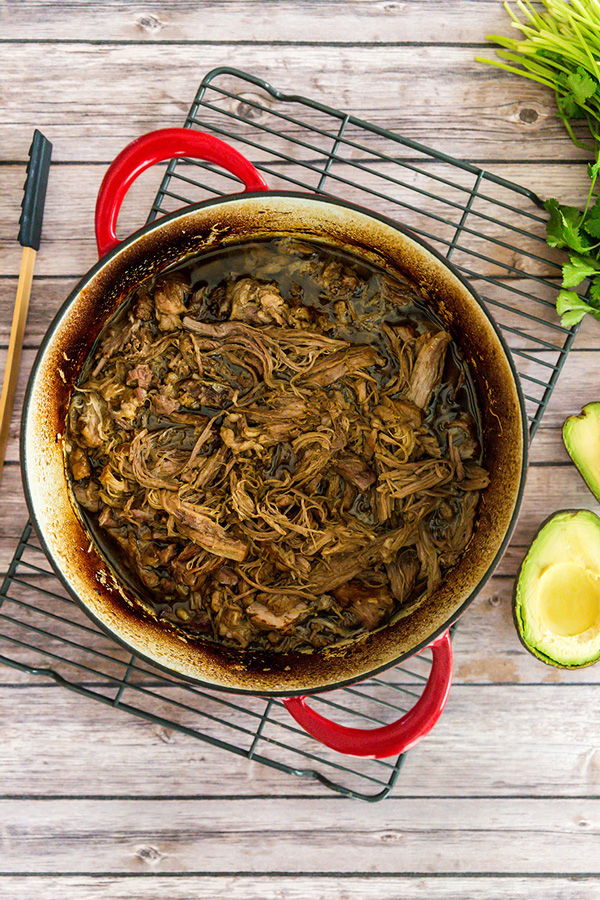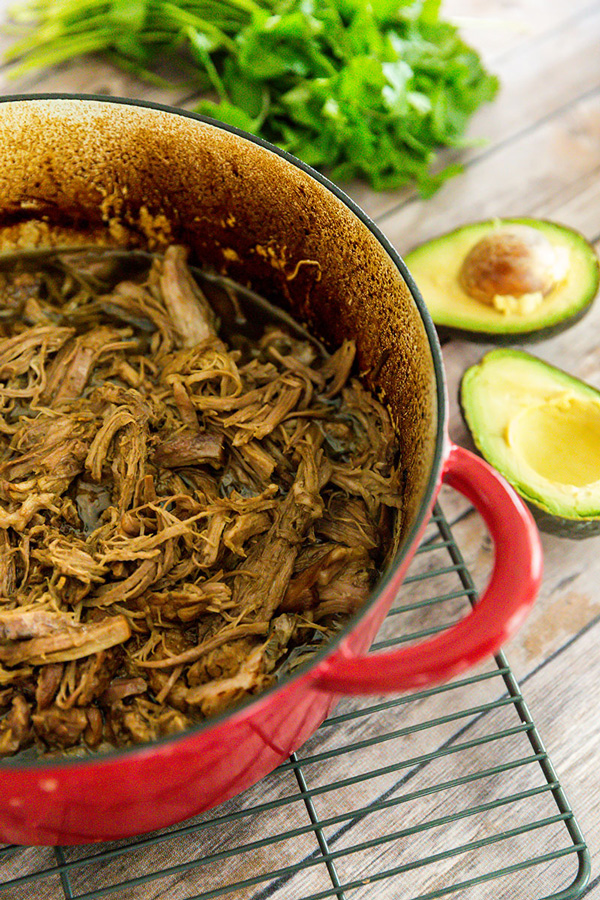 GAMEDAY PULLED PORK NACHOS
Ingredients for Pulled Pork:
3 tbsp canola oil
4 lbs boneless pork butt
3 tbsp balsamic vinegar
12 oz brown ale beer
2-3 tsp salt
3 tsp ground black pepper
2 tsp oregano
4 tbsp chopped onion flakes
1/4 cup brown sugar
Ingredients for Nachos: 
tortilla chips
shredded cheddar cheese
shredded pepper jack cheese
1 can spicy black beans
1 can corn niblets
sliced pepperchini's
1 avocado -or- 1/2 cup guacamole
1/2 cup sour cream
1/2 pico de gallo
chopped cilantro, for garnish
Directions for Pulled Pork: 
Preheat oven to 450°. 
Using an enameled cast iron 6 qt pot with a lid, pour the canola oil in and bring to a high heat. 
While the oil is heating up, whisk together in a glass bowl the remaining ingredients (balsamic vinegar, brown ale, salt, pepper, oregano, chopped onion flakes, brown sugar). 
Once the oil is very hot, add the pork butt to the pot. Brown all sides for 1-2 minutes each. 
Remove from heat and pour liquid mixture over top the pork butt. Place lid on pot and put in the oven for 15 minutes at 450°. Reduce heat to 300° and continue to cook for another 2 hours and 45 minutes. Meat should shred very easily once done. 
Using two forks or meat claws, shred all the pork and let soak with lid on in the residual liquids for 10-15 minutes. 
It's ready to serve!
Directions for Nachos: 
Oven preheated to 350°. 
On a baking sheet lined with parchment paper, lay out a layer or two of tortilla chips. Sprinkle with shredded cheddar and pepper jack cheese (quantity is dependent upon how cheesy you like it). 
Set the oven to broil on high and place the baking sheet with the tortilla chips & cheese inside. Let cook for 3-4 minutes, but keep a close eye as cheese can burn quickly. Remove once cheese is melted. 
Top with shredded pulled pork and then add the additional remaining toppings (black beans, corn, pepperchini's, sour cream, pico de gallo and guacamole). Garnish with cilantro. 
Pulled Pork recipe adapted from She Wears Many Hats.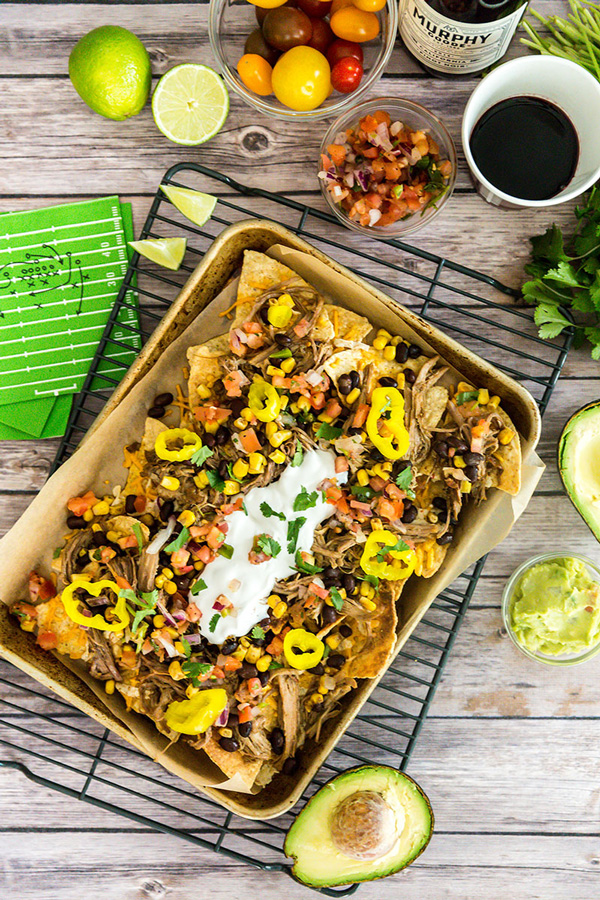 Since my team won maybe I'll have to keep these pulled pork nachos a tradition come every gameday! I couldn't get enough of them. I may or may not have eaten an entire sheet of nachos myself throughout the course of the day leading on into dinner. The melted cheese combined with the pulled pork, black beans and corn, pico de gallo, pepperchini's, along with the sour cream and guacamole, it was all so good. Though there is beer in the recipe, we sipped on Murphy-Goode Pinot Noir throughout the game as it complimented the pulled pork in the nachos so well. I went "gameday classy" by serving it in paper football cups. Let's be real, no one wants to be the person that knocks over the fancy glass of wine when they jump up to cheer for a touchdown!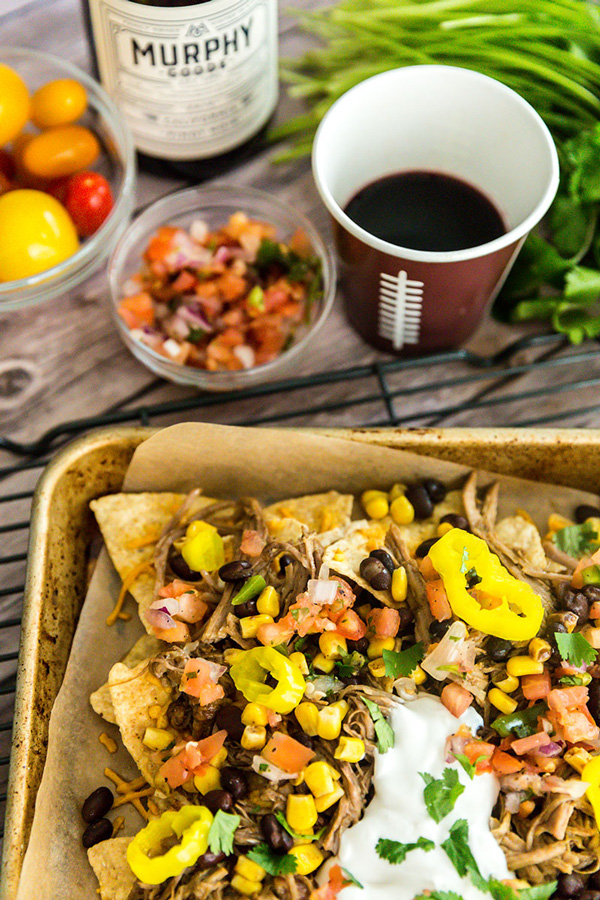 If you plan on hosting a party for the remaining of the playoffs or for the big game, then plan on winning over your crowd with these nachos! Share the recipe with your friends or pin to save for later!