&nbsp
Gameday Cheesesteak Sliders
Kick off gameday with these tasty, gooey skillet cheesesteak sliders that are certainly a crowd pleaser. 
There is something to be said for classic, All-American cuisine. A staple & beloved food by many is the Philly cheesesteak. Unfortunately, I haven't been able to visit the city of brotherly love to taste one of their infamous sandwiches, but there's certainly a lot to love when you are combining steak, peppers, onion, mushrooms and melted cheese. From what I hear, they have a few tricks up their sleeve that are pretty hard to duplicate, but I think this recipe is a pretty good west coast version that packs plenty of flavor!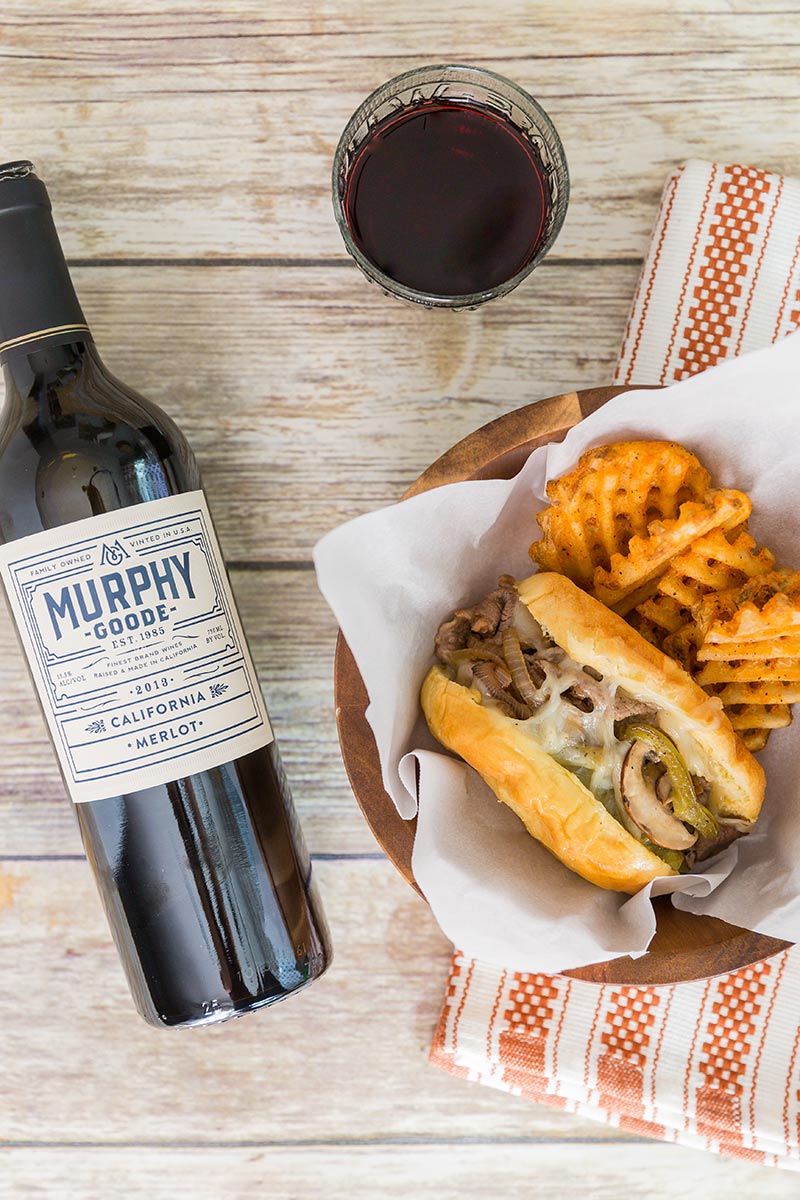 Besides how delicious these cheesesteak sliders are, they make the perfect gameday food. No matter what team you are rooting for this season, these sliders are a sure-fire win. Rather then serving them up on traditional large French rolls, we opted for a grab and go mini version that allows for eating in one hand and cheering with the other.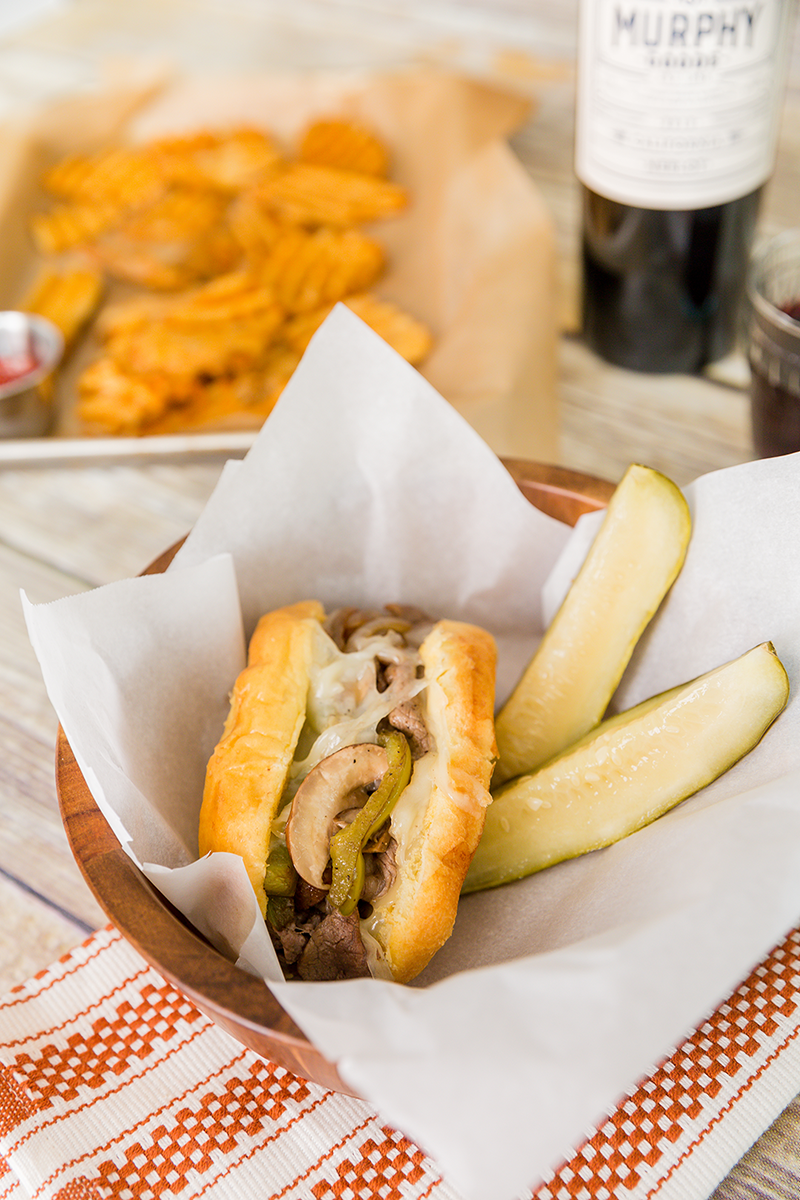 Gameday Cheesesteak Sliders
Ingredients: 
2 lbs ribeye steak, thinly sliced
1 green bell pepper, sliced
1 yellow onion, sliced
1 cup crimini mushrooms, sliced
4 tbsp butter
8 thin slices of provolone cheese
6-8 mini french rolls
salt + pepper
1 tsp garlic powder
Directions: 
Preheat oven to 400°. 
In a large cast iron skillet, melt 2 tbsp of butter and toss in sliced onion. Cook on medium-high heat for 3-4 minutes. Add in sliced green bell pepper and mushrooms with a dash of salt & pepper to taste. Continue to cook for another 4 minutes. Remove vegetables from the skillet and place in a bowl off to the side. 
Place the remaining 2 tbsp of butter in the skillet along with the thinly sliced ribeye steak*. Sprinkle with garlic powder, along with salt & pepper to taste. Due to the thin slices, cook for only 2-3 minutes depending on your preference. 

*Note — Either ask your butcher to slice it using their industrial machine, or freeze the ribeye for approximately 1 hour and slice very thin pieces using a sharp knife.

Slice the mini french rolls half way through and using a spatula, stuff the rolls with the steak and top with the sautéed vegetables. Add a handful of fresh provolone cheese (depending on how cheesy you like it) on top. Wrap the rolls in tin foil, place on a baking sheet and set in the oven for 5 minutes to let the cheese melt, but keep the roll soft. 
Serve with french fries or kettle chips.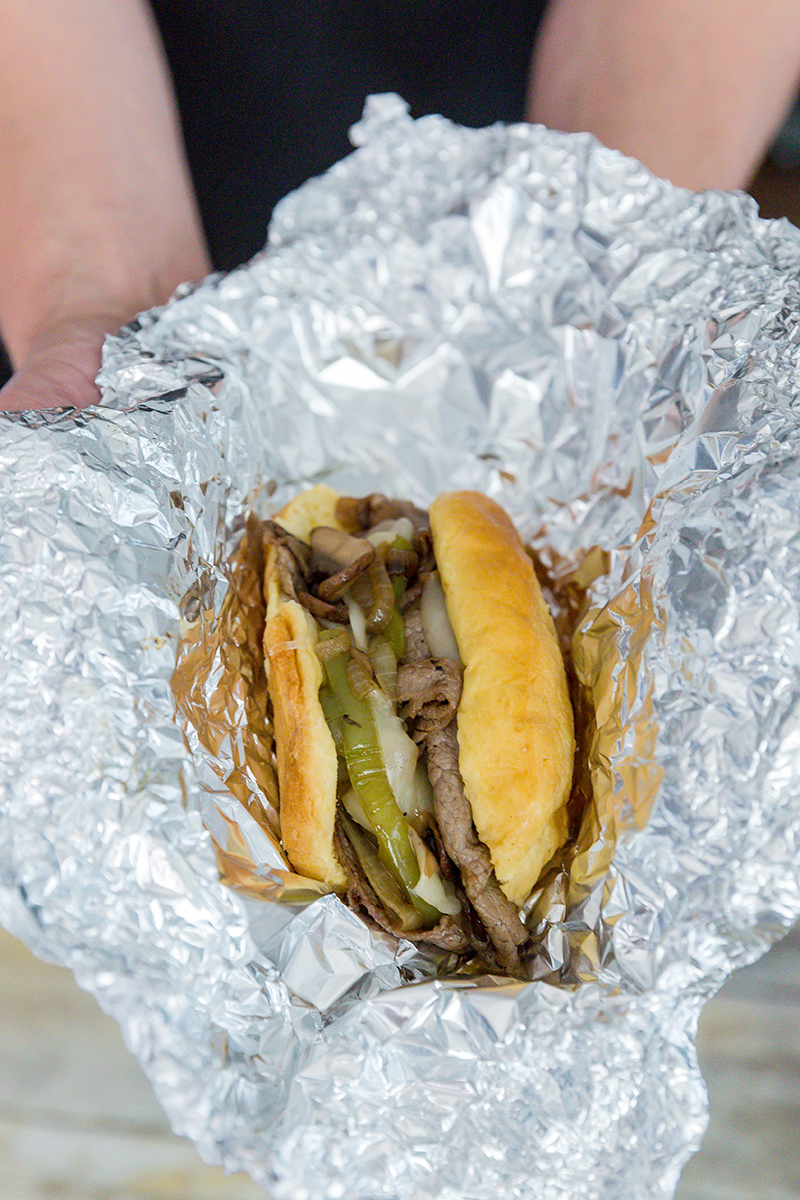 When you're not up cheering for your team, reach for a glass of Murphy Goode Merlot that pairs well with the steak. Your initial thoughts probably aren't to have red wine on game days, but if it works well with the food you're serving then simply forgo the fancy fragile glasses and opt for a stemless option that's less likely to get knocked over. 
Like this recipe? Share it with your friends or pin it to save for later!