&nbsp
Dark Chocolate Molten Lava Cake
Ring in the New Year with a decadent dark chocolate molten lava cake.
Are you still looking for the perfect dessert to celebrate the New Year? In my opinion, a special occasion calls for an extra special treat and this dark chocolate molten lava cake is just that. The gooey, chocolaty center from the truffle pours out upon the first slice and is mopped up with a dusting of powdered sugar and cocoa powder. Without fail, it's a mouthwatering bite full of rich flavors that will have you protecting your plate from any wandering forks!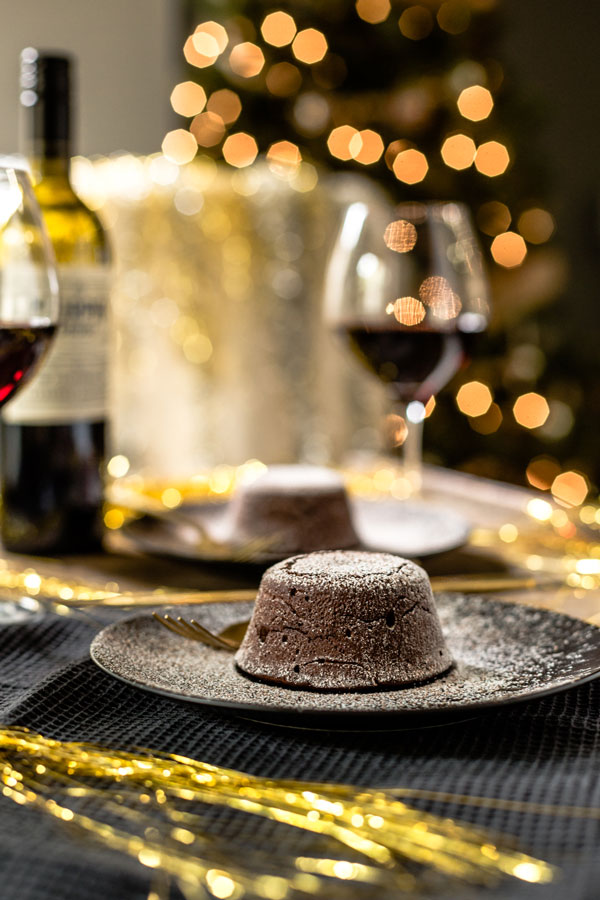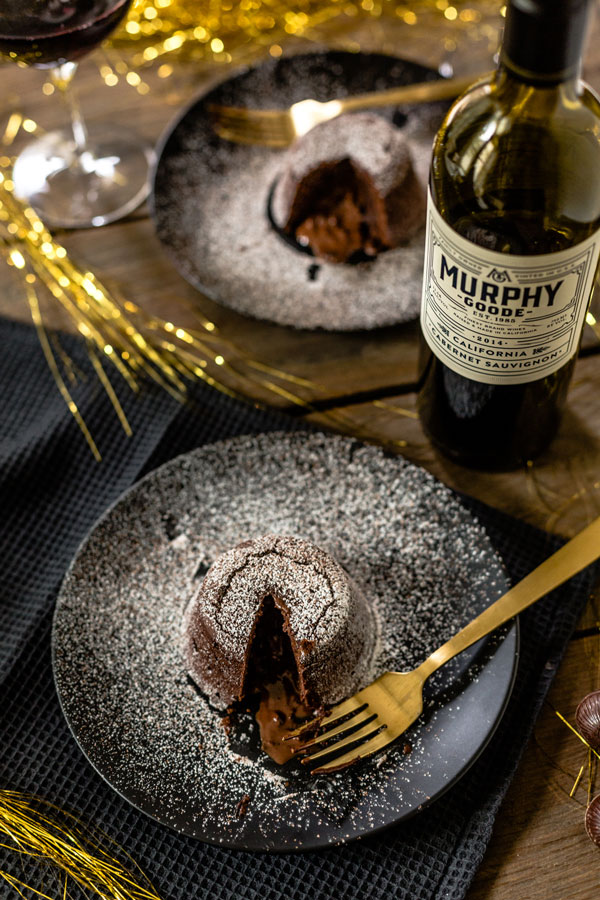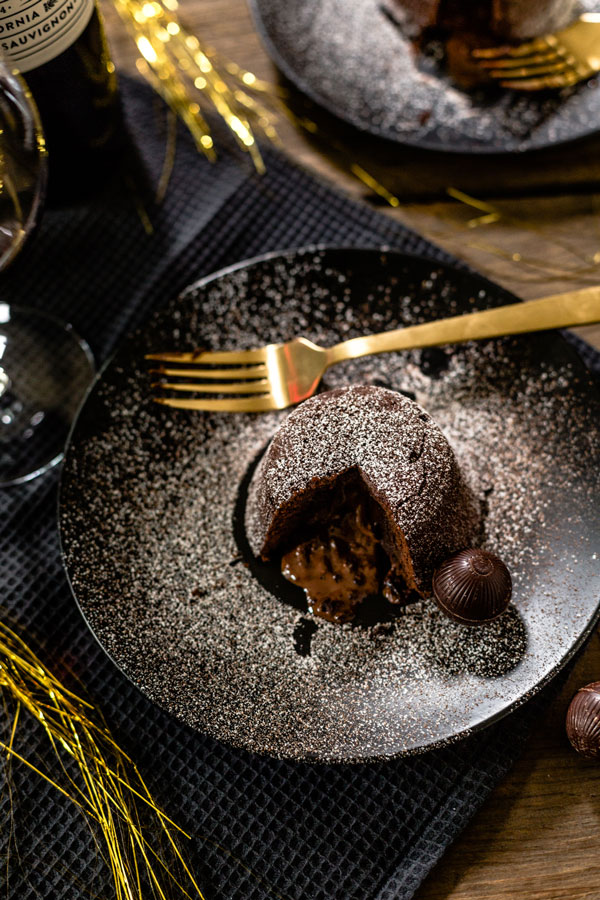 NEW YEAR'S EVE DESSERT: DARK CHOCOLATE MOLTEN LAVA CAKE
makes 4 extra large individual cakes
Ingredients:
1 cup dark chocolate, chopped (approx. 73% cocoa)
1/2 cup unsalted butter, cubed
1 cup powdered sugar
2 whole eggs
2 egg yolks
6 tbsp all-purpose flour
1 tsp pure vanilla extract
4-6 dark chocolate truffles
canola oil spray or melted butter (for greasing the pan)
1 tbsp powdered sugar + 1 tsp cocoa powder (for dusting)
1 bottle of Murphy-Goode Cabernet Sauvignon
Directions:
Preheat oven to 395°.
Apply melted butter or canola oil spray to an extra large muffin tin. (Note - you can use a regular size muffin tin, this will adjust the overall baking time and number of truffles used)
Using a double boiler method put chopped dark chocolate and cubed butter into a glass bowl and place above simmering water. Stir until melted and smooth.
Remove from glass bowl from heat. Slowly add powdered sugar and stir until incorporated. Add the vanilla, eggs and egg yolks and keep stirring.
Follow by adding the all-purpose flour and combine until smooth.
Add a large spoonful of mixture to the bottom of muffin cups. Place a truffle in the center and spoon more mixture over the top. Leave a quarter inch of room at the top to allow for baking.
Bake for 18-20 minutes (13-15 minutes for regular size muffin tins) until the center appears to be cooked through, but be careful to not overcook.
Remove from oven and let sit one minute. Carefully remove from the pan and dust with powdered sugar and cocoa powder before serving.
Pour a glass of Murphy-Goode Cabernet Sauvignon and enjoy!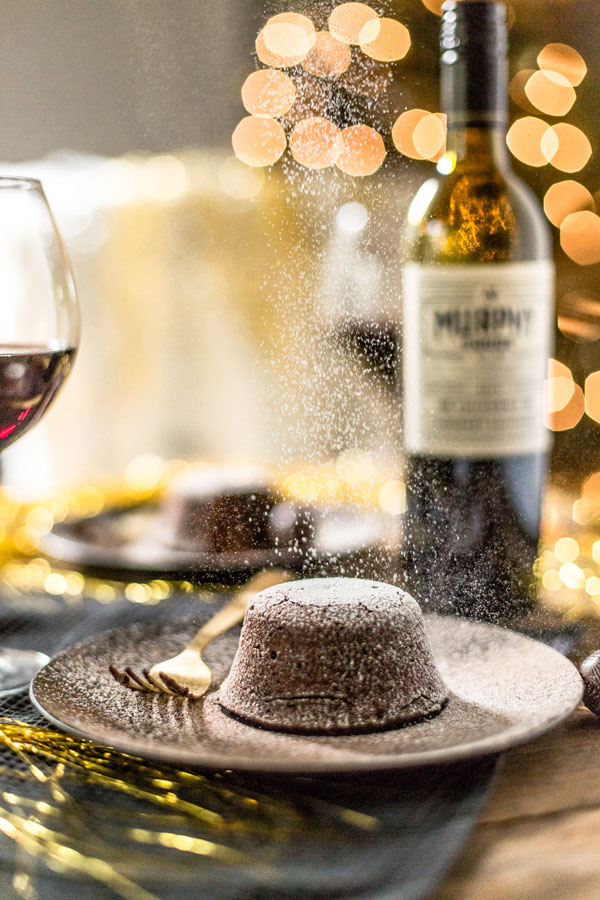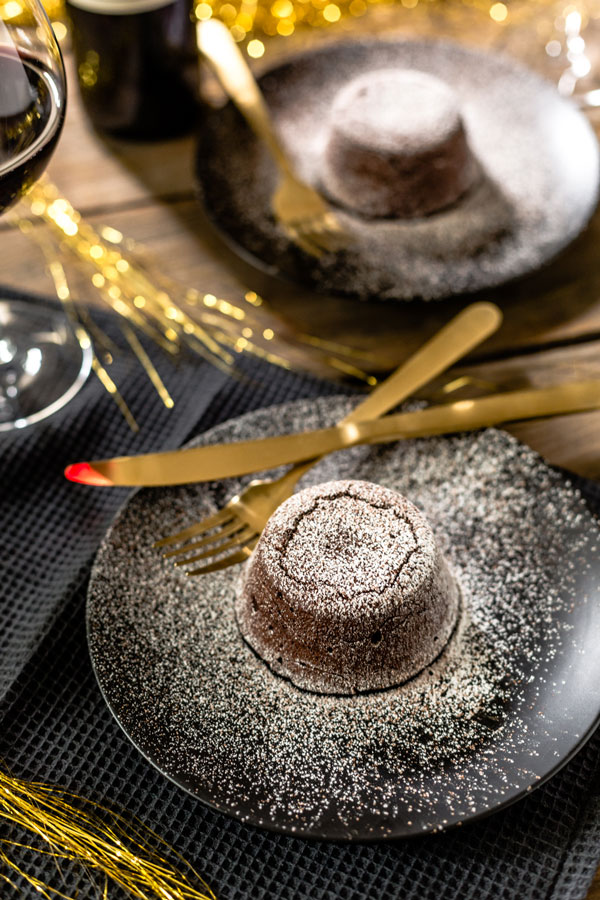 What I love about this dark chocolate molten lava cake is how easy they are to make! It takes just a few minutes of stirring up the batter and then just 18-20 minutes in the oven before they're ready to be served piping hot. This makes it the perfect New Year's Eve dessert because you can pop in them in the oven and while they're baking, uncork the Cabernet Sauvignon and have a glass ready for your first bite. I definitely suggest a one-to-one ratio of a bite of molten lava cake followed by a sip of wine. The pairing is quite remarkable!
Without a doubt, this recipe will send everyone into the New Year with smiles on their faces. Cheers!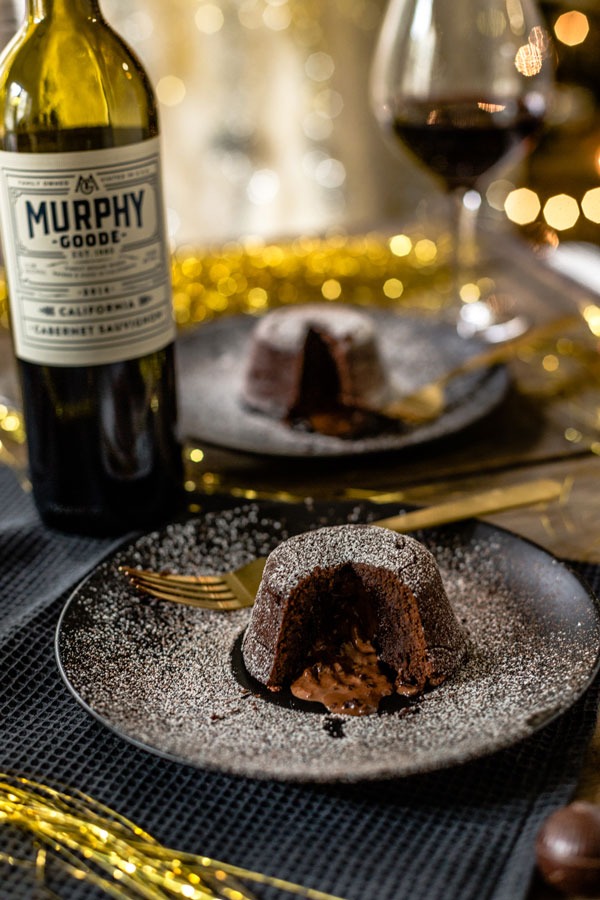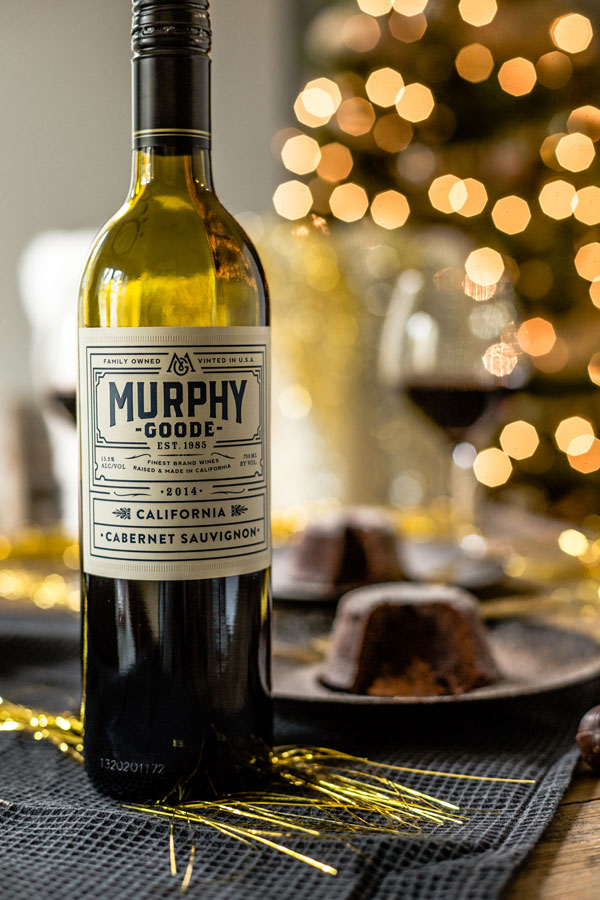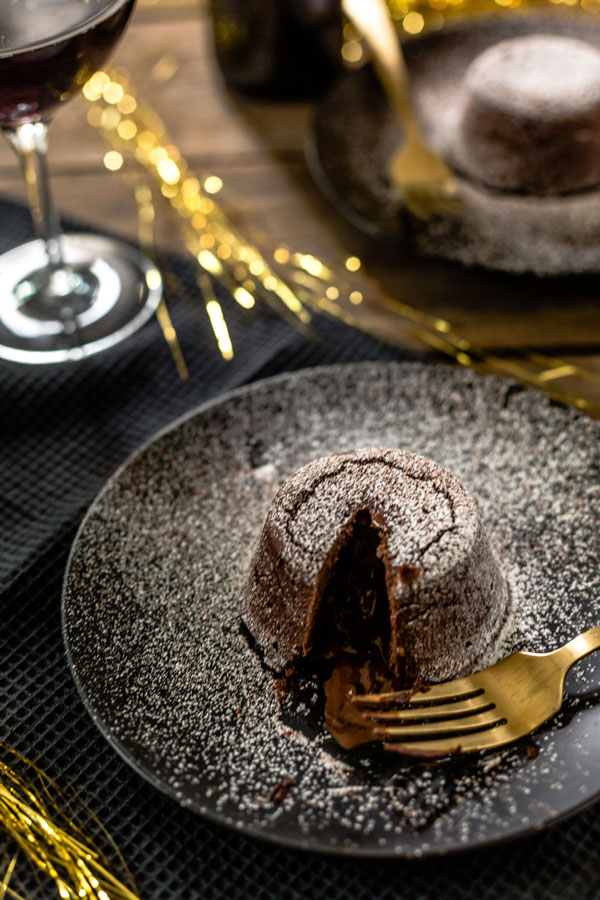 Love this recipe? Share it with your friends or PIN to save for later. 
Written By: Kristin Mansky of Modish and Main