&nbsp
Dark Chocolate Fondue Recipe
Written by Kristin Mansky of Modish & Main
Celebrate Valentine's Day the way you really want, smothered in dark chocolate fondue while sipping some Murphy-Goode Merlot and embraced by the one you love. 
Each and every year it's a toss up whether to stay in or go out for Valentine's Day. Sometimes we're in the mood for dressing up and heading out to a 4-course dinner and other years we choose to stay in, order delivery from our favorite restaurant and watch a romantic movie. This year we're opting for the best of both worlds! Instead of all-or-none, we're going out to dinner & then having dessert at home. Now, if you're in charge of planning the dessert, you can't lose by serving up this decadent 3-ingredient dark chocolate fondue accompanied by an assortment of fruits and baked goods.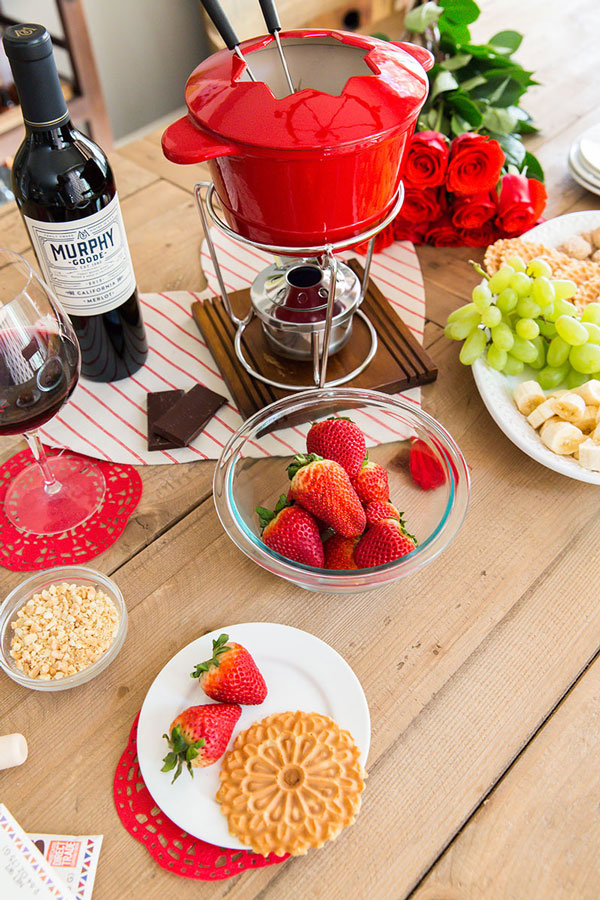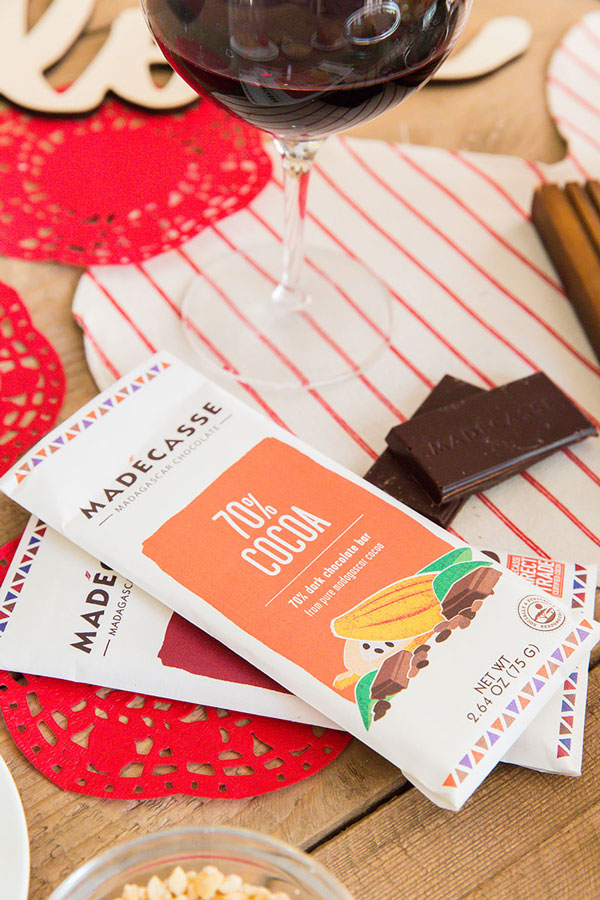 The goal here is to minimize the work once you return home from dinner so you can be indulging in chocolate fondue before your partner falls asleep on the couch. Prep the platter of fruit beforehand by washing it all and chopping them into pieces if need be. Grab from the store your significant other's favorite cookies or baked goods because they only get better once dipped in chocolate. Plus, it gives you extra brownie points that you thought of them! I say go the extra mile while you're at it and chop up some peanuts for an extra crunch after dipping. 
As for the chocolate fondue recipe, it's as easy as combining the 3 ingredients, warming them up until melted and then start dipping!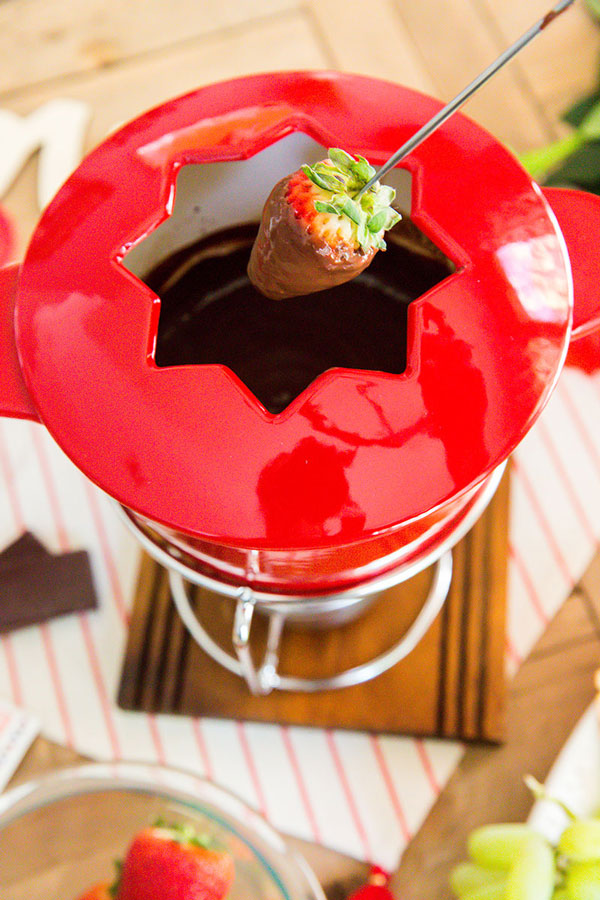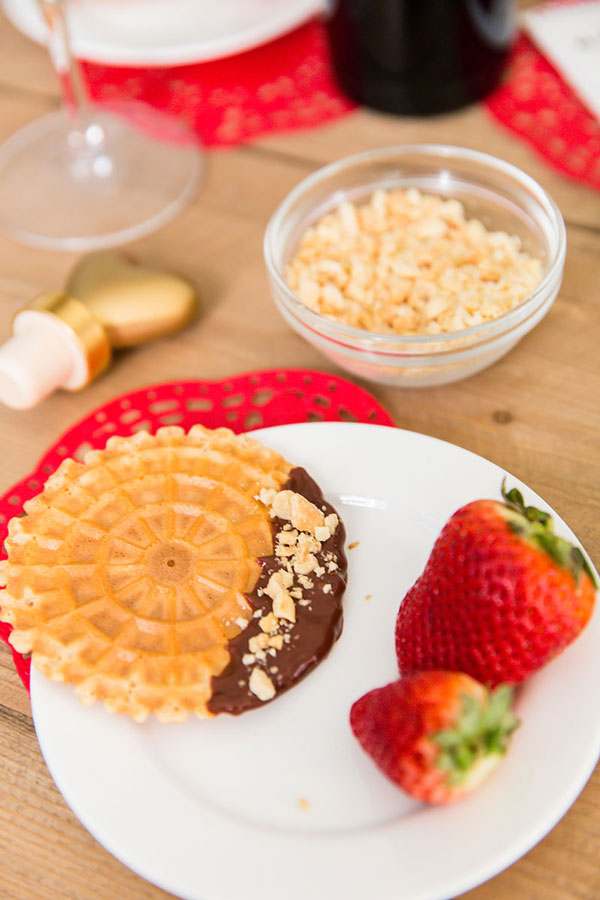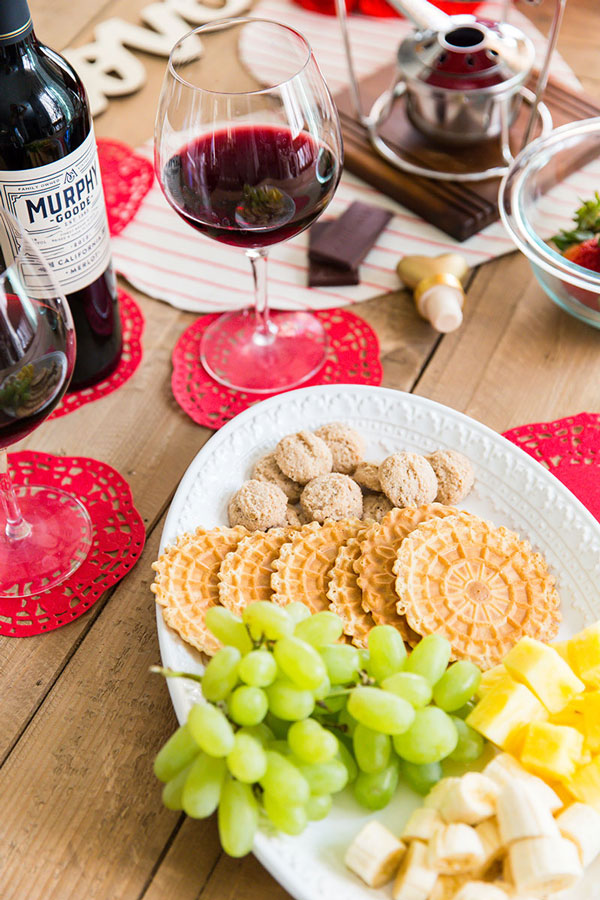 3-Ingredient Dark Chocolate Fondue
dairy free + gluten free
Ingredients : 
(2) 70% dark chocolate bars (opt for high quality)
2.5 oz organic, unsweetened coconut cream
1/4 cup unsweetened vanilla almond milk
Directions:
*Follow the directions per your fondue pot.
Since we were using a cast iron fondue pot, we initially combined all three ingredients on the stove top and warmed until melted through. Then we lit the burner and placed the fondue pot on its stand to enjoy while eating.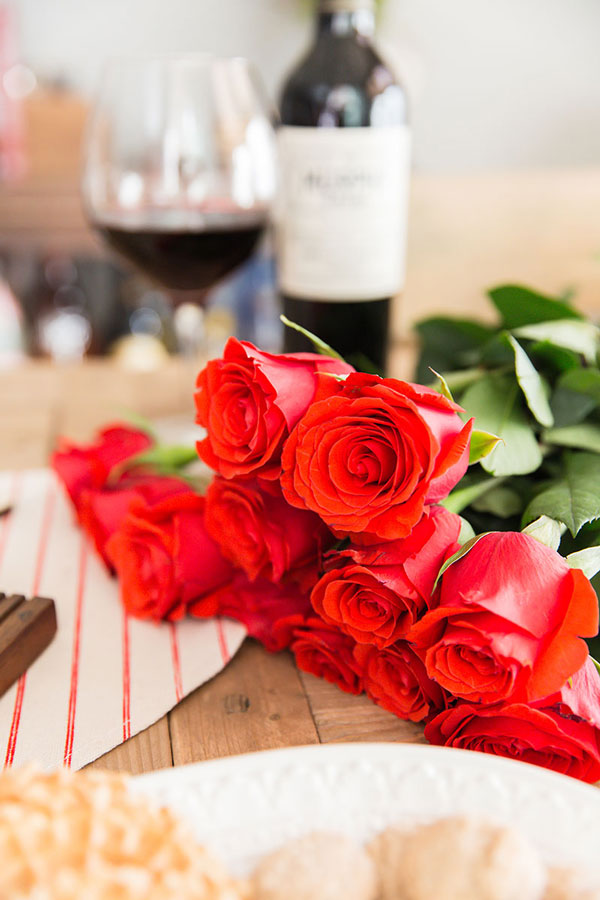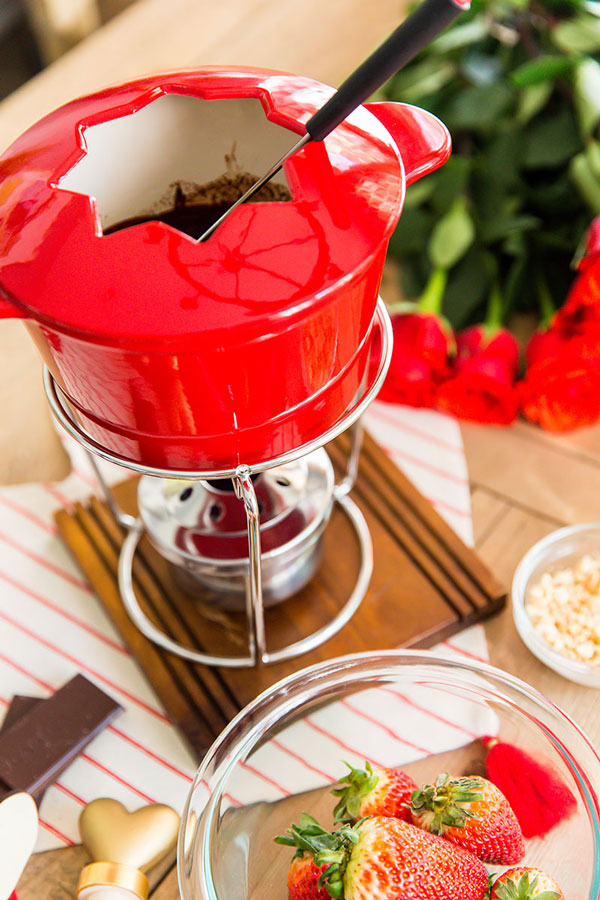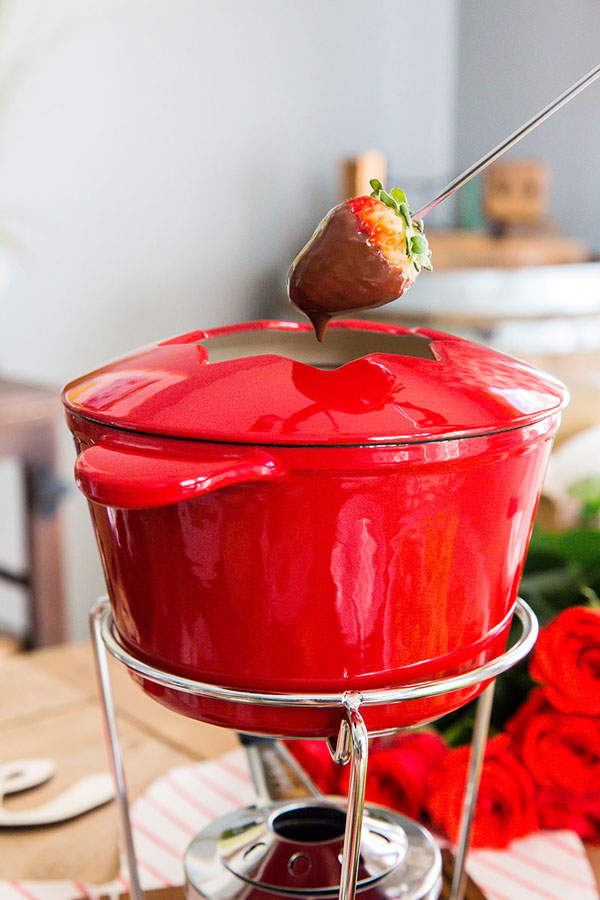 There is something to be said about sitting around the dining table with a glass of Merlot in your hand, a decadent dark chocolate fondue spread laid out, good music in the background and laughing over silly stories with the person you love. At the end of the day, that's what it is all about. Spending quality time detached from technology, being careless about calories consumed and enjoying the company you're with. We can certainly clink our glasses together and cheers to that! 
Happy Valentine's Day friends, we hope it's a "goode" one!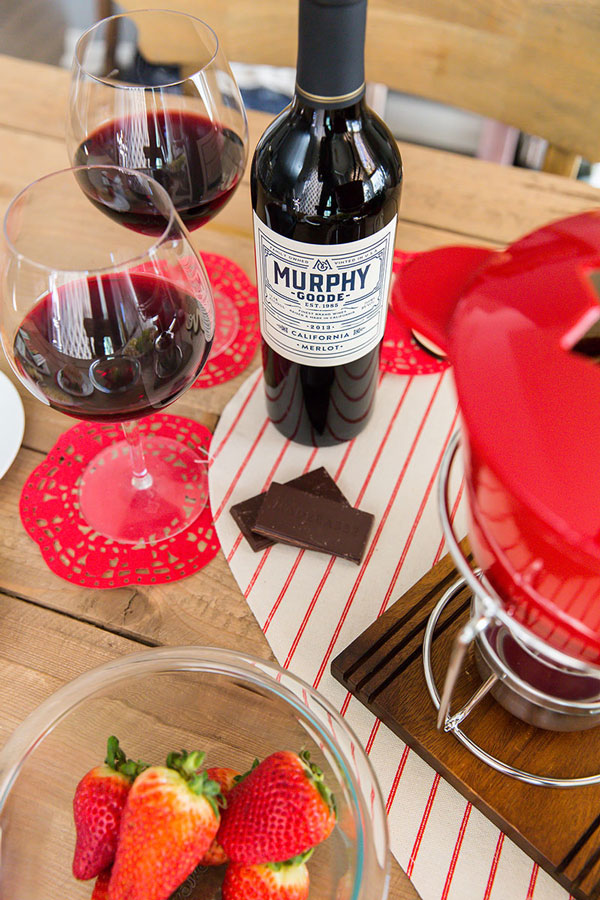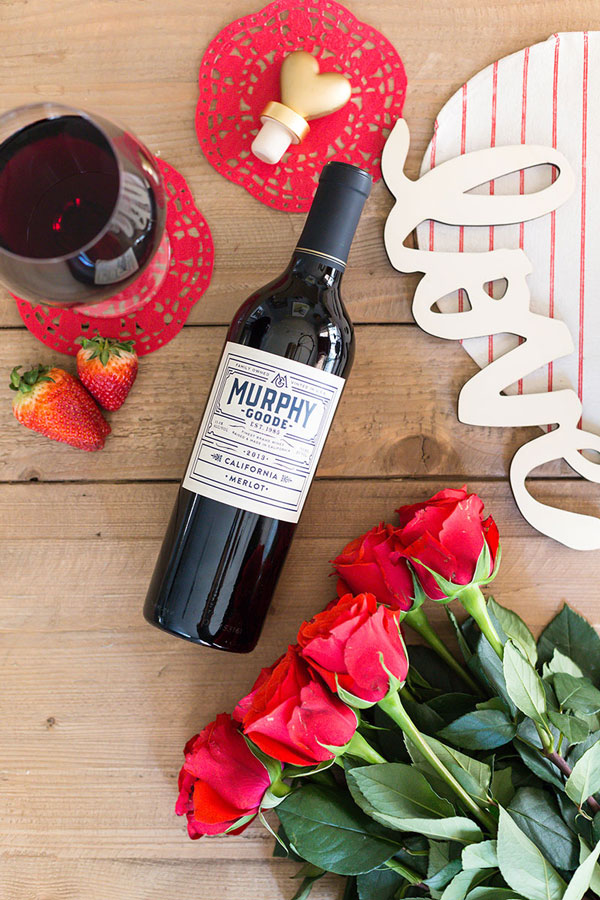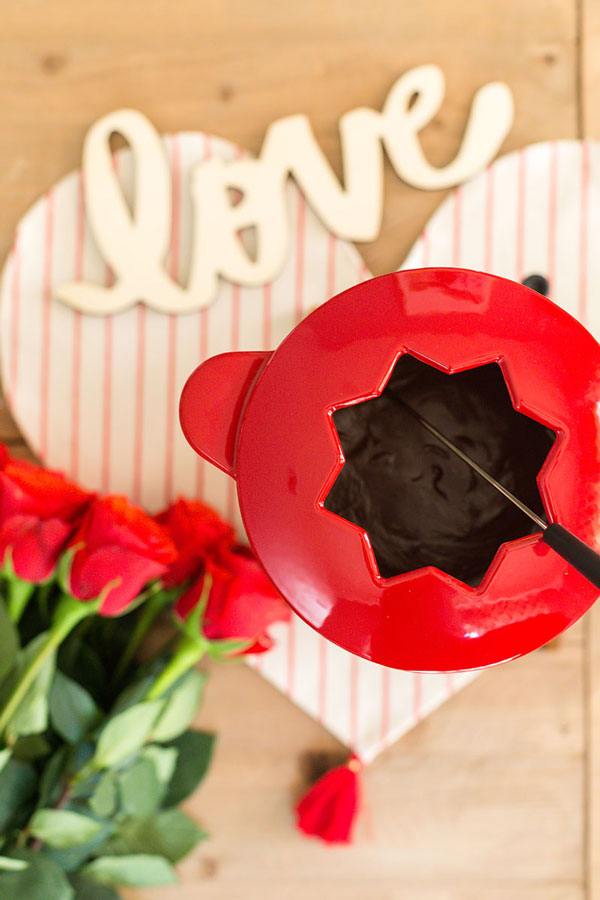 Love this recipe and want to save it for later? Pin it now & share it with your friends later!