Crockpot Carnitas Street Tacos
This delicious, tender crockpot carnitas street tacos recipe packs a ton of flavor and is incredibly easy to make. 
There is so much excitement from us entering into the month of October from it being the first real signs of fall weather, to the pumpkin patches and the start of "Crocktober!" Yes folks, crocktober is a real thing and you mine as well just jump on board because it's not only going to make your life so much easier, but you'll be eating some incredibly delicious foods as a result.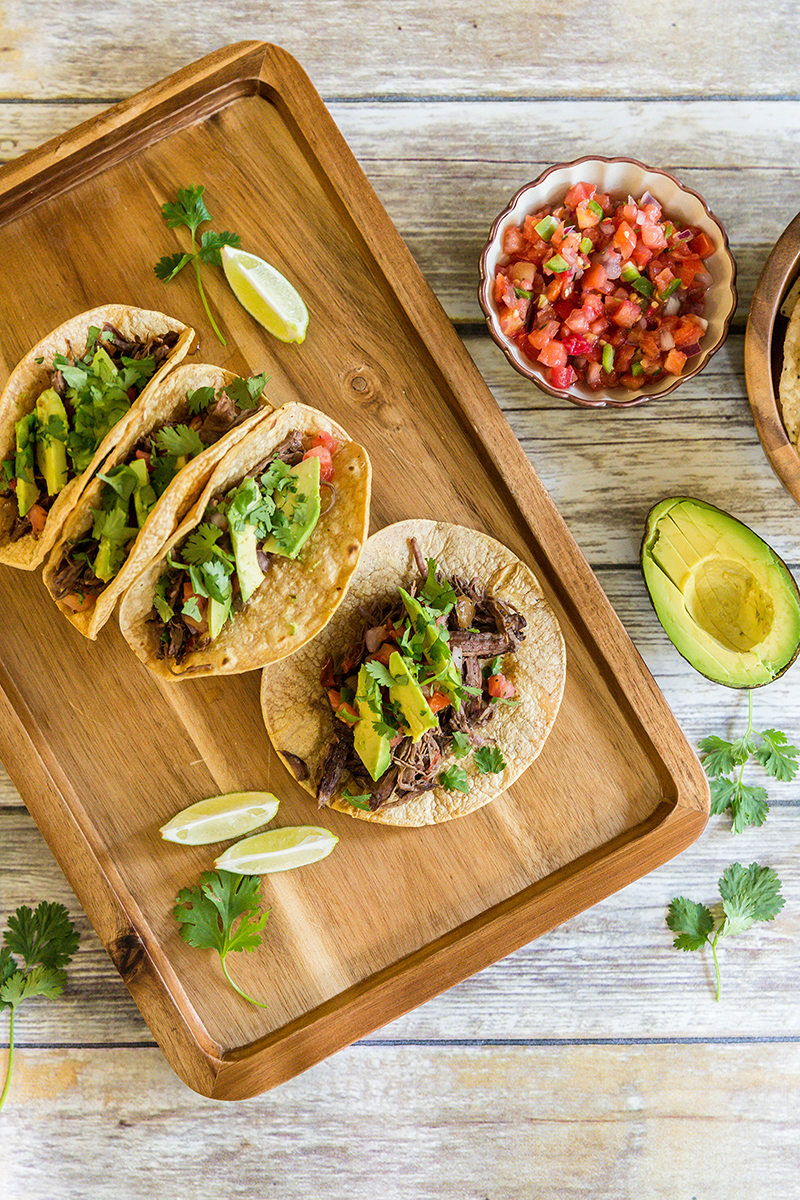 The crockpot is an essential cooking tool in my kitchen. I sometimes wonder how I would get by without it because it takes combining the simplest of ingredients, popping the lid on, setting it for 8 hours and by the time you're done with your work day you are left with a hot, flavorful meal. It's literally that easy. I am going to go out on a limb and say that once you've tried these Crocktober Carnitas Street Tacos you will be hooked. The combination of an effortless recipe and tender shredded beef is a win-win for everyone. 
Crockpot Carnitas Street Tacos
Ingredients: 
2 lbs grass-fed hanger steak
1 yellow onion, chopped
1 green bell pepper, chopped
1 yellow bell pepper, chopped, 
1 red bell pepper, chopped
1 large deseeded jalapeno, chopped 
Ingredients for Seasoning Mix: 
1 tsp chili powder
1 tsp cumin
1/4 tsp ground cayenne pepper
1 tbsp onion flakes
1/4 tsp garlic salt
1 tsp fine sea salt
1/2 tsp ground black pepper
Ingredients for Toppings: 
1 avocado
1 cup pico de gallo
2 limes, sliced
corn tortillas, warmed
cilantro, for garnishing
 
Directions: 
In a small bowl, combine all the seasoning ingredients and mix together. Rub the seasoning mix all over the hanger steak and place into the bottom of a 7-quart crockpot. 
Top with the chopped onion, bell peppers and jalapeño. Secure the lid and set the crockpot to cook on low for 8 hours. 
After 8 hours, remove the hanger steak from the crockpot and shred with a fork. Place the shredded beef back into the crockpot and mix thoroughly with the onion and peppers. Let cook on low for an additional 30 minutes to absorb more flavor. 
In the meantime, warm the corn tortillas on the stove, slice the avocado and roughly chop the cilantro for garnishment. 
Using a set of tongs, place a scoop of carnitas onto the warm tortilla and top with pico de gallo, avocado, cilantro and fresh squeezed lime juice.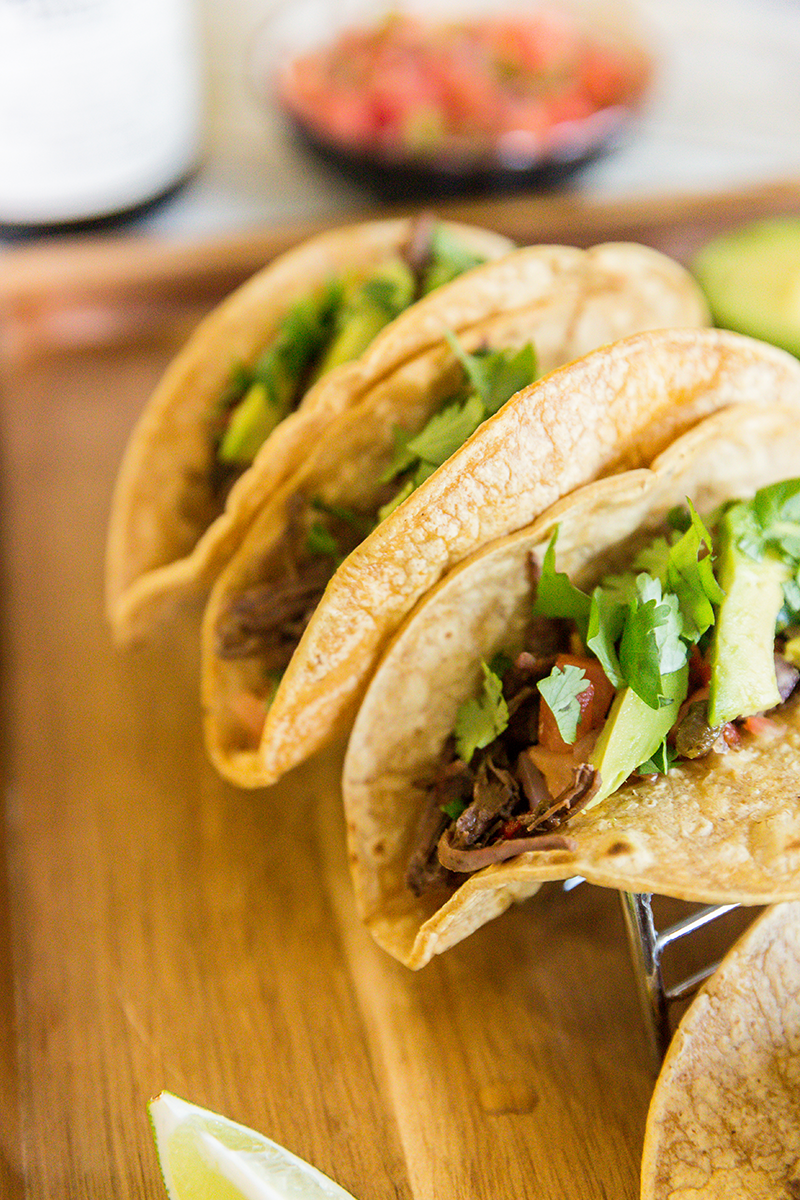 The savory seasoning rub combined with the mixture of onions and peppers helps break down the hanger steak into a tender, juicy and really flavorful meat that shreds with a touch of a fork. I love the simplicity of this meal for the ease of preparing it down to the effortless toppings of pico de gallo, avocado and cilantro all piled high on a warm corn tortilla. After you've prepared your taco plate, pour yourself a nice glass of Pinot Noir and kick back over good conversation with family or friends because you worked hard today (just not on dinner).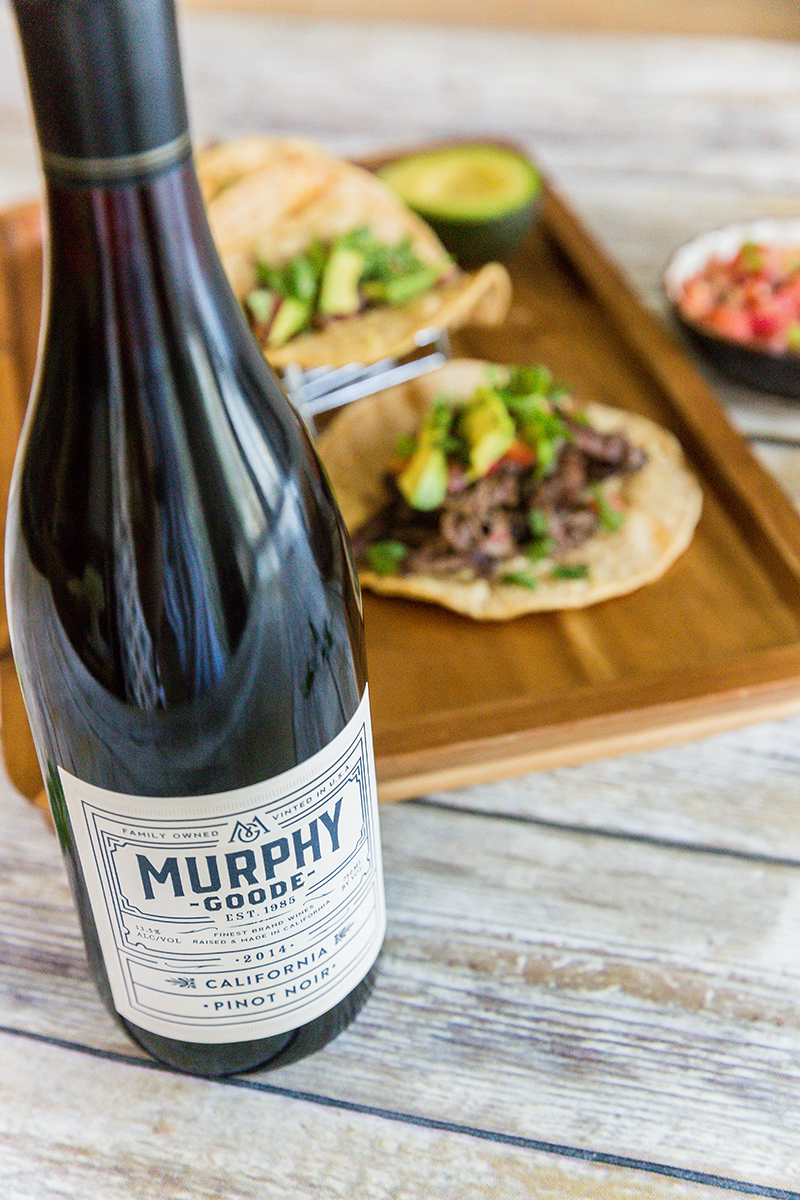 Love this recipe? Share it with your friends on Pinterest or pin it to save for later!