&nbsp
Cast Iron Macaroni and Cheese
Written by Kristin Mansky of Modish & Main
Our favorite childhood recipe is all grown up with this cast iron Havarti, Gouda and prosciutto macaroni and cheese. Let's dig in! 
Sure, it takes more time than ripping open a packet of fake cheese powder, but the creamy taste of melted Havarti and Gouda cheese is well worth the extra effort. This recipe is so "mmm-I-need-more-where-are-the-seconds-please" due to the silky, creaminess of the cheese, the surprise addition of salty prosciutto and the fine layer of toasted breadcrumbs. Mind you, this all takes place within the most coveted tool in my kitchen, the cast iron skillet.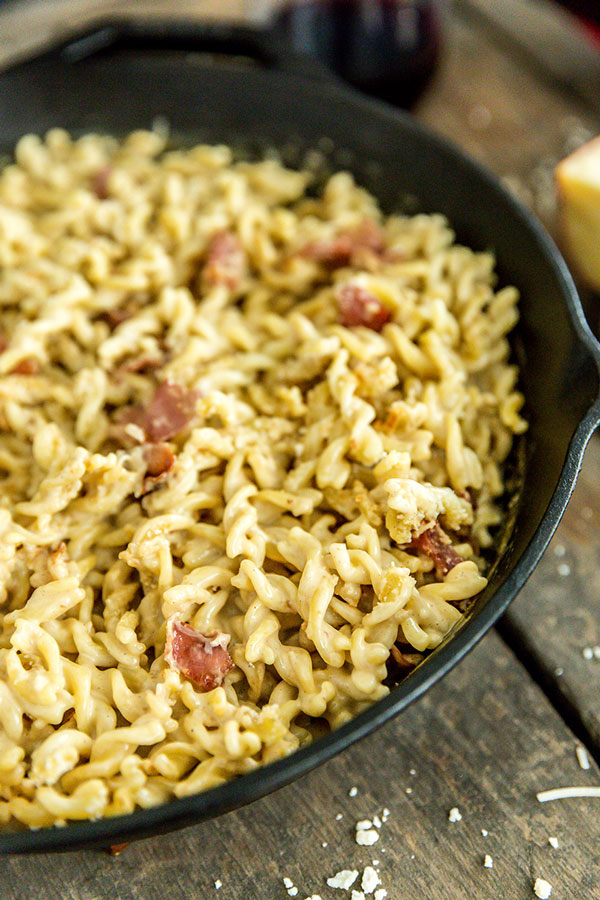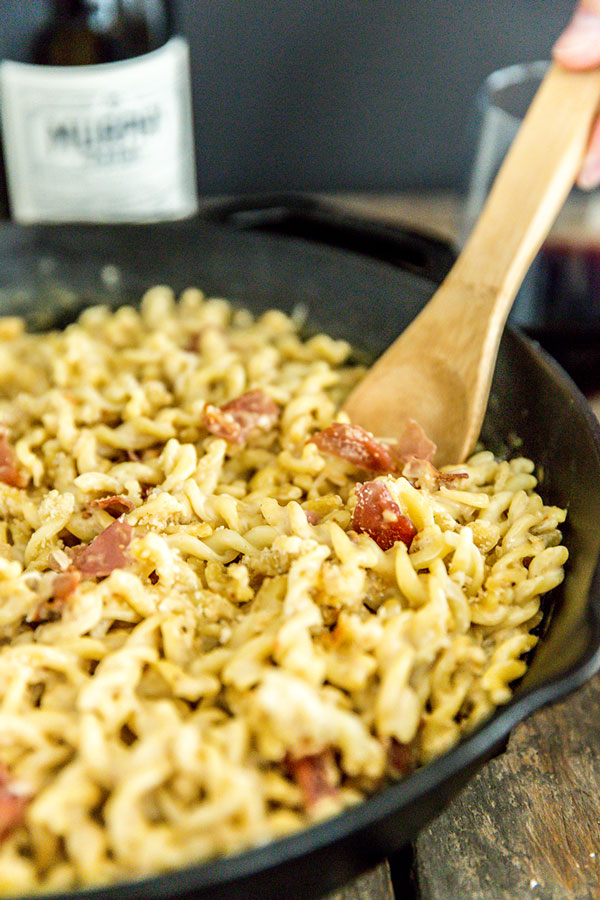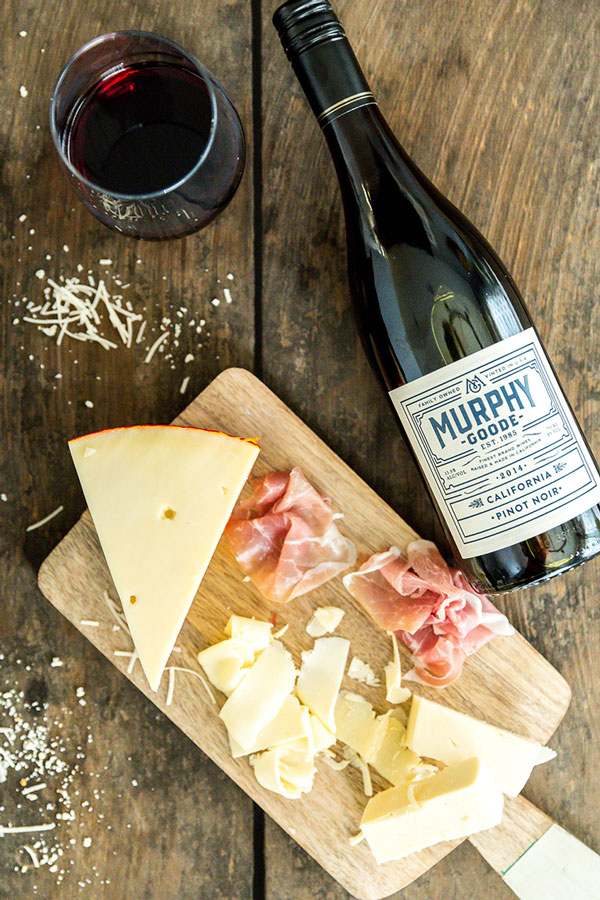 Let me just put it this way, if you haven't got yourself a cast iron skillet yet, make that priority #1. I swear, everything tastes better coming from cast iron. They heat evenly, can go from stovetop to oven (which we do here), are naturally nonstick and incredibly easy to clean. In this mac and cheese recipe you'll create the cheese sauce right in the cast iron, eventually add the cooked noodles, top with some bread crumbs and then put it right into the oven to finish off baking. The result is a bubbly, creamy cheese sauce mixed with delicious noodles and a crispy texture on the outside. Is your mouth watering yet?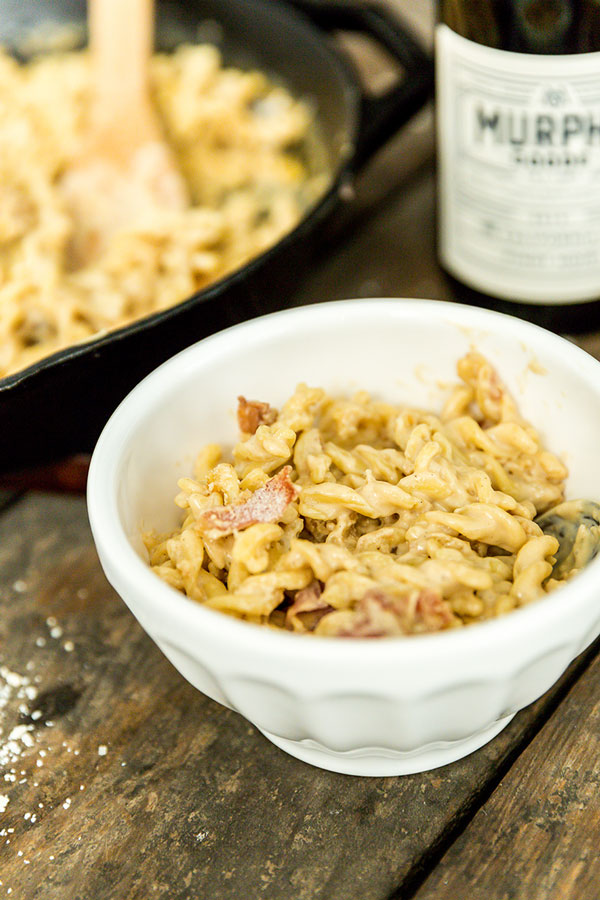 Cast Iron Grown Up Havarti, Gouda & Prosciutto Mac and Cheese
Ingredients: 
2 cups fusilli pasta
1/2 cup unsalted butter
2 tbsp mustard powder (also known as dry mustard)
3 cups whole milk
6 tbsp all-purpose flour
3 cups shredded Havarti cheese
3 cups shredded Gouda cheese
1 cup shredded Parmesan cheese
5 slices chopped prosciutto
1/4 tsp kosher salt
1/4 tsp white ground pepper
3 tbsp panko breadcrumbs
Directions: 
Start a large pot of water, heavily salted, and bring to a boil. Cook the pasta to al dente and drain. 
In a large cast iron skillet (at least 13" or 15"), melt the butter with the mustard powder and flour over medium heat. Whisk for approximately 2 minutes to cook the flour. 
Add the milk and constantly whisk to prevent lumps as the sauce thickens up. Whisk for 2-3 minutes until it's thick enough to coat a spoon. 
Stir in the Havarti and Gouda cheese along with the salt and pepper. Mix until well incorporated. 
Add the al dente pasta to the cheese mixture along with the chopped prosciutto. Lightly stir. Sprinkle with panko breads and 1/2 cup of Parmesan cheese. Bake at 350° for 30 minutes or until mac and cheese is bubbly and bread crumbs are toasted. Remove from oven and sprinkle with remaining 1/2 cup of Parmesan cheese. 
Serve immediately.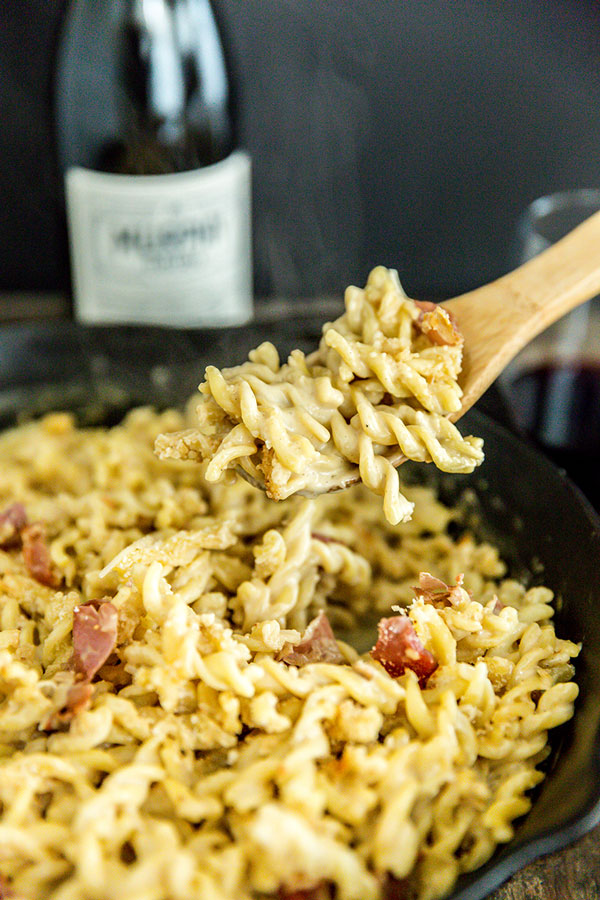 In my book, there doesn't need to be a reason to whip up this cast iron mac and cheese BUT with St. Patrick's Day coming up this could make a great main dish or even a side dish! You could even swap out the cheeses for native Irish versions if you wish — that's how playful this recipe is. The noodles, the cheese and the prosciutto can all we interchanged with some of your favorites. I'm a bit biased but I think you should give this Havarti, Gouda and prosciutto version a try first! 
I'm not going to lie, I took such pride pulling this from the oven and carrying it to the dining table to be served. My friends had been expecting a basic mac and cheese, but I watched their eyes light up in anticipation when I started scooping spoonfuls of this grown up version into their bowls. More than one person came in for seconds! It's in that moment, when you're watching everyone enjoy your creation, that you sit back, take a sip of your perfectly paired Pinot Noir and relish that you've grown up right along side some of your favorite foods. Enjoy!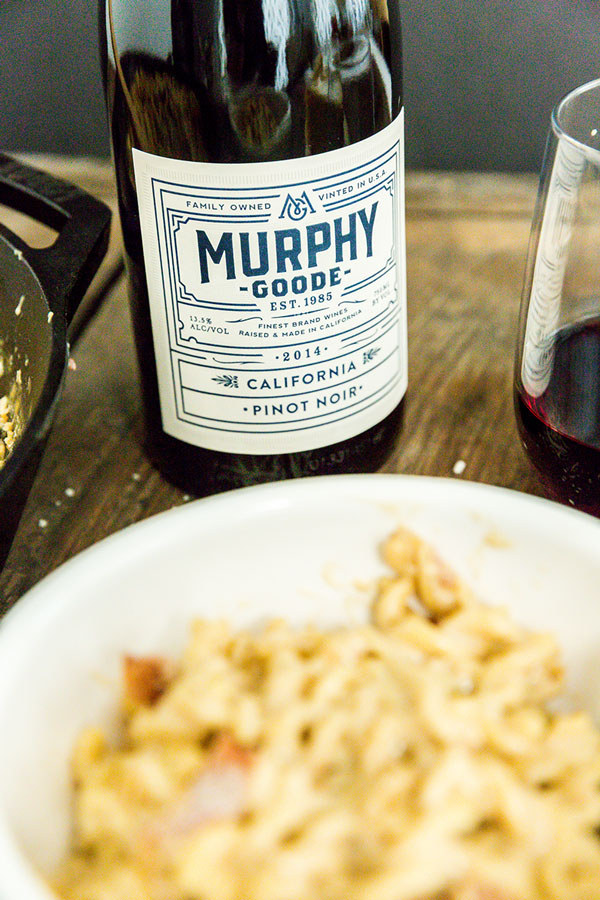 Love this recipe? Pin it to save for later or share it with your friends. Maybe a mac and cheese night is the making!