&nbsp
Baked Chicken and Waffles Sandwich
Written by Kristin Mansky of Modish & Main
Things just got so much tastier with a twist to a classic recipe with a baked chicken and waffles sandwich drizzled with a chipotle maple syrup. Let's dig in!
There is an age old question when it comes to discussing breakfast food of whether you are a pancake, french toast or waffle person? I'll be honest, since having gone gluten free over a year ago, I'm limited to pancakes and waffles as my options but they have to be made at home so I can control the ingredients. Still, with that being said, I typically am a pancakes person. I love a good batch of fluffy pancakes, but I think everything has been turned on its head after making these baked chicken and waffle sandwiches. It took this one recipe to change everything. I'm now completely obsessed with waffles or maybe I'm just head over heels in love with what might be my best recipe yet.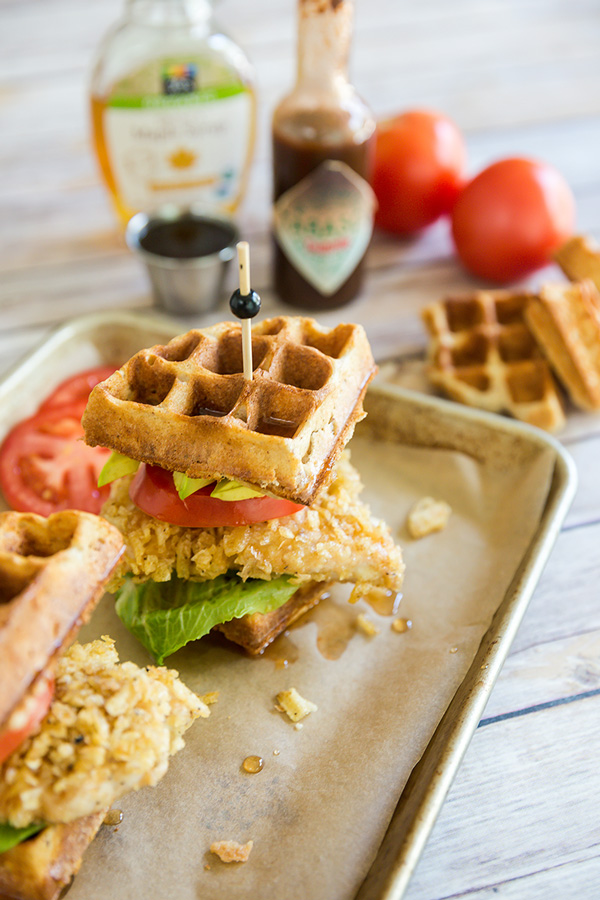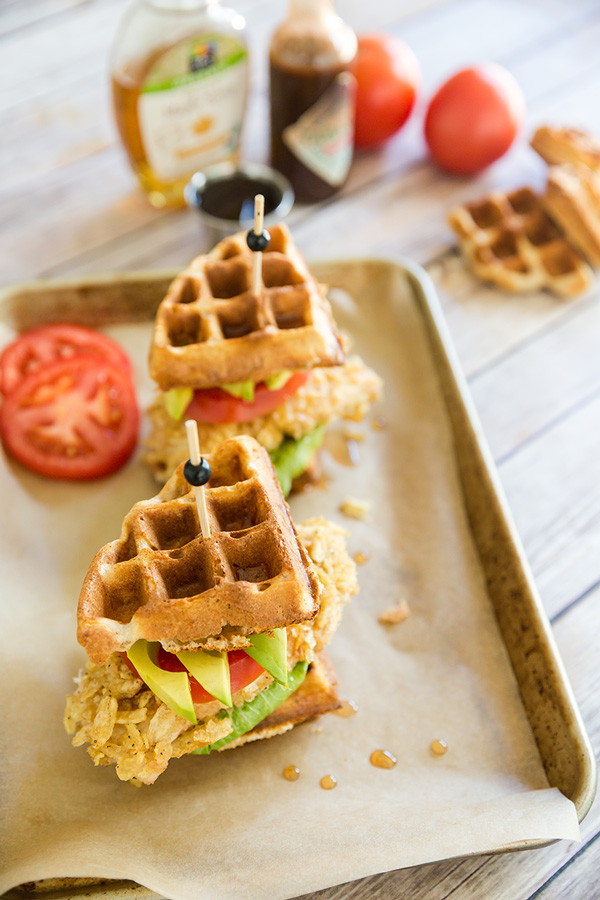 This is such a good recipe for thick, fluffy waffles but the star of the show is the baked chicken. The chicken came out so tender and with a ton of flavor! We went slightly healthier with baking the chicken, but don't be fooled because it is smothered in mayonnaise (I used a vegan mayo) and then coated with crushed kettle chips. While I was preparing the sandwiches, I sliced off a piece to taste and ended up eating half a piece of chicken right off the pan. 
Now, the real showstopper is probably the chipotle maple syrup. I am not typically a hot sauce or spicy eater, but I felt like we could kick things up a notch to really bring out some intense flavors. The only Tabasco sauce I like is the chipotle version, so on a whim I combined a little bit of hot sauce with a 1/4 cup of pure maple syrup and the results were insanely delicious. Honestly, even if you don't like hot sauce, you have got to try this drizzled over the chicken as well as the waffles.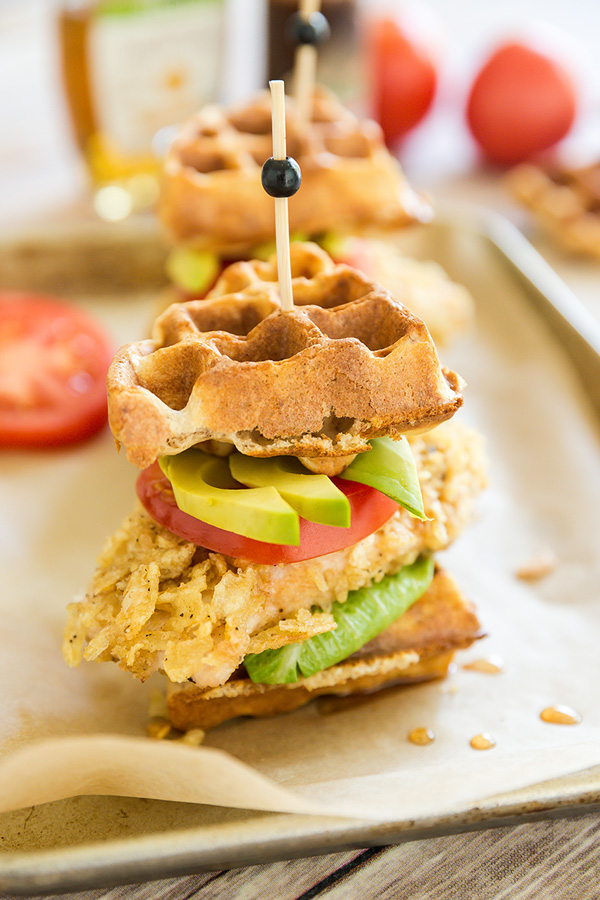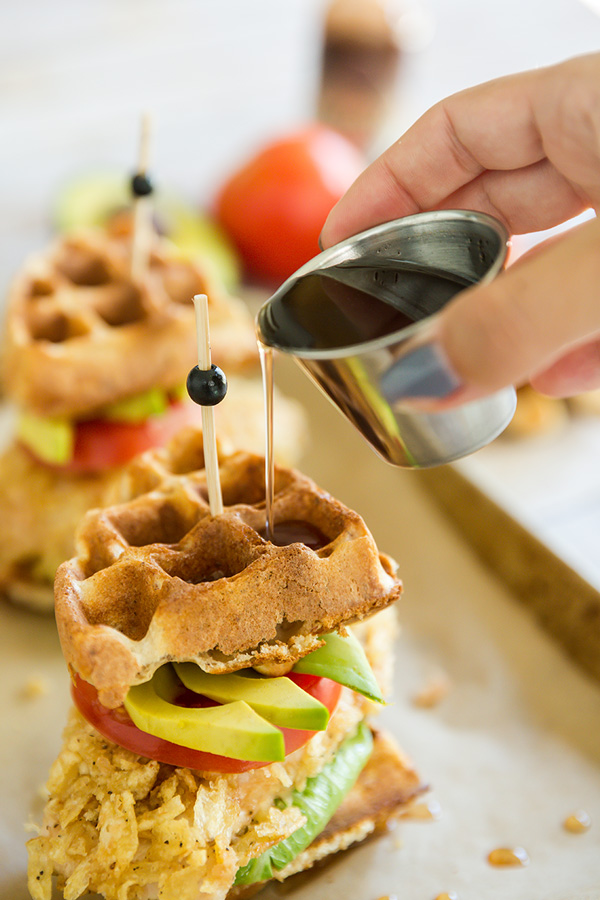 Baked Chicken and Waffles Sandwich
*gluten free & dairy free options available
Ingredients for Chicken: 
2 large boneless, skinless, chicken breast cutlets (sliced in half lengthwise)
6 tbsp mayonnaise (use vegan mayo, if desired)
1 5oz kettle potato chips bag, crushed
Ingredients for Waffles:
2 1/2 cups all-purpose baking flour (sub gluten free all-purpose flour, if desired)
3 tsp baking powder
1/2 tsp baking soda
1/2 tsp himalayan sea salt
1/4 cup granulated sugar
2 large egg whites
1/4 cup unsalted butter, melted (sub vegan butter, if desired)
1 3/4 cup buttermilk
Additional Ingredients: 
tomato, sliced
romaine lettuce
avocado, sliced
Spicy Maple Syrup Sauce: 
1/4 cup pure maple syrup
1 tbsp hot sauce
Directions for the Chicken: 
Preheat oven to 400°F. Line a large baking sheet with parchment paper, set aside. 
On a clean work surface, rub the chicken breasts with the mayonnaise. Next, coat the chicken breasts in a shallow container with the crushed potato chips.
Transfer the coated chicken breasts to the lined baking sheet and place in the oven. Bake for approximately 20 minutes or until chicken in throughly cooked. 
Remove from oven, cover and set aside. 
Directions for the Waffles: 
Prepare the waffles while the chicken is baking. Preheat the waffle iron. 
In a mixing bowl, combine the egg whites and 2 tbsp of sugar. Beat on medium-speed using a hand mixer until firm peaks form, about 3-4 minutes. Set aside. 
Utilizing another large mixing bowl, whisk the all-purpose flour, remaining 2 tbsp of sugar, baking powder, baking soda and salt. 
Create a hole in the center of the mixture and pour in melted butter and buttermilk. Whisk throughly until mixture is smooth. 
Using a spatula, gently fold in the egg white mixture. Combine until just incorporated. Do not over-mix. 
Scoop 3/4 cup of the batter and pour onto the center of the heated waffle iron. Let cook for approximately 5 minutes until golden brown. Continue until all the batter has been used. 
Depending on the type of waffle iron you have, you may need to slice the waffles in half or in quarters to make the sandwich.
Prepare the Sandwich: 
Start with a piece of waffle followed by a slice of lettuce and a warm piece of baked chicken. Drizzle with the spicy maple syrup and top with tomato and a few slices of avocado. Follow with another piece of waffle. Drizzle with more spicy maple syrup sauce if you'd like. Enjoy!
Tip — Use a wood cocktail skewer to hold your sandwich together.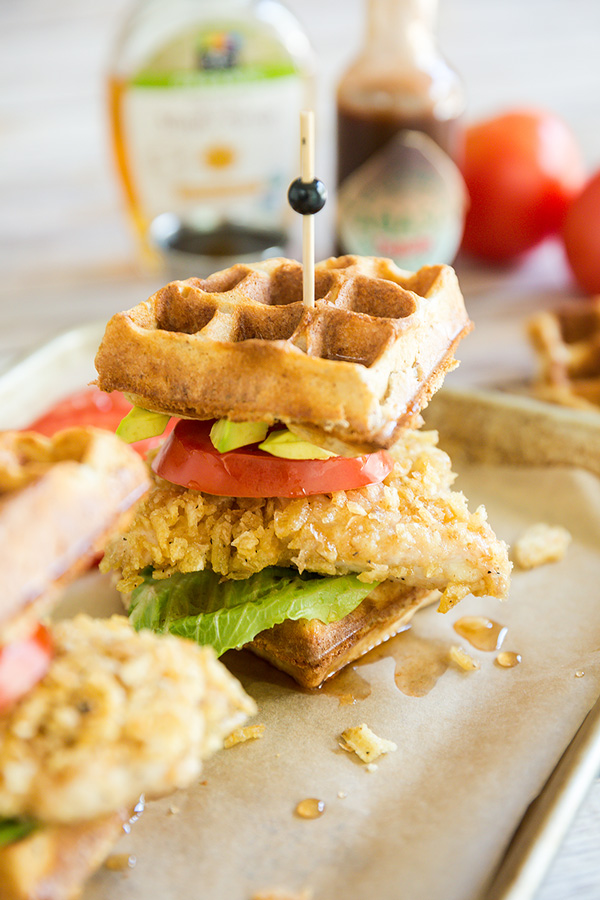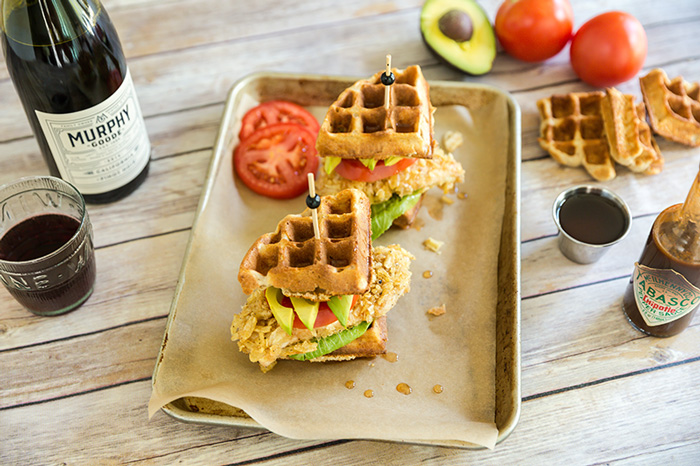 This may come as a shocker to many of you, but prior to creating this sandwich, I can't remember ever having chicken and waffles. It never really appealed to me and I typically don't eat much fried food. I'm still not sure if I'll order it off the menu, but I can tell you that this baked version will be on repeat in our house! As soon as I finished photographing the recipe, I sat down at our kitchen table with a glass of Murphy-Goode Pinot Noir and enjoyed every single bite. You'll have to see for yourself, but I'm pretty confident that you are going to be pretty satisfied with the recipe yourself!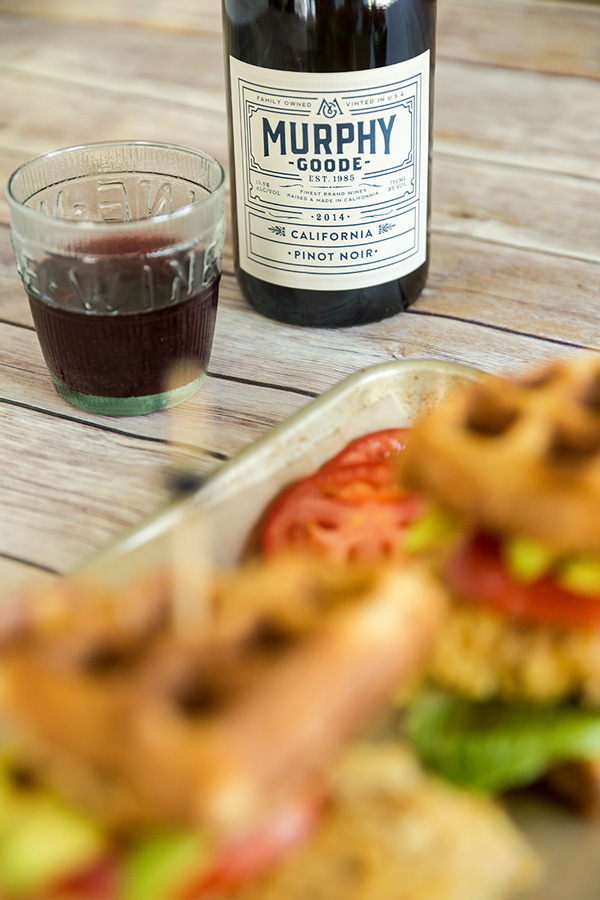 Love this recipe? Share it with your friends or pin it to save for later!