&nbsp
Apple & Sausage Stuffed Kobocha Squash
If fall had a taste it would be that of these apple and sausage stuffed Kobocha squash. The combination of sausage, apples, cranberries and sage all stuffed into a roasted squash makes for an irresistible side dish for your Thanksgiving feast. 
The fall harvest brings us an abundance of fresh apples, squashes and cranberries and thankfully when you put them all together it creates a perfect side dish or appetizer for the upcoming holiday. I'm sure you've been enjoying plenty of butternut squash and spaghetti squash, but have your tried the Japanese version, a Kobocha squash? It's a sweet squash that is similar to a cross between a sweet potato and a pumpkin. The smaller size is perfect for making individual servings of apple & sausage stuffed squash.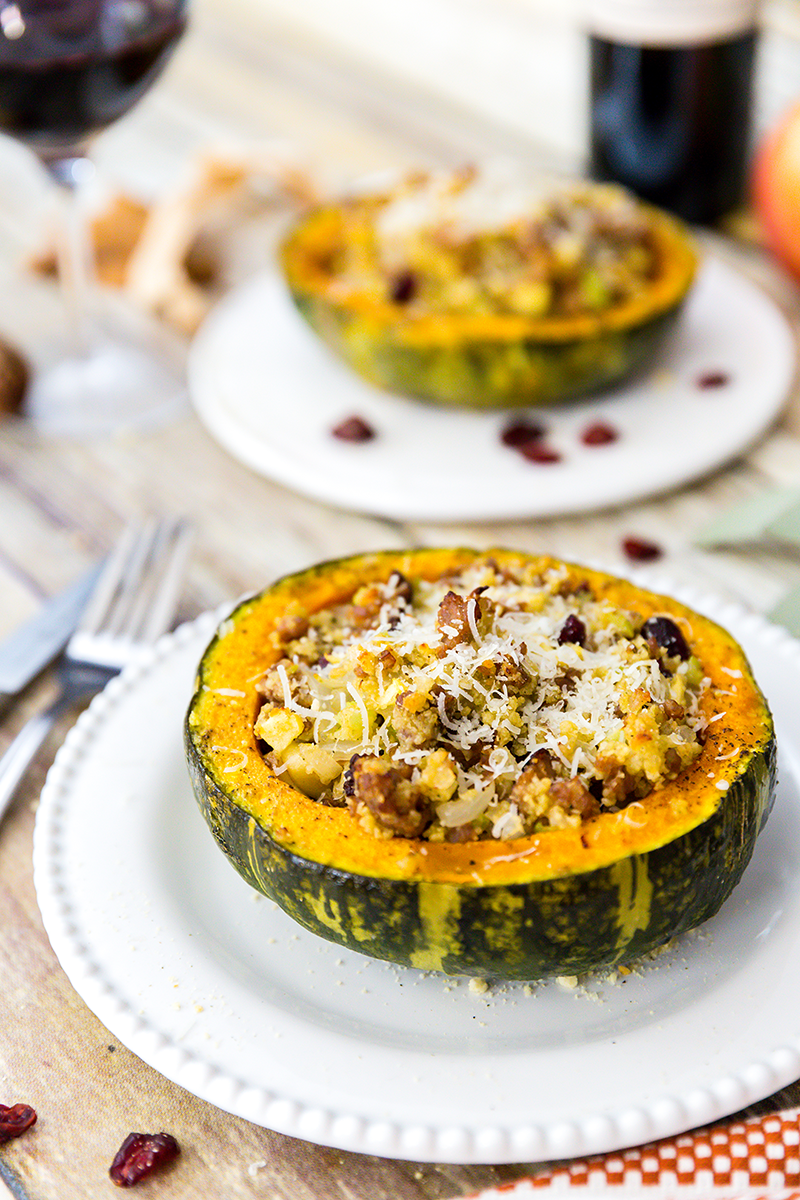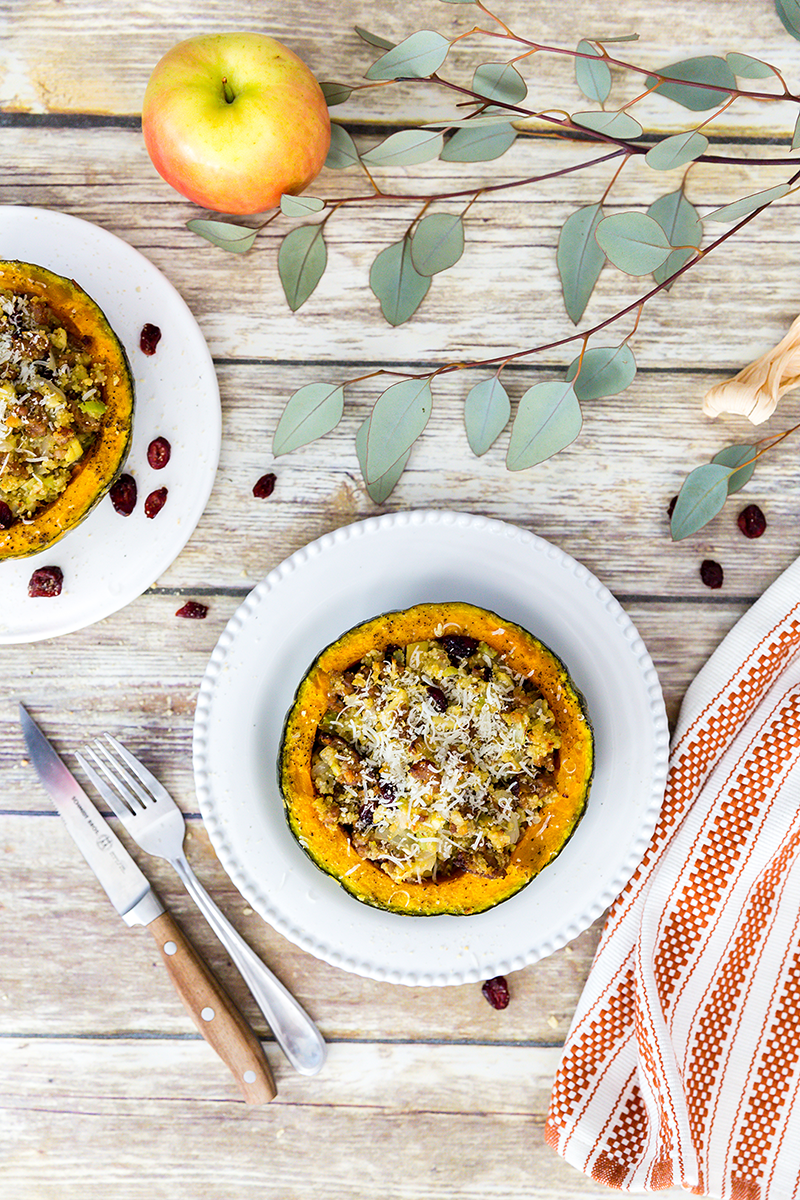 I'm just going to put this out there, but this recipe could change how you feel about traditional stuffing. It's not nearly as heavy because the chunks of bread are omitted and with only the addition of bread crumbs combined with freshly grated pecorino romano cheese, it comes together so perfectly when baked inside the Kobocha squash. I've never been a huge stuffing person to begin with because I always wanted to have room for the turkey, olive bar, and pumpkin pie, but this is a total game-changer. The hardest decision I have to make this Thanksgiving is whether to serve it as an appetizer of a side dish!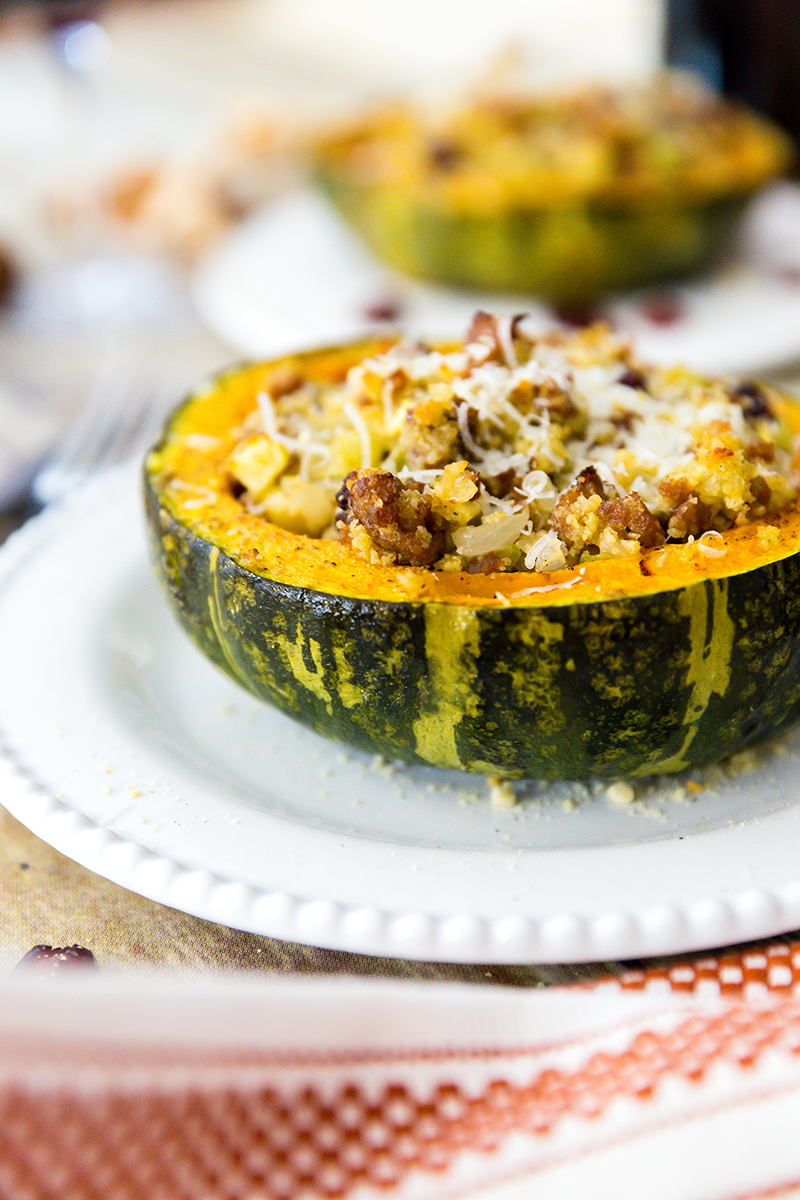 Apple & Sausage Stuffed Kobocha Squash
Ingredients: 
2 small/medium Kobocha squash, sliced in half and seeded
1/2 large yellow onion, diced
2 celery sticks, diced
1 clove garlic, minced
1/2 cup dried cranberries
1 fuji apple, diced
1 lb ground Italian sausage
1/2 tsp sage
1/4 tsp red pepper flakes
1 cup Panko bread crumbs
3 tbsp olive oil, divided
1 cup freshly grated pecorino romano cheese
salt & pepper, to taste
Directions: 
Preheat oven to 400°. 
Slice a very small portion of the top & bottom of the Kobocha squash and then slice in half. Using an ice cream scoop, scrape out the seeds. 
Brush the rim and inside the squash with olive oil. Sprinkle with salt and pepper. 
Bake for 40 minutes until tender. 
While the squash is baking, prepare the stuffing. In a large skillet heat 1 tbsp of olive oil over medium heat. Place the sausage in the skillet and brown for approximately 4-5 minutes. Drain the grease from the sausage and pat dry, but place the grease back in the pan to cook the onions, celery, red pepper flakes and garlic. Cook for an additional 3 minutes and add olive oil if necessary. 
Spoon the Italian sausage back into the pan and mix until well incorporated. Add diced apples and cook for an additional 2 minutes. 
Remove from heat and stir in dried cranberries, sage and breadcrumbs, along with 3/4 cup pecorino romano cheese. Stir until melted. 
Once the squash have finished baking, remove from oven and spoon meat mixture onto the squash until filled.
Continue to bake for an additional 15-20 minutes. 
Sprinkle with the remaining 1/4 cup cheese and serve warm. 
While the main courses of the Thanksgiving feast are being enjoyed, we like to serve a rich Merlot that will pair well with all the hearty dishes being served. Plan on providing enough that each guest will get to enjoy 2-3 glasses each. There is nothing like a somber end to a good meal when you've run out of wine. Once you're about to serve the pumpkin cheesecake dessert, then you can switch over to a nice white wine that helps the meal end on a lighter note.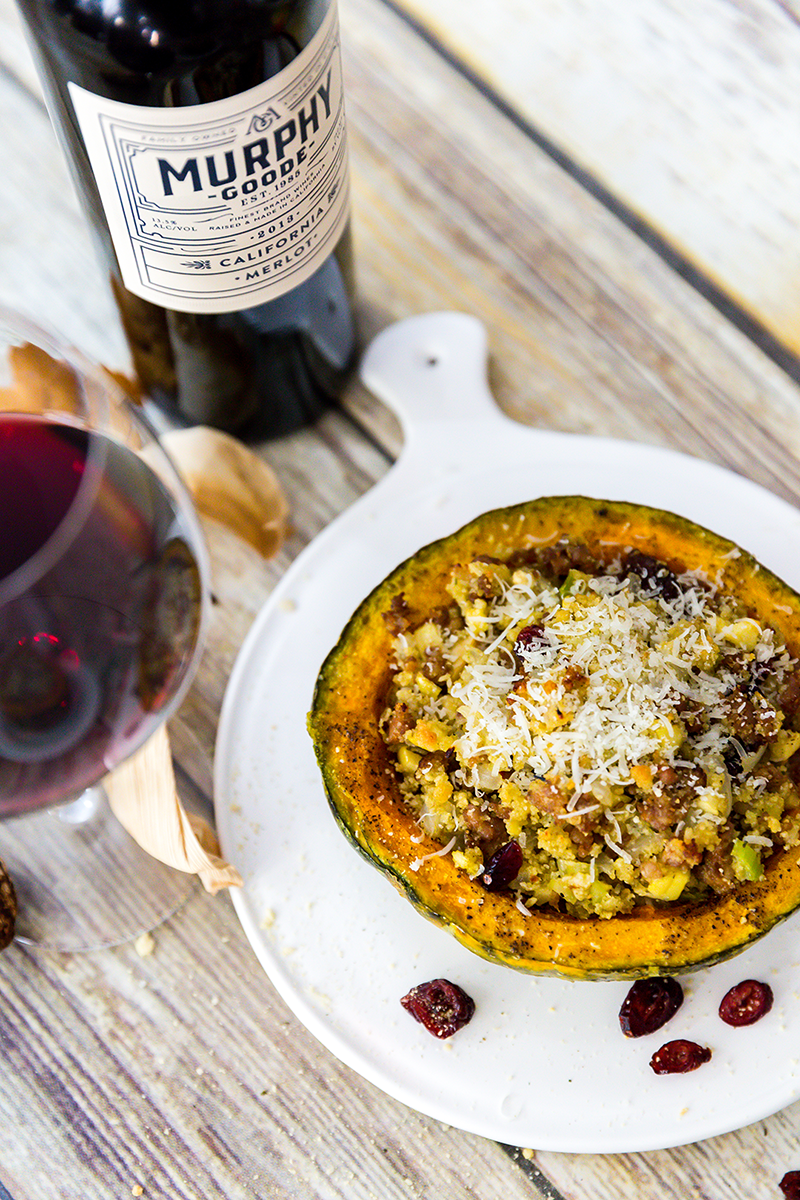 Let's be honest though, if you're hosting a big family affair or a friendsgiving, it's all about being grateful for the people you're surrounded by and richness they bring to your life. Don't forget to take a moment to tell everyone what you're thankful for and toast to health & happiness ahead. 
Cheers & may everyone have a "goode" Thanksgiving! 
Written by Kristin Mansky of Modish and Main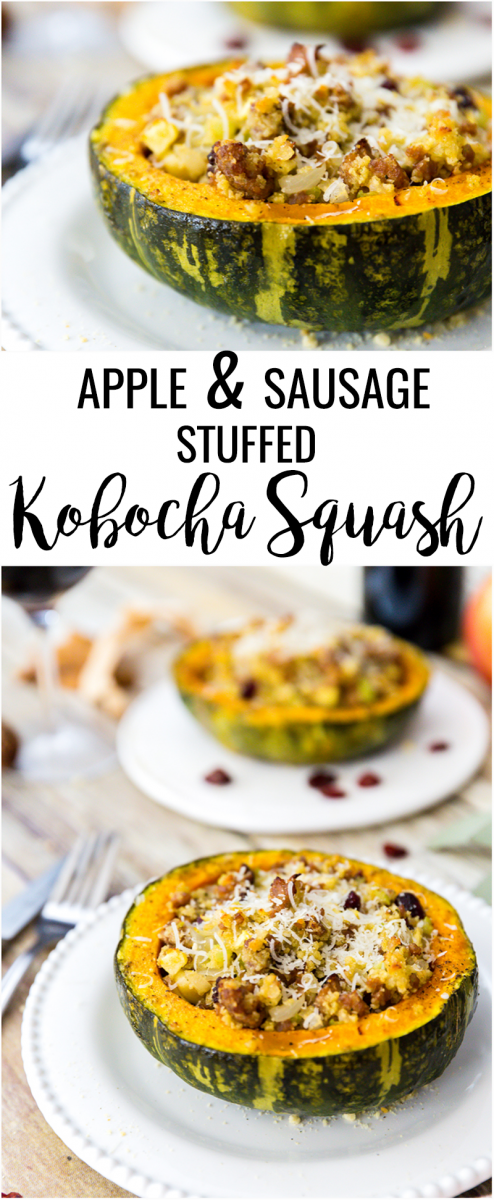 Love this recipe? Share it with your friends or pin to save for later!